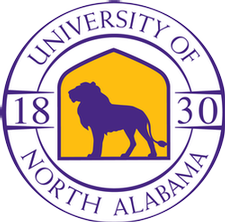 The Engineering and Technology Department at the University of North Alabama (http://www.una.edu/engineering-and-technology/) invites applications for a full-time, tenure-track faculty position at the Assistant professor level to be the lead for the Chemical Engineering Technology curriculum and laboratories. This position will begin in Fall 2022. The University of North Alabama is located in the vibrant Florence/Muscle Shoals region, which offers a moderate climate, numerous cultural opportunities, and a high quality of life. The department is housed in the recently built 162,000 square foot Mitchell M. Burford Science and Technology Building, with state-of-the-art office, classroom, and laboratory facilities. Review of applications will begin in November 2021 and continue until the position is filled.
The North Alabama region is home to over 1,000 businesses from industry sectors that include the automotive, aerospace, chemical, logistics, food, life sciences, metals, fabrication, plastics, and wood. Therefore, the successful candidate will have experience that is consistent with continuing the development of the Chemical Engineering Technology curriculum in support of regional engineering and manufacturing needs. This program emphasizes the hands-on/practical applications as well as the theoretical coursework that prepare our graduates for entry-level engineering positions in the region.
The successful candidate will be expected to continue to develop the Chemical Engineering Technology curriculum; maintain and manage the chemical engineering laboratories; teach program-related coursework (including mass and energy balances, thermodynamics, fluid flow and heat transfer, separations and reactors/reactions, and modeling/simulations); recruit, advise, and mentor students; participate in scholarly activity (including advising student research and/or competition teams); be involved in service to the university, college, department, and profession; and support the program's current ABET accreditation processes. The candidate must be able to communicate effectively with students, faculty, and staff in written form, verbally, and interpersonally.
A PhD in Chemical Engineering or closely-related field is required; Classroom and/or laboratory experience teaching chemical engineering-related courses (e.g., introduction to engineering, mass and energy balances, thermodynamics, fluid flow and heat transfer, separations and reactors/reactions, modeling/simulations, design and controls, and capstone) is preferred. Desired qualifications include experience and skills working with a diverse population of students, faculty, and staff; excellent oral, written, and interpersonal communication skills; desire to teach and/or learn to teach a varied and evolving curriculum; and the ability to plan and perform hands-on development of laboratory equipment and exercises.
To apply for this position, please visit our Online Employment System at http://jobs.una.edu/postings/6069. Applications will only be accepted via this system. Please be prepared to upload, at the time of application, a cover letter, resume/CV, a reference list with contact information for at least three professional/academic references, and a one-page diversity/equity/inclusion statement. Information regarding the diversity/equity/inclusion statement can be found here: https://www.una.edu/humanresources/files/forms-links/diversity_statement_faculty.pdf.
This position also requires that applicants submit unofficial or official transcripts. Electronic copies of unofficial transcripts may be attached under the attachment headings of Unofficial Transcript 1, Unofficial Transcript 2, etc. Electronic copies of transcripts may be emailed to employment@una.edu. If electronic copies are unavailable, hard copies of unofficial or official transcripts must be sent to Human Resources at UNA Box 5043, Florence, AL 35632 or brought to 601 Cramer Way, Room 226. Transcripts must be sent directly to HR from the issuing school to be considered official. Transcripts with a designation of "Issued to Student" will not be considered official. Official transcripts will be required of the successful candidate but unofficial transcripts will suffice for application purposes. For questions, please email employment@una.edu or call 256-765-4291 and select option #2. Selecting an option other than #2 will result in a delayed response.
UNA is an equal opportunity employer committed to achieving excellence and strength through diversity. UNA seeks a wide range of applicants for this position so that one of our core values, ethnic and cultural diversity, will be affirmed. UNA is a smoke-free campus.
We welcome applicants who are committed to working at a university that values diversity, equity, and inclusion for faculty, staff, and students.