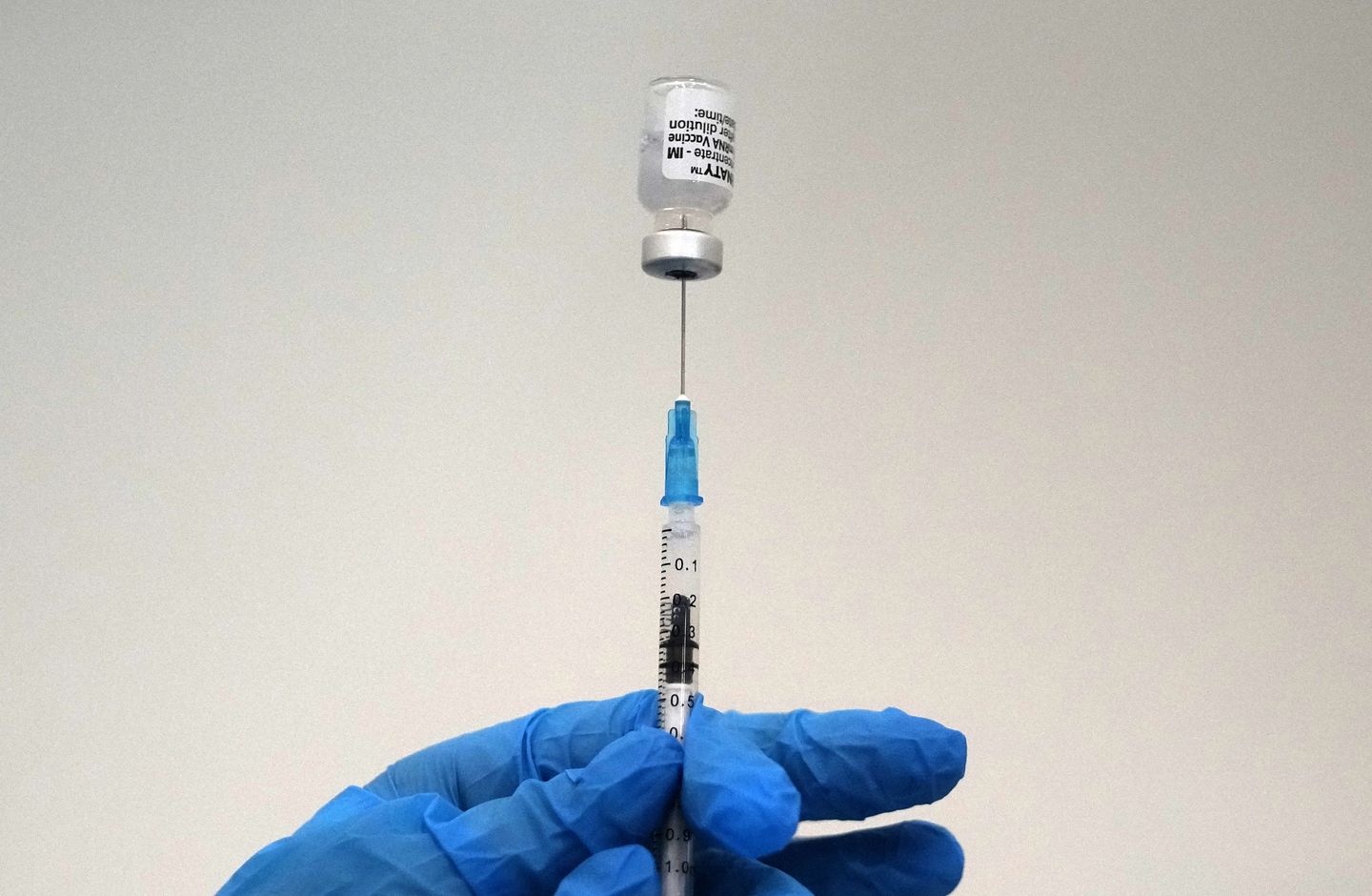 Project Veritas jumped into the debate about vaccine mandates with an undercover video showing two Pfizer researchers agreeing that naturally acquired immunity provides more protection than vaccination against the new coronavirus.
The 10 minutes video released late Monday highlighted three men identified as researchers at Pfizer, the manufacturer of the widely used two-dose Pfizer-BioNTech vaccine approved by the Food and Drug Administration.
A man identified as Pfizer biochemist Nick Karl was shown explaining that after recovering from COVID-19, "your antibodies are probably better at that point than the vaccination."
"When someone is naturally immune, as if they were given COVID, they probably have better – not better, but more antibodies against the virus," says Karl in the hidden camera footage. "Because what the vaccine is, like I said, is the protein that's just on the outside, so it's an antibody to a certain part of the virus."
He continued: "When you actually get the virus, you will start producing antibodies against several pieces of virus, and not just as the outer part, as the inner part, the actual virus."
Agreed was a man identified as Pfizer senior researcher Chris Croce, who answered in the affirmative after being asked by the undercover investigator if she had protection against COVID-19 after recovering and testing positive for the antibodies.
"As much as the vaccine?" she asked.
"Probably more," he said.
"How much more?" she asked.
Sir. Croce replied, "You are probably protected for a long time, as that was a natural answer."
A third man identified as a Pfizer scientist, Rahul Khandke, said that "if you've built up antibodies, you need to be able to prove you have them," but that's not the drug company's message.
"We are bred and taught to say that 'vaccine is safer than actually getting COVID,'" Khandke said. "Honestly, we had to do so many seminars on this. You have no idea. Just like we have to sit there for hours and listen to suffer, be like, 'you can't talk about it in public'. "
The Washington Times has contacted Pfizer for comment.
So close to 4M views … amazing #VeritasArmy pic.twitter.com/SAu1T0kgEx

– veritastips@protonmail.com🇺🇸 (@EricSpracklen) October 5, 2021
The debate over vaccines versus natural immunity has flared up as President Biden and Democratic governors and mayors carry out extensive vaccination mandates aimed at combating the Delta variant, which has given way to lawmakers like Senator Rand Paul, Republicans in Kentucky.
Paul accused Health and Human Services Secretary Xavier Becerra last week of "being dishonest with naturally acquired immunity" and said that "the vast preponderance of scientific studies, dozens and dozens, show robust long-term immunity after COVID infection."
The senator, who is also a doctor, cited a large Israeli study released in August which showed that people who had been infected with SARS-CoV-2 were "much less likely than never-infected, vaccinated people to to get Delta, develop symptoms from it, or be hospitalized with severe COVID-19, "according to the publication Science.
Meanwhile, the Centers for Disease Control published a study of infections in Kentucky that found that "unvaccinated individuals are more than twice as likely to be infected with COVID-19 than those who were fully vaccinated after first infecting the virus."
"If you have had COVID-19 before, you still need to be vaccinated," said CDC Director Dr. Rochelle Walensky in a statement issued on 6 August. "This study shows that you are twice as likely to be re-infected if you are unvaccinated. Getting the vaccine is the best way to protect yourself and others around you, especially as the more contagious Delta variant is spreading around the country. "
What makes some health experts nervous is the ghost of people choosing to expose themselves to COVID-19 instead of being vaccinated.
"What we do not want people to say is, 'Okay, I should go out and get infected, I should have an infection party,'" Rockefeller University immunologist Michel Nussenzweig told Science. "Because someone could die."
In the Project Veritas video, Croce said he disagreed with keeping track of vaccinated people and said he believed it violated the law on health insurance transfer and liability. [HIPAA].
"You should not have to show anything that, in my opinion, is fundamentally a violation of HIPAA," Mr. Croce. "No one has the right to ask you if you have been vaccinated. It's a violation of privacy. I do not agree with that. "
He also said that monoclonal antibody treatment for COVID-19 patients has been "pushed aside" over "money", which he called "disgusting".
"I still feel like I'm working for a bad company because it's ultimately coming to profit," he said. "Basically, our organization is running on COVID money now."
Sir. Karl said the vaccination mandates are apparently aimed at "making it so inconvenient for unvaccinated people to the point where they're like, 'F—- that, okay, I'll get it.' You know?"
The researchers also indicated that keeping close to such information was crucial. At one point, Mr. Karl said, "Oh God, I signed NDAs [non-disclosure agreements] against this. "
"There are ears and eyes everywhere on Pfizer in the building," Mr Croce said. "It's a bit like you're not talking about something that could possibly involve you or, like, Big Pharma. Even if you close the door to the office, it's a bit like who's listening? "
Project Veritas president James O'Keefe posted a video on Tuesday showing him at an outdoor restaurant confronting Karl, who went to his car and drove away.
Mr. O'Keefe said the researchers' "expressed views run counter to current public policies that affect millions of people."
"If researchers think antibodies work more effectively than vaccines, it begs the question: What about all the federal mandates, no matter what the data says?" asked Mr. O'Keefe.
Project Veritas has previously posted three videos as part of its #ExposePharma series on vaccines and vaccine mandates.
The effectiveness of the Pfizer vaccine against future infections fell from 88% to 47% after six months, according to a peer-reviewed study published Monday in the Lancet, the details of which were first published in August.
The CDC reports that 65.6% of the U.S. population aged 12 and older have been fully vaccinated. FDA trials are now underway with vaccines for younger children.