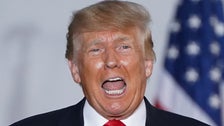 Former President Donald Trump told a racist joke during a briefing by the Oval Office before a meeting in May 2017 with then-Vietnamese Prime Minister Nguyen Xuân Phúc, former US Ambassador to Vietnam Ted Osius writes in his new book.
When Trump was told that the visiting leader's name rhymed in the book, Osius said the then president asked if it was like "Fook You."
"I knew a guy named Fook You. Really. I rented him a restaurant, "Trump continued, according to Osius. "When he picked up the phone, he answered 'Fook You'. His business went bad. People did not like it. He lost the restaurant. "
"All those present laughed dutifully," Osius wrote in "Nothing is Impossible: America's Reconciliation with Vietnam." Salon published excerpts Tuesday prior to the book's release later this week.
Phúc is now the President of Vietnam.
During Trump's tenure, he described Haiti and African nations as "shit" countries and was blamed for an increase in anti-Asian racism during the coronavirus pandemic. Trump still uses racist slander to refer to the virus.
.