ABC chairman Ita Buttrose has accused the government of political interference over a decision to launch a Senate inquiry into the way it and SBS handle complaints from the public.
Ms Buttrose will ask the government to suspend or end the inquiry, which was announced by Liberal Senator Andrew Bragg, chairman of the Senate Standing Committee on Environment and Communications, last Thursday night. She said the review of ABC's processes undermined the public broadcaster and was a clear example of government interference.
"This is an act of political interference designed to intimidate the ABC and dampen its role as this country's most trusted source of journalism of public interest. If politicians determine the operation of the national television station's complaints system, they can influence what is reported. of ABC, "said Mrs Buttrose.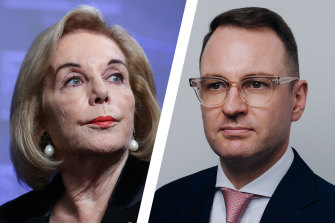 "Once again, an elected official has chosen to threaten ABC's independence at the expense of the integrity of this irreplaceable public service. Any intrusion of this kind into ABC's independence should be seen by Australians for what it is: an attempt to undermine society's confidence in the public television station. "
Sir. Bragg's decision to conduct a Senate inquiry was made after the national television station announced last month that it had commissioned its first official review of the way it handles complaints in 12 years. Ms Buttrose commissioned former Commonwealth and NSW ombudsman Professor John McMillan and former SBS Seven and Ten news director Jim Carroll to run the review, which will deliver its findings by April.
Senator Bragg said he was a strong supporter of the ABC and wanted to make sure it worked best. The inquiry was part of the Senate's regular work to review government agencies and designed to address society's concerns about the broadcaster's complaint processing process similar to ordinary Senate hearings, Senator Bragg said.
"I have never heard anyone say that the Senate should never review government agencies," Senator Bragg said. "It is certainly not a party-political or politically motivated exercise. It is an ongoing investigation by the Senate."
Ms Buttrose said the review was a repetition of a task that ABC had already undertaken and which was legally the responsibility of the ABC board.
"When Parliament resumes later this month, I respectfully ask the Senate to act to defend ABC's independence as Australia's national broadcaster by adopting a proposal to close or suspend this inquiry until the independent process commissioned by the ABC Board is completed." said Mrs. Buttrose.