There is no one like the American painter Bob Ross who always created a positive environment for the viewers on his show 'The Joy Of Painting'.
From his gentle voice to his patient teaching style, it was clear that Ross believed that everyone had the potential to become great. Whether it was through making art or doing something else, Ross encouraged people to believe in their abilities.
Ross has been a fixture in pop culture since his death in 1995, and continues to be a joyful and positive influence on many people in today's society.
Here are the 50 best Bob Ross quotes and famous sayings.
1. "We do not make mistakes, just happy little accidents."
"You have to let the paint break to make it beautiful."
3. "There's nothing wrong with having a tree as a friend."
4. "I started painting as a hobby when I was little. I did not know I had any talent. I think talent is only a pursued interest. Anyone can do what I do. "
5. "You can do anything here – the only condition is that it makes you happy."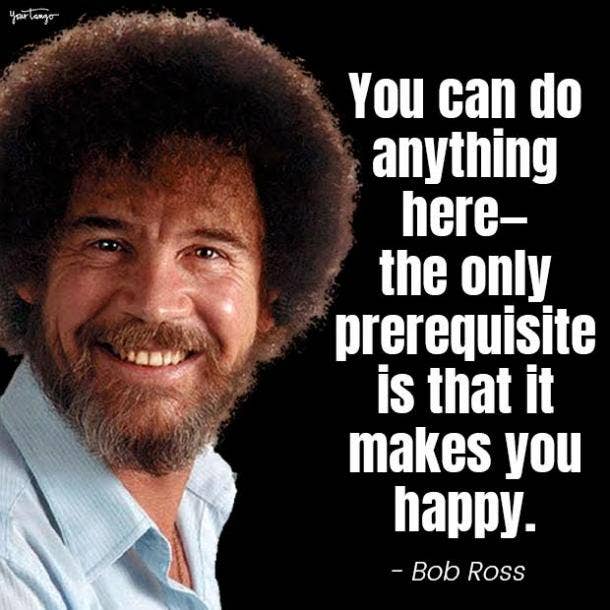 6. "We want happy paintings. Happy paintings. If you want sad things, watch the news. "
7. "I must be a little weird. I like talking to trees and animals. That's okay though; I'm having more fun than most people. "
8. "I can think of nothing more rewarding than being able to express yourself to others through painting. To train the imagination, experiment with talents, be creative; these things are to me truly the windows of your soul. "
9. "Remember how free clouds are. They just lay around in the sky all day long. "
10. "Do not forget to tell these special people in your life how special they are to you."
11. "I taught my son to paint mountains like these, and guess what? Now he paints the best damn mountains in the industry."
12. "Every day is a good day when you paint."
13. "We artists are a different race of people. We are a happy bunch. "
14. "It is a crooked tree. We're sending him to Washington. "
15. "Let's build a happy little cloud. Let's build some happy little trees. "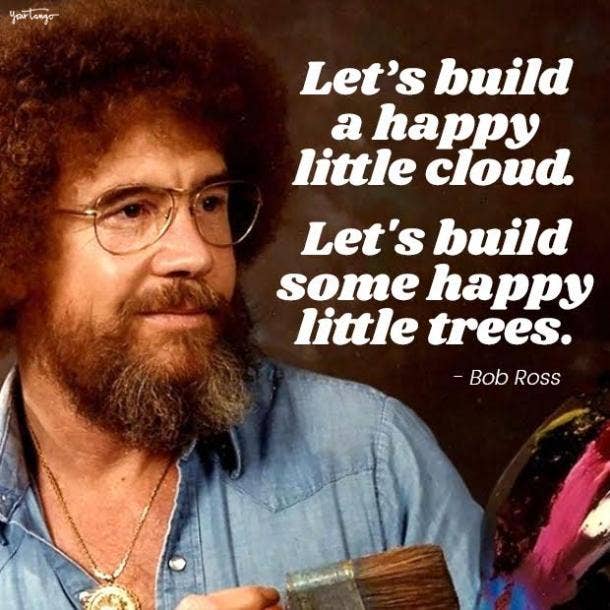 16. "You can also paint almighty pictures."
17. "I think there's an artist hidden at the bottom of each and every one of us."
18. "You have to give him a friend. As I always say, 'Everyone needs a friend.'
19. "Whatever you think it should be, that's exactly how it should be."
20. "In painting, you have unlimited power. You have the ability to move mountains. You can bend rivers. But when I get home, the only thing I have power over is the garbage. "
21. "The secret to doing something is to believe that you can do it. Anything you think you can do strong enough you can do. Anything. As long as you believe."
22. "It's life. It is interesting. It is fun."
23. "You can have everything you want in the world when you first help everyone around you get what they want."
24. "I think every single one of us once in our lives has wanted to paint a picture."
25. "There is nothing in the world that breeds success as success."
26. "Find freedom on this canvas."
27. "It's so important to do something every day that will make you happy."
28. "We sometimes say to people: We are like drug dealers, come into town and make everyone completely addicted to painting. It does not take much to become addicted. "
29. "They say everything looks better with an odd number of things. But sometimes I put even numbers – just to upset the critics."
30. "See how it fades into nothingness. That's exactly what you're looking for."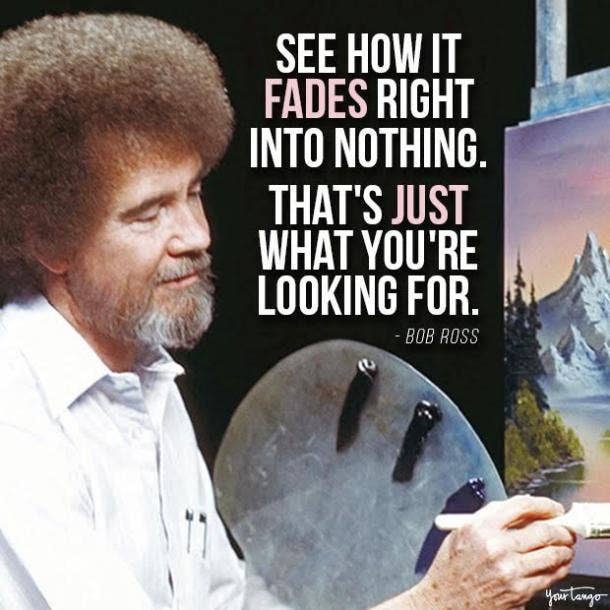 31. "If I paint something, I will not have to explain what it is."
32. "Water is like me. It's lazy. Boy, it's always looking for the easiest way to do things."
33. "Just drop – and fall like a little waterfall."
34. "Talk to the tree, make friends with it."
35. "I really believe that if you practice enough, you can paint 'Mona Lisa' with a two-inch brush."
36. "Be so very light. Be a gentle whisper."
37. "Use absolutely no pressure. Like an angel wing."
38. "You need the darkness to show the light."
39. "You can do anything you want. This is your world."
Related stories from YourTango:
40. "You have to let the paint break to make it beautiful."
41. "If we are to have animals around us, we must all take care of them and take care of them."
42. "We do not laugh because we feel good, we feel good because we laugh."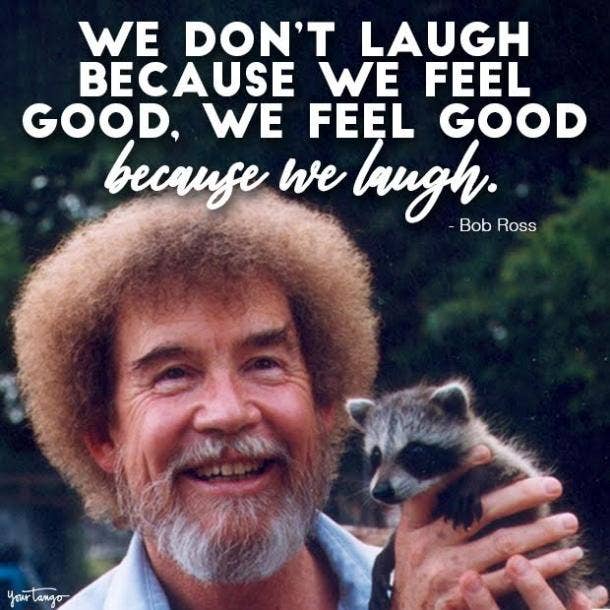 43. "Look around. See what we have. Beauty is everywhere – you just have to look to see it. "
44. "Have you ever made mistakes in life? Let's turn them into birds. Yes, they are birds now. "
45. "You have to have opposites, light and dark and dark and light, in painting. It's like in life. You have to have a little sadness once in a while, so you know when the good times are coming."
46. ​​"I remember when my father said to me as a child, 'If you want to catch a rabbit, stand behind a tree and make a sound like a carrot. So when the rabbit comes by, you grab in him.' Works pretty well until you try to figure out what kind of noise a carrot is making … "
47. "It's hard to see things when you're too close. Take a step back and see. "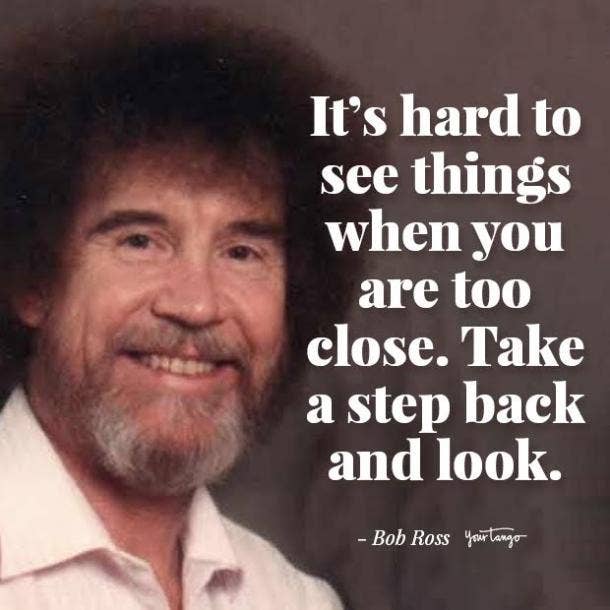 48. "You can have everything you want in the world – once you help everyone around you get what they want."
49. "Every time you learn, you win."
50. "Go out on a limb – that's where the fruit is."
More for you at YourTango:
Nia Tipton is a writer living in Brooklyn. She covers pop culture, social justice and trending topics. Follow her on Instagram.
.