AstraZeneca has announced that its prophylactic antibody cocktail offers 83% protection against symptomatic Covid-19 for at least six months, making it more effective than its own vaccine.
In a announcement On Thursday, AstraZeneca cemented its lead in the race to develop and market a preventative Covid-19 drug, which is delivered as a shot in the arm.
The drug, called AZD7442, reduces the risk of symptomatic Covid-19 by 83% over six months, according to data from a trial in which participants received a single dose of 300 mg. There were no deaths or serious infections recorded in the experimental group, it said.
Read more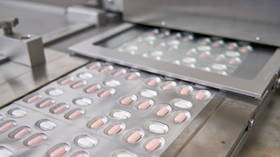 A separate trial showed that the drug reduced the risk of severe Covid-19 or death by 88% when administered within three days of the onset of symptoms.
"This new data adds to the growing body of evidence supporting the potential of the AZD7442 … We are in the process of regulatory applications around the world and look forward to offering an important new opportunity against SARS-CoV-2. [Covid-19] as quickly as possible," AstraZeneca Executive Vice President Mene Pangalos said in the statement.
The Anglo-Swedish company has agreed to supply the US government with 700,000 doses of AZD7442 if the Food and Drug Administration provides it emergency aid, which AstraZeneca requested on 5 October. The company has similar agreements with other nations.
The drug is created using a combination of two antibodies derived from immune B cells donated by a recovering Covid-19 patient.
The treatment can be used for people who are known to not respond well to vaccines, such as cancer patients. About 2% of people are considered to be at risk of not producing enough antibodies after administering a Covid-19 vaccine.
Based on the numbers, the drug appears to be more effective than the company's first-generation Covid-19 vaccine. The UK's Zoe Covid study showed that the effectiveness of the vaccine dropped to around 67% after four to five months.
If you Like This Story, Share It With A Friend!