Two people have been arrested for allegedly seizing cash after more than a million dollars out of 20 and a dollar bill flew out of an armored truck.
The truck was on its way to San Diego
California
on Nov. 20 when money fell out of it along Interstate Five in the Carlsbad area.
According to the Associated Press, traffic was stopped and people ran to grab the cash.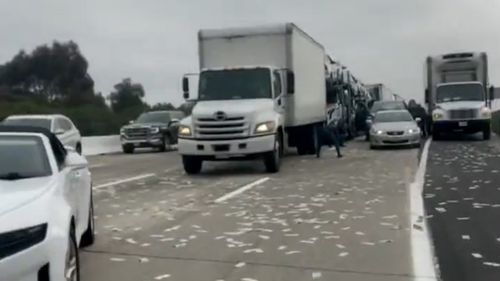 A woman posted a video on social media of people pouring money out of the way.
People collected piles of cash and threw them in the air while expressing their shock over the incident.
A man held piles of money in both his hands and ran up to the camera screaming with excitement.
The California Highway Patrol (CHP) eventually closed the highway and cleared the stage.
CHP Sergeant Curtin Martin told the San Diego Union-Tribune "one of the doors slammed open and bags of cash fell out."
He said "one of the bags broke and there was cash all over the lanes."
Police arrested two people at the scene.
Sergeant Martin said it was illegal to collect the money and authorities would investigate anyone who did not return the bills.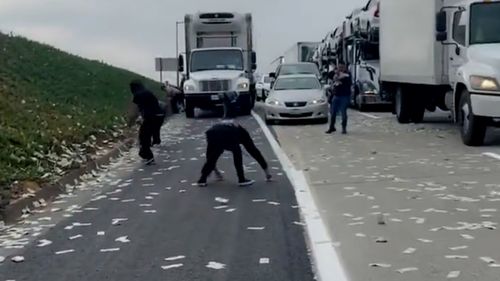 It is still unclear exactly how much money has been lost.
But Sergeant Martin said there was at least $ 1.3 million in the truck.
"There's a lot of video evidence of people stealing the money," Sergeant Martin said.
Investigations continue with the CHP working with the FBI out of San Diego.