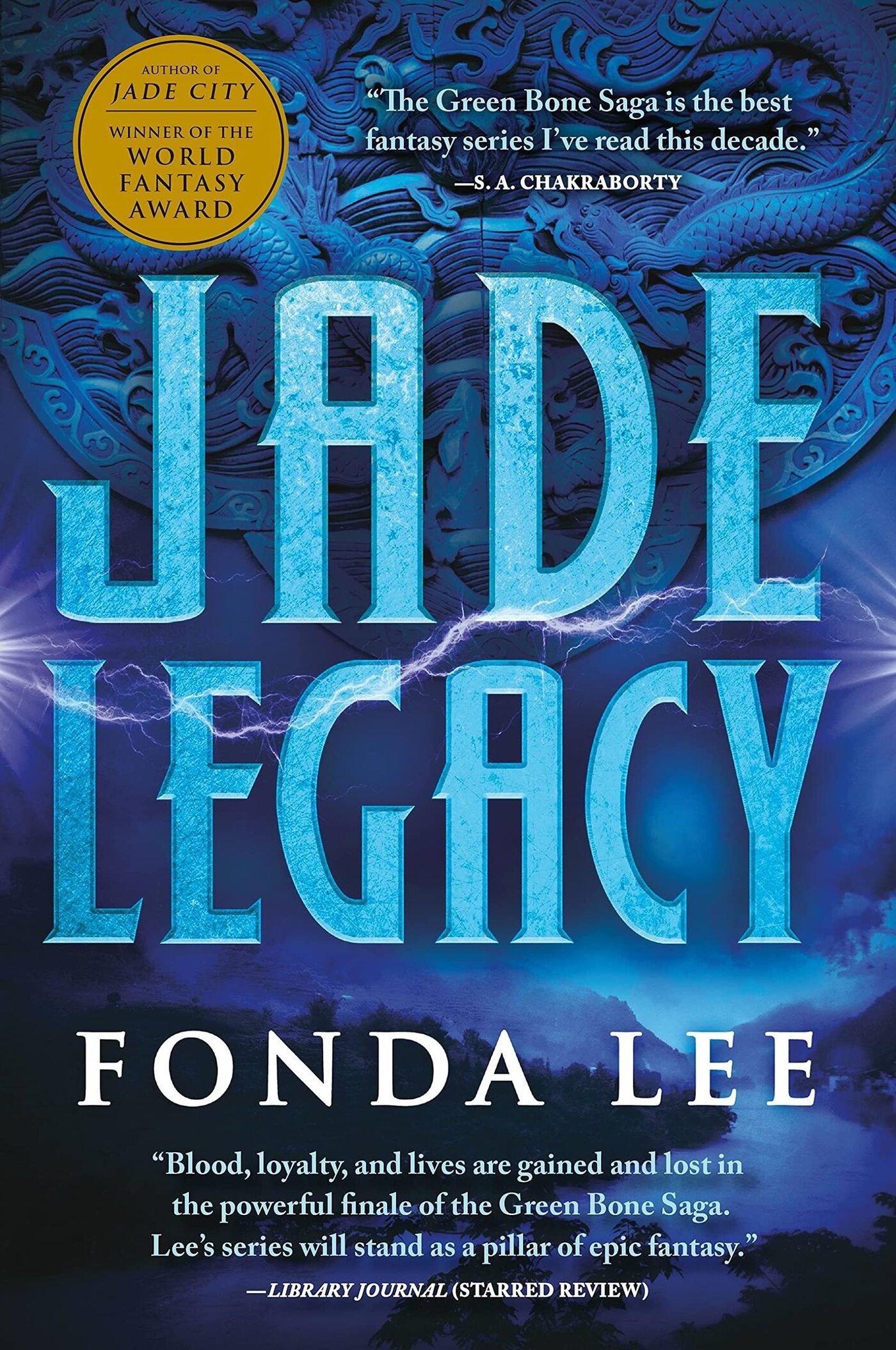 Open the cover of a Fonda Lee Green Bone Saga book and you can smell the blood on the pages.
Also autumn leaves. Strong tea. Watermelon soda and sea air, delicate perfume and gunpowder smoke. You fall into these books as a love affair – all hard physical and surprise – but stay (across thousands of pages) because there is so much more to it than that. Laughs. Heartbreak. Depths that threaten unexpectedly. Friends who come and go.
Mostly one gets hooked because Lee has created a world that feels just as real and logical and embodied as the one outside the front page. Both more orderly and more chaotic at the same time. More deadly and beautiful. They are terrible temptations, these books. You pick them up, and that's it hard to put them down.
For the uninitiated, here's the basics: The three books in the series (Jade by, Jade war and Jade heritage, the latest) exists essentially to tell the story of the Kaul family of the No Peak Clan and specifically about Kaul Hilo, his sister Shae, and their extended families. It begins when Hilo is young – just an arrogant, powerful, Green Bone street soldier in his family's criminal empire on the imaginary island nation of Kekon – and follows him through triumph and tragedy (mostly tragedy) through a 20-year war with the family's rivals, the Mountain Clan.
Kekon's clans are powerful. They are the mafia with a sense of national duty, the yakuza gone legit and multinational, with skyscrapers and schools and seats on the boards of charity garden clubs. They commit crimes as if they are going out of fashion. They burn and murder and wage bloody war in the streets. But they are also the recognized power that holds Kekon together and defends the island against its many, many enemies.
They are also a bit magical.
Not like magic-magic. Not wizards-in-spikes-hat magic either open to love magic. But Kekon Island is the only place in Lee's urban fantasy world where one can find the scientific / magical bioenergetic jade that drives both economies in her world. and the transcendental superpowers that it gives them among the Kekonesan clans born with the genetic ability to use it to break through walls, deflect bullets, almost fly, almost read minds, and generally behave like a bunch of old-school wuxia badasses in designer suits and thousand dollar sunglasses. Jade is status in Lee's world. Jade is power. Jade (and revenge, and honor and pure bloody mind) are the reason the No Peak and Mountain clans have been at war for so long.
Jade by focused on Hilo as a young man on the rise – younger brother of No Peak Pillar and leader of his clan's Green Bone soldiers – and Jade war Hilo traced through his first year as leader of No Peak as his generation grew up and took leadership positions within the clan in a time of non-stop warfare. But Jade heritage is something else. The cornerstone of Lee's wuxia gangster family drama makes the familiar dance jump between several POVs (mainly centered around Hilo, his sister Shae, brother Anden, wife Wen, their son Niko and gutter-level hustler Bero – who at one point or another way has managed to survive three books despite literally everyone he's ever met wanting him dead), balancing its focus between big, storytelling events and the small, intimate moments between characters that often shape the narrative yet more profound. But instead of looking at a few months or a few years in Hilo and No Peaks life, Jade heritage covers decades. Its chapters flutter out like a stack of photographs falling to the floor – every moment pinned to the page, set on a timeline that is so much more expansive than in previous Green Bone books.
And yet it feels closer, more hectic, more whole, somehow, than an unbroken narrative would. Hilo has been Pillar for 6 years, then Legacy opens. The war with the Mountain Clan has become one that is fought politically, through spies and traitors and in the press. It's a "slow war" and No Peak loses. Wen is recovering from the terrible injuries she sustained Jade war. Shae is no longer the trusted Weatherman (advisor) for Hilo that she once was. Bero has found himself bound by a bunch of anarchists who are trying to destroy the clan system completely.
And in the Kaul family, Wen and Hilo's children – Niko, Ru and Jaya – grow up. We see them all in moments – in glimpses, when they are at their best, their worst, their most desperate or their most powerful. Hilo smokes furiously in his car after an argument with his wife. Shae wounded and bleeding on a bar floor. Niko tries to figure out what leadership means in a world that does not make sense to him. Wen in a verbal duel with another wife for a charity lunch, their fight is as deadly as any knife fight.
Thirty years of love and war and revenge and betrayal – that's what Lee offers here. A long slide into an imaginary story glimpsed in explosive, Technicolor eruptions, marked by the chops of machine guns, sweetened by rice wine and almond pies. There are deaths and defeats in Legacy which will rock any longtime Green Bone fan. Victories that feel so flimsy that you want to dig your nails into the sides just to keep them tighter. It is, beginning with the end, the story of Kaul Hilo, who struggles to keep his family safe and prosperous, about fighting for the stormy future and losing a little at a time. Of mortality experienced both at the wrong end of a talon knife and by watching the pages of the calendar turn.
The Damocles threat that Lee has let dangle throughout this series is that no one on these pages is ever safe – that the world she has created is dangerous and that everyone in it has a place where they end up.
In the end, it is Jade heritage is about. Conclusions.
And so what comes next.
Jason Sheehan knows things about food, video games, books and Star blazers. He is a restaurant critic Philadelphia magazine, but when no one is looking, he spends his time writing books about giant robots and jet guns. Stories from the radiation age is his latest book.