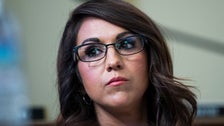 This "must stop," an outraged representative Tom Reed (RN.Y.) said Monday about the racist and Islamophobic attacks by Representative Lauren Boebert (R-Colo.), Calling her behavior a "smallpox on all our houses."
He referred to Boebert's shocking joke in a speech to voters last week in which she suggested that rep. Ilhan Omar (D-Minn.), A Muslim, could be a suicide bomber.
"I … condemn the kind of comments my colleague in Congress made to a colleague on the other side of the aisle," Reed said on CNN's OutFront. "This is a smallpox on all our houses."
He added: "We are degraded to a point in the institution of Congress [to a] level of hatred I've never felt before. "
This "rhetoric, this type of comment, must stop. We must focus on the American people and solve their problems. That must be the mission," said Reed, the former head of the House Problem Solvers Caucus.
This is "the institution of Congress, this is the House of Commons, and we have to respect each other," Reed added. American citizens "should work together as opposed to engaging in what could be called high school-level antics."
Boebert claimed in her speech to voters in Colorado that she had just stepped into an elevator with Omar at the U.S. Capitol recently when a worried police officer rushed in before the doors closed.
"I look to my left and there she is, Ilhan Omar," Boebert said with a laugh in a video clip of her narrative. "I say, yes, she does not have a backpack, we should be fine."
She also claimed that she looked at the Democratic legislature and said, "Oh, look, the jihadist troupe decided to show up for work today."
Omar said none of that happened.
Boebert claimed she called Omar on Monday to apologize – but attacked her instead – and suggested that Omar "sympathize with terrorists".
But then Boebert said she told Omar that "she should give a public apology to the American people for her anti-American, anti-Semitic, anti-police rhetoric."
That was when Omar ended the call.
Omar is demanding that Boebert face some form of sanction from House Minority Leader Kevin McCarthy (R-Calif.), Which is unlikely.
"This is not about one hateful statement or one politician; it's about a party that has mainstreamed bigotry and hatred. It's time for Republican leader McCarthy to hold his party accountable. "
.