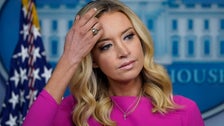 McEnany, a former Trump secretary of the White House, tweeted this flyer on Wednesday for what she claimed would be "Florida's biggest Christmas party":
"Start your holiday season with the greatest president of our time," read the brochure for the event, which promises "festive cocktails and dinner followed by photos and remarks" by the one-time president.
According to the website of the event, a single ticket costs $ 10,000 and gives the participant "access to the party and one (1) photo taken" with Trump.
Couple packages cost $ 20,000, while the family donor package, for up to four people, is $ 30,000. The event is promoted by WHIP Fundraising.
"Tickets are extremely limited," the website said.
It will be "Holiday Event of the Year" that is guaranteed to "give you a lifetime of festive memories," it boasted.
But critics, including former Melania Trump adviser Stephanie Winston Wolkoff had their doubts:
.