MLC's head of after-school, Neil Scotney, said he was excited about the girls and their families. "With such an incredible dislocation and doubt over the last two years, I would have been happy if they all just passed," he said. "They have gone above and beyond to achieve these results."
At Trinity Grammar, which has the largest IB cohort in NSW with 111 candidates, seven students achieved 45 and 11 were awarded 44. "While these are excellent results, they should not be the only measure of success – far more valuable is look at the characterful men that our boys have become, "said school principal Tim Bowden.
Four students at Newington achieved top marks, as did three at St Paul's Grammar School, one at Ravenswood and two at Redlands. Two students at St. Andrew's Cathedral, Gemma Gardiner and Dylan Nguyen, also scored 45, and 14 percent of the school's cohort achieved an ATAR over 99.
Redlands, which has offered the diploma for more than 30 years, also had a set of twins and another set of siblings who went to the IB exams. Emily Barrelle, 18, and Natalie Watson achieved scores of 44 or an ATAR of 99.75. Their brothers – both James – scored 42, which equates to an ATAR of 99.1.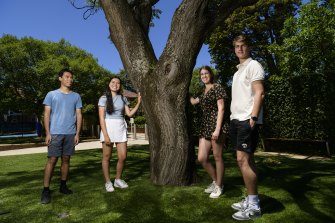 The Watsons family – who were born 11 months apart but went to school the same year – have received offers from universities in the UK to study anthropology and international relations.
Like many of their classmates, Emily and James Barrelle accepted early offers from the Australian National University. "We go to the same school, but hopefully not the same time," Mrs. Barrelle. "We have lived together all our lives; University is a time to become more independent and find out what your main interests are. "
Unlike other states, the IB certificate is only available to NSW students in private schools.
The Morning Edition newsletter is our guide to today's most important and interesting stories, analyzes and insights. sign up here.