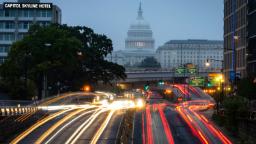 The meeting came after both Manchin and Sinema made it clear on Thursday that there has been no change in their stance against changing Senate rules to pave the way for voting legislation to be passed by a simple majority.
Biden promised to keep fighting for the right to vote during a visit to Capitol Hill earlier Thursday, but admitted he does not know if Democrats will be able to pass the legislation they are pushing for.
"I hope we can get this done. The honest answer is that I do not know if we can get this done," Biden said. "I hope we can get this done, but I'm not sure. But one thing's for sure, like all the other big civil rights bills that came in. If we miss the first time, we can come back and try another time. "
"I do not know if we can get it done, but I know one thing: As long as I have a breath in me, as long as I'm in the White House, as long as I'm engaged at all, I'm going to fight to change the way these legislatures move, "the president added.
Biden's trip to Capitol Hill came after the president in a powerful speech Tuesday called on the Senate to change its filibuster rules to pass voting legislation.
The Democrats' problem is that they do not have the votes to pass the voting legislation under the current Senate rules because of Republican opposition, nor do they seem to have the votes to change the rules.
Manchin and Sinema have long expressed opposition to removing the 60-vote threshold required to pass most of the legislation.
But the Democratic leaders have so far pushed on with a plan to bring the voting legislation up in the Senate. As a first step toward that, the House of Representatives passed voting legislation Thursday morning ahead of Biden's visit.
The Democratic-controlled House approved a measure that combined key provisions in two voting laws: the Freedom to Vote Act and the John Lewis Voting Rights Advancement Act. It will next be sent to the Senate, where a high-profile battle awaits.
In a speech in the Senate on Thursday, Sinema warned against further biased division and calls to do away with the filibuster.
"Eliminating the threshold of 60 votes on a party line with the thinnest possible majority to pass these bills, which I support, will not guarantee that we prevent demagogues from winning office," she said. "Rather, eliminating the 60-vote threshold will simply guarantee that we lose a critical tool that we need to protect our democracy from threats in the years to come."
Manchin later praised Sinema's speech, telling reporters it was a "very good, excellent speech."
Democrats are under intense pressure from grassroots activists and their voters to pass legislation to ensure access to the vote, but have constantly hit a wall in the Senate where at least 10 Republicans should join all 50 members of the Senate Democratic caucus to pass voting legislation to overcome a filibuster. Most Republicans in the Senate have rejected Democrats' attempts to pass ballots as ruthless biased supremacy.
Biden's decision to make a high-profile push for voting rights comes as an important pillar of his domestic agenda has stalled, raising questions about what Democrats will be able to accomplish now while still controlling the White House and narrow majority in both chambers of Congress.
Late last year, Manchin said he could not support the extensive expansion of the social safety net known as the Build Back Better Act. It is unclear whether the Democrats will be able to save any of the legislation in the wake of this setback.
This story and headline has been updated with further developments on Thursday.
CNN's Phil Mattingly, Kaitlan Collins, Manu Raju, Sam Fossum and Lauren Fox contributed to this report.
.