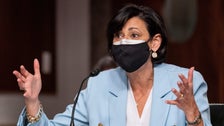 Disability advocates demanded a public apology from the Centers for Disease Control and Prevention Director Rochelle Walensky, after calling the "encouraging news" that the majority of COVID-19 deaths among those vaccinated were of people with pre-existing medical conditions – or "who were sick to begin with," as she put it.
In last week's GMA interview, Walensky described a study of people who had been vaccinated, saying: "The overwhelming number of deaths, over 75%, occurred in people who had at least four comorbidities. So in reality, it is people who "It's bad to begin with. And yes, really encouraging news about omicron … we're really encouraged by these results."
After Friday's call, Walensky tweeted her thanks to disability advocates for the meeting and said she "see[s] to our continued commitment to address the inequalities and inequalities exacerbated by the COVID-19 pandemic. "
The CDCs read aloud of the call noted that Walensky had "apologized for the hurtful, but unintentional, statement regarding COVID-19 deaths and comorbidities," and committed the CDC to "regular engagements" with the disability community.
After a meeting with Walensky, disability advocates said in a press call that the most important issue going forward would be for Walensky to follow up on her apology with political changes.
In a letter published Thursday, noted over 140 disability advocacy groups that people with disabilities and pre-existing conditions have been disproportionately killed by COVID-19 and that "each of these deaths is a devastating loss for families, friends and for our wider community."
"The dismissal and devaluation of people with disabilities has been our daily experience throughout this pandemic," the letter read.
groups requirements include regular, regular meetings between CDC leaders and disability groups, as well as a call for the CDC to center people with disabilities and other communities disproportionately affected by the virus, in all its COVID-19 guidance to the public.
Coronavirus has killed over 840,000 people in the United States in the last two years, and people with disabilities have been disproportionately exposed to serious illness, hospitalization and death. With the spread of the omicron variant, cases have increased across the country in recent weeks.
Wendy Lu contributed reporting.
.