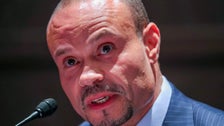 Bongino, who also hosts programs on Fox News and Fox Nation, was thrown out after saying on his YouTube channel that masks are "useless" to stop the spread of the disease.
"If I said I was surprised, I would be lying," Bongino shot back on Twitter, apparently against a YouTube employee after being informed of his suspension. "We knew it was only a matter of time before the tyrannical, hate speech, bullshit, big technical shit hole you work for would try to silence us."
Bongino, who often blocks Twitter followers criticizing him, acknowledged: "Respectfully, kiss my ass."
A YouTube spokesman told The Daily Beast that Bongino's video was removed for "violating our COVID-19 misinformation policies, specifically for comments that masks are useless, resulting in an initial attack on the channel."
On Friday, the company also removed Bongino's channel from its affiliate program, which allows users to monetize their content through advertisements for "repeatedly violating" guidelines for "harmful or dangerous acts." A spokesman declined to elaborate trades to The Hill.
Critics on Twitter reminded Bongino that private companies have the right to set terms of use and that the first amendment does not protect all speech, such as spreading lies.
.