A man in his 70s and a man in his 80s have both died of COVID-19 in southern Australia.
Key points:
Two people with COVID-19 have died in southern Australia
The number of cases and admissions has decreased
More appointments will be available at the Adelaide Showground vaccination hub
The state's case and hospital numbers have taken another dive.
3,450 cases were reported today, down from 4,349 yesterday.
"We are very pleased to have seen the positive rate in South Australia continue to fall – 3,450 positive cases in the 24 hours to midnight last night – so a very significant drop from two days ago when we were at 5,679 yesterday. 4,349 and of course today we report 3,450, "said Premier Steven Marshall.
Hospital admissions have dropped by 16 to 220, while 26 patients remain in the intensive care unit and there are six on ventilators.
The Adelaide Showground mass vaccination hub has been expanded to accept an additional 8,000 appointments per week, with the Jubilee Pavilion now used for Modern boosters.
"So there really are no excuses now," Mr Marshall said.
"We had a demand that significantly exceeded the supply of vaccination agreements a week or two ago.
"We have been able to increase the capacity for vaccination jobs in South Australia very significantly."
The unions convene an emergency meeting
South Australia's health workers' unions have called for an emergency meeting with the state government to address the ongoing pressure on the health care system.
Premier, however, said they refused to meet him today.
"I made myself available today, but unfortunately it was not convenient for them," he said.
The union leaders of nurses, ambulance and hospital doctors spoke to the media this morning, saying their calls to address the state's violent crisis had been ignored by the government.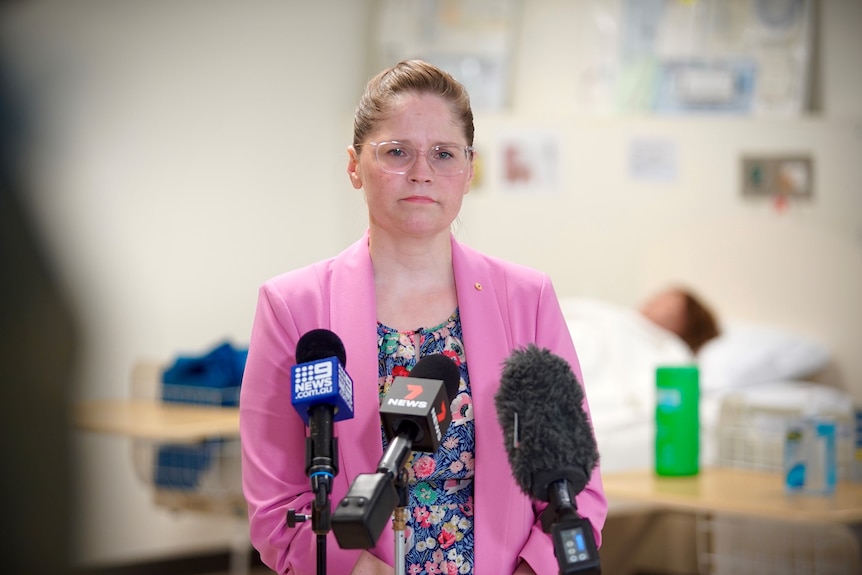 They said they raised concerns about the strain on health workers due to labor shortages in a letter sent to the premiere on Friday.
Elizabeth Dabars, Secretary of State for the Australian Nursing and Midwifery Association, said the ambulance ramp had gotten worse since southern Australia opened its borders.
"We demand answers, we demand solutions," she said.
"We have presented several solutions to this government and now we are asking the Prime Minister to respond."
Leah Watkins of the Ambulance Employees Association said the problem endangered the health and safety of workers.
"Despite the health chief's instruction not to ramp, ramping still occurs, and we believe one of our paramedics as a result has received COVID after being hit by a patient," she said.
The prime minister said the health service was "under enormous pressure and pressure everywhere".
"I very much hope that we are on top of the Omicron outbreak here in South Australia and we can start easing some of these concerns," he said.
Loading form …
.