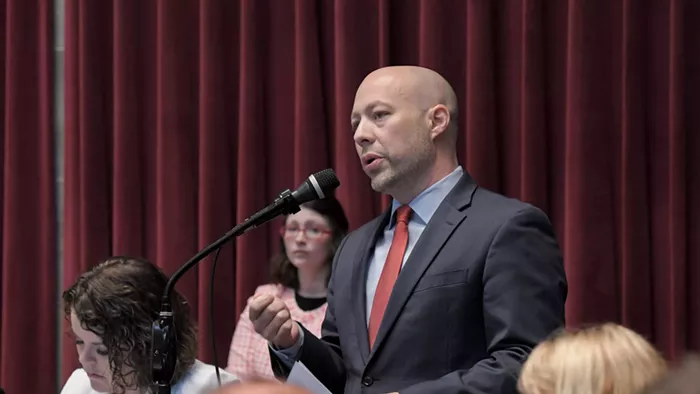 Apparently drowning puppies did not vote well enough.
So State Representative Cody Smith, R-Carthage, has settled for the second-best evil hunt he could find: removing health care from poor people across Missouri on the next occasion.
Smith, Parliament's budget chairman, has proposed – once again – that Missouri politicians be given their God-given right to deny health care to working poor people in the state. Probably in the name of Jesus.
If Smith gets his way, voters will go to the polls in November and give the state legislature the power to deny health care to many of those who received it, as the same voters demanded Medicaid expansion in August 2020. This is the appropriate time to become the Republican base for the U.S. Senate race in 2022, including in the general election.
Follow Ray Hartmann's latest columns
Well, those are some of the same voters, just not the ones Smith represents in rural Missouri. The vote in 2020 was adopted by a solid margin of 6.5 points (53.27 percent to 46.73 percent). The problem is that much of the 46.73 percent were real Americans in places like Smith's hometown of Carthage near the borders of Kansas and Oklahoma. The majority included too many minorities.
Smith was one of the Republicans who was not so good a loser at the time. It had not yet become fashionable at the time to blame all GOP election defeats for non-existent voter fraud, so Smith had this to say the day after the vote:
"Amendment 2 will be a knockout blow to the state budget, as more services will be cut or eliminated to pay for the health care of healthy adults."
Well, it was definitely foresighted. If Smith by "knockout-blow" meant being forced to receive nearly a billion federal dollars ($ 968 million) to expand Medicaid, then it's Missouri on the canvas.
In fairness to Smith, it's hard to be budget chairman at a time of unprecedented billions in budget surpluses when your guiding principle is that public spending is evil. Well, apart from giving a helping hand to the right kind of people, if you know what I mean.
Now it remains to be seen whether Smith simply played out some Marie Antoinette fantasies or actually spoke for his party when he made news on this topic on Friday. Since Smith is actually part of the Missouri House leadership, the following passage in the news coverage raised a few eyebrows:
House Speaker Rob Vescovo R-Arnold gave no hint of his position on Smith's proposal on Friday. "I have to talk to Cody about it," Vescovo said St. Louis Post-Dispatch. 'I have read it; I just have no comments on that yet. '"
Vescovo, from Arnold, is in his final year in the house due to time constraints. Like Smith, he is one of the more conservative members of the caucus. (His 89.26 percent lifetime rating from the American Conservative Union ranks him number 23 among 111 members of the GOP House. Smith is two places ahead in 21st place.)
But Missouri's Supreme Court last year unanimously confirmed the constitutionality of the 2020 vote to expand Medicaid. And any decision to launch such a lukewarm attack on Missouri's working poor would ultimately seem more political than ideological.
Perhaps Vescovo was dazzled by Smith's proposal. Or maybe it was the whole script. Maybe Republicans suffer from really bad communication between their leaders. After all, they came out of the gates at war with each other, while the Democrats – you can recognize them as the only people wearing masks – enjoyed their popcorn.
But in the end, the bigger story is that Smith – and presumably other Republicans – just can not let go of their Medicaid obsession. It is one part heartlessness, the other part is tax madness. With regard to the latter, the reintroduction of the policy speaks of giving up annual billions in federal tax dollars so that they can be better used by other states, for themselves.
And so does it: Providing modest health care to working poor people – those who are barely above the poverty line despite being employed – is, of course, the right thing to do from a moral perspective. And the Medicaid expansion promotes the health of everyone, including those of us who are not part of the program.
Do not try to tell this to Republicans during a pandemic, but there is an interactive component to public health. For example, pretty much all of us interact with employees at fast food restaurants, grocery stores, and the like. Many of them fall into the category of people for whom Smith and the company would deny coverage.
As I've asked before if you go into a fast food place and there are two cashier lines – one with a sign that says "this cashier has health care" and the other indicates "this cashier does not have health care" – which one would you go into? Even Republicans would like to wait a little longer in line for their McNuggets.
The logical extension of this principle of interactivity is that one should not have the right to spread infectious diseases to others as "a personal choice of health care." But I deviate.
Back to the denial of health care to the poor – Smith's favorite case when he does not fight to follow voters' dictates to raise the minimum wage – the chairman of Parliament's budget committee has even elaborated on the strange MAGA argument that Missouri should establish a "work requirements "to be met by the working poor.
The ingenious idea was destroyed way back in 2018 in Journal of the American Medical Association:
"A Kaiser Family Foundation analysis from the spring of 2017 showed that almost 80% of adults in Medicaid are from working families. Nearly 60% work themselves and that is completely without work requirements. Of those who do not work, about 35% are unable to work. due to disability or illness.Another 28% take care of other members of their families instead of jobs.Of those who remain, 18% are students, 8% are looking for work but can not find it, and 8% are It leaves about 3% of the non-working adult Medicaid population, which we could possibly define as 'able-bodied', but still choose not to work. "
What a fine group of people to target in 2022 here in Missouri. After all, why should hard-working taxpayers subsidize lazy welfare workers like people with disabilities or illness or people who take care of their families or go to school?
Why, Missouri must strike now. If not, it's only a matter of time before we give handouts to people who stay home to look after their dogs.
And the vote would certainly be different on that.
Ray Hartmann founded the Riverfront Times in 1977. Contact him at rhartmann1952@gmail.com or catch him on Donnybrook at 7pm on Thursdays on Nine Network and St. Louis I Know With Ray Hartmann from 9 a.m. to 11 p.m. Monday through Friday at KTRS (550 AM).
.