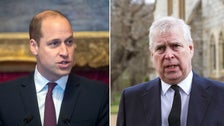 Prince William managed to evade a question about his scandal-ridden uncle, Prince Andrew, on Wednesday using the same technique as his father, Prince Charles.
William and his wife, Kate Middleton, were on a tour of a museum then ITV Reporter Chris Ship asked: "Your Royal Highness, may I just ask, do you support Prince Andrew?"
"Sorry, I can not hear you," replied the prince.
Ship repeated his question, but William did not answer and continued to leave the building.
Ship posted a clip of the exchange on Twitter, noting that the prince's response was very similar to his father's a few days earlier.
In the older clip, journalist Charles asks, "Your Royal Highness, may I ask about your view of your brother's position, Prince Andrew?" only to be ignored.
Last week, Prince Andrew was officially stripped of his military affiliation and royal patronage after a federal judge in New York rejected a proposal to drop civil case against him filed by Virginia Giuffre, who accused the Royal Department of sexually abusing and abusing her when she was a minor in 2001.
In 2019, Andrew resigned from royal duties for the "foreseeable future" following a disastrous BBC interview in which he tried to distance himself from his friend, the sex offender Jeffrey Epstein. In the interview, he expressed no sympathy for Epstein's victims and denied ever having met Giuffre, despite photographic evidence of the two together.
.