Entertainment

The 56th Super Bowl is headed for SoFi Stadium in Inglewood, California.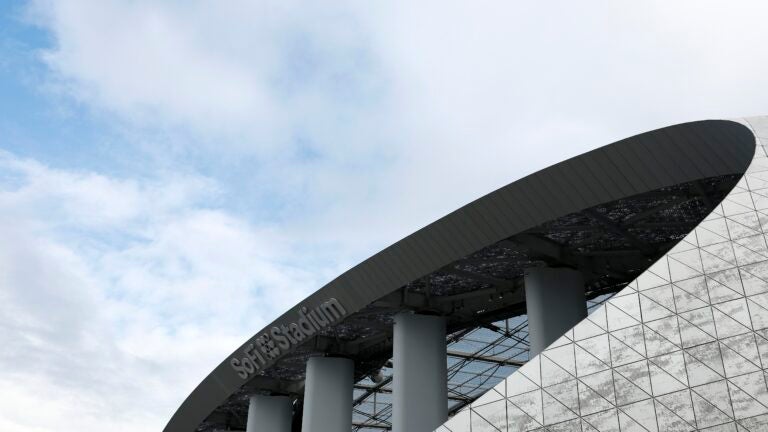 Would you watch a movie where Snoop Dogg plays an international super spy in a classic car? What about a sci-fi thriller where Eminem must defeat his alter ego Slim Shady in order to live? Then you're in for a treat.
Pepsi released the genre-bending 2022 Super Bowl LVI halftime show trailer Thursday, and the video features Dr. Dre, Snoop Dogg, Eminem, Mary J. Blige, and Kendrick Lamar. The trailer, dubbed "The Call" and directed by F. Gary Gray, is a hyper-stylized roll call of some of hip-hop's most familiar faces.
Gray's previous credits include "Men in Black," "Straight Outta Compton," and "The Fate of the Furious."
Selling public service or Rams? Firm defends Super Bowl spot


Patriot players' kids get hearing protection gear from Mass Eye and Ear

"Each time I collaborate with Dre, it seems to mark an important moment in entertainment history, from projects like 'Friday,' 'Set It Off,' 'Straight Outta Compton,' to now the Pepsi Super Bowl LVI Halftime Show," Gray said in a statement. "As a super fan, I consider it an honor and privilege to authentically build and create this moment with five of the most legendary artists in music history. It's been a blast! "
The trailer concludes with all five artists strutting toward SoFi Stadium in Inglewood, California ahead of the Feb. 13 Pepsi halftime performance. This marks the first Super Bowl in the Los Angeles area in nearly 30 years.
"The opportunity to perform at the Super Bowl Halftime Show, and to do it in my own backyard, will be one of the biggest thrills of my career," Dr. Dre previously said in a statement. "I'm grateful to Jay-Z, Roc Nation, the NFL, and Pepsi as well as Snoop Dogg, Eminem, Mary J. Blige, and Kendrick Lamar for joining me in what will be an unforgettable cultural moment."
Pepsi is also debuting an app that will feature behind-the-scenes images, videos, and giveaways including limited-edition footballs signed by Dr. Dre, set props, a Halftime Show license plate, glam set, calligraphy pen, and a chessboard.
Newsletter Signup
Stay up to date on all the latest news from Boston.com