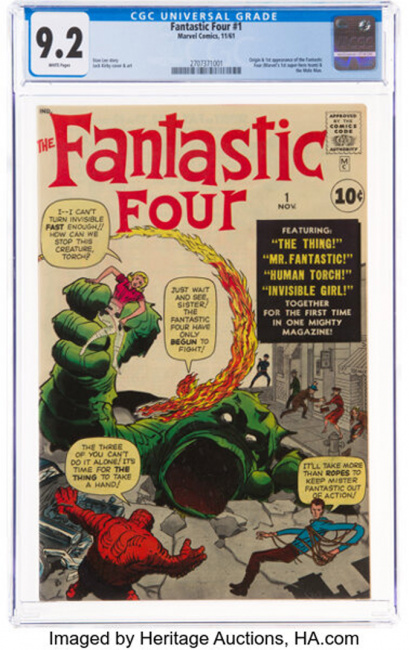 Imaged by HA
A CGC 9.2 copy of Fantastic Four # 1 (Marvel, 1961) with white pages sold for $ 1.5 million dollars (including the buyer's premium) at Heritage Auctions April 7-10 Comics & Comic Art Signature Auction.
This classically undervalued collectible comic, when compared to some of its heavy-hitter Marvel peers like Amazing Fantasy # 15 (see "Marvel's 'Amazing Fantasy # 15′") and Marvel Comics # 1 (see "'Marvel Comics' # 1 Realizes A Record Price"), is undervalued no more. The CGC April 2022 census had only 3 copies of this book in a 9.2 grade with only five higher, and Overstreet 2021 pegged its value in 9.2 at $ 210,000. This gorgeous copy from the Truckee Meadows Collection blew that estimate right out of the water, landing at a whopping $ 1.5 million, which was roughly seven times the Overstreet value. Needless to say, this is a new record sale for this comic at auction as well as the comic's first million dollar sale.
In the same auction, a CGC NM 9.4 Captain America Comics # 1 from the San Francisco Pedigree for 3.4 times the price the same copy brought at auction in 2019 (see "'Captain America Comics' # 1").
Click on Gallery below for full-size images!
.