Marvel's Knights of X # 1 by writer Tini Howard and artist Bob Quinn sends the newly formed team of heroes on a quest for a familiar-looking artifact.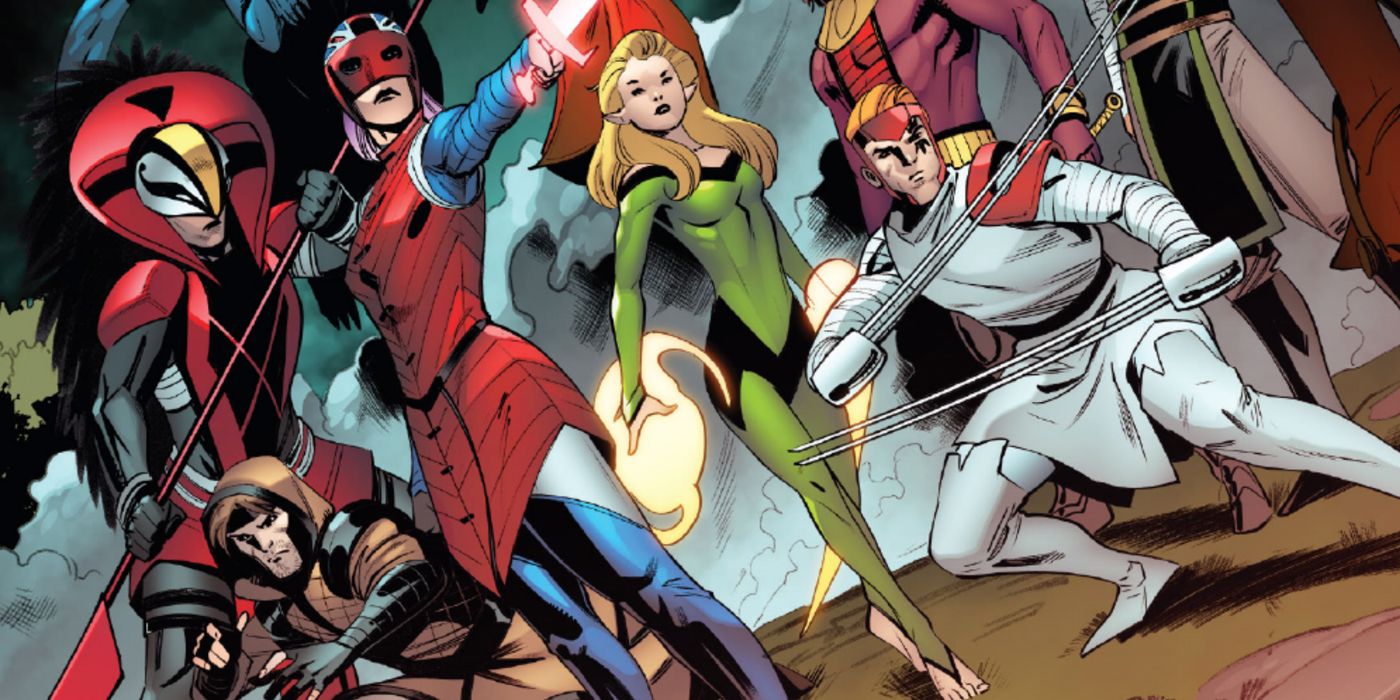 WARNING: The following article contains spoilers from Knights of X # 1, on sale now from Marvel Comics.
Marvel's Knights of X are about to embark on a dangerous quest set in medieval times to retrieve a powerful X-Men artifact, the Siege Perilous.
Knights of X # 1 sees Betsy Braddock / Captain Britain attempt to reconnect the mutant island of Krakow to the Otherworld, which has been taken over by Merlyn and King Arthur's army of Furies, which are Sentinel-like beings hunting out "witchbreed," the medieval word for mutants. After convincing Roma to briefly open a portal to Krakoa so that she can assemble a team of X-Men (which includes Gambit, Rictor, Shatterstar, Bei the Blood Moon and Rachel Summers, with Arthur's son Mordred also later joining the crew), the newly formed Knights of X gather and witness a lightning bolt from above strike the circle they're standing in. From the sky, the mythical Siege Perilous appears and then disappears before them all. Braddock notes, "With us all assembled, this is what Roma has sent us questing for! "
RELATED: Knights of X Quietly Sets Up [SPOILER] to Leave the X-Men – And Earth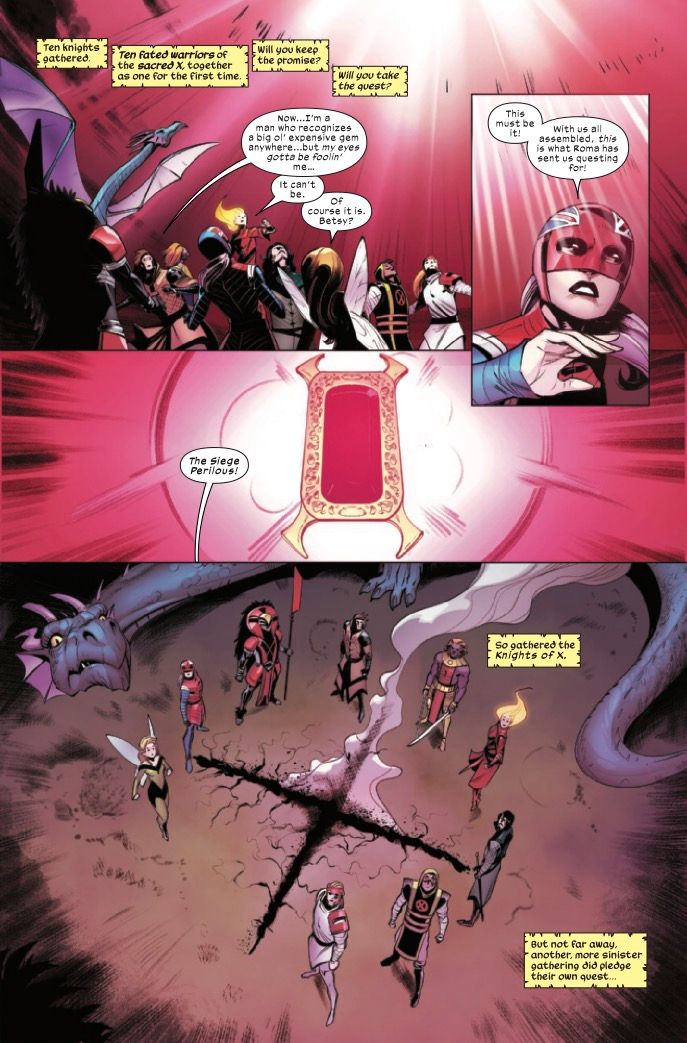 The bad news for the Knights of X is they aren't the only ones searching for the Siege Perilous. The final page of the issue shows Merlyn appearing before Arthur and the Knights of the Round Table. Merlyn shows them that the Knights of X are searching for the Siege Perilous, which Meryln says is the only thing that can change Mordred, who is a mutant, "forever." While only the worthy are allowed to embark on a quest for the artifact, Merlyn says that does not mean Arthur can intervene once the Knights of X have retrieved it.
RELATED: How Excalibur Sets Up The X-Men's Knights of X
In Arthurian legend, the Siege Perilous was an empty seat at the Round Table reserved for a knight who would someday retrieve the long-lost Holy Grail. In the Marvel Universe, the artifact can create portals that grant the person who walks through them a new life and, essentially, a new reality, for better or worse. First appearing in 1984's Mighty World of Marvel # 13, the Siege Perilous has appeared and been used in series such as Uncanny X-Men, Captain Britain and MI-13, Spider-Verse and more.
Knights of X # 1 comes from writer Tini Howard, artist Bob Quinn, color artist Erick Arciniega and letterer VC's Ariana Maher, with cover art by Yanick Paquette and Alejandro Sánchez and variant cover art by Meghan Hetrick, David Lopez, Tom Muller, Rod Reis, Stephen Segovia , Rain Beredo and Skottie Young. The issue is on sale now from Marvel.
Source: Marvel
The X-Men Have Their Very Own Lost Generation
Read Next
About The Author