CBR can exclusively provide the design sheets for Professor X's daughter, Xandra, and Hodinn in an upcoming issue of Marauders.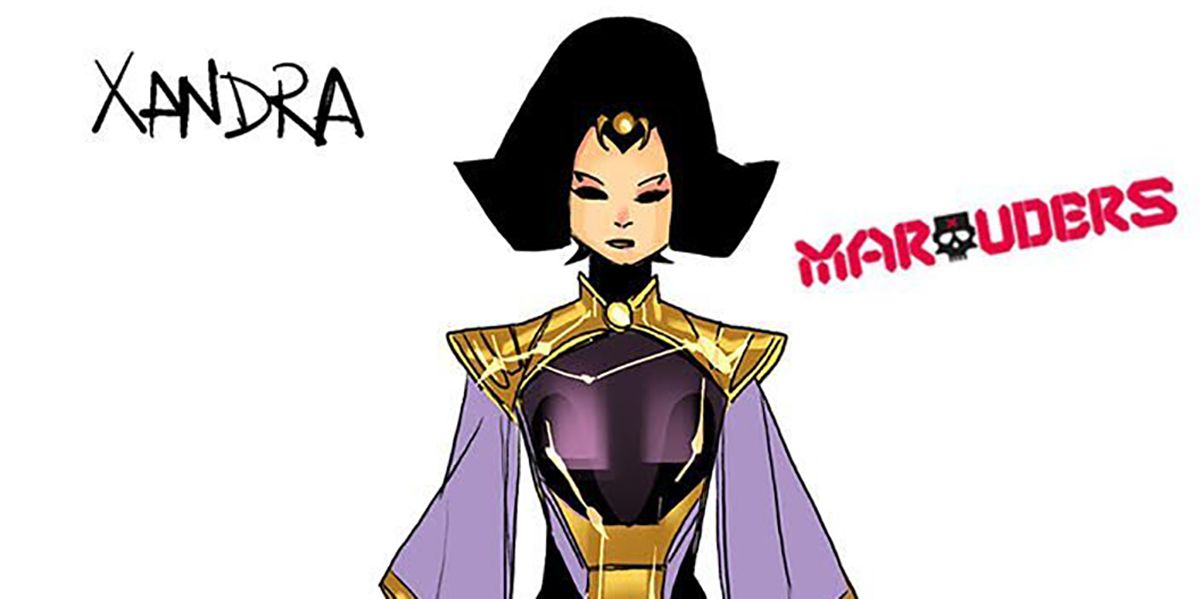 Marvel Comics provided CBR with an exclusive look at the character design sheets for Xandra and Hodinn in Marauders # 3, by writer Steve Orlando and artist Eleonora Carlini.
You can see CBR's exclusive design sheets for Hodinn and Xandra below, which were illustrated by Carlini and colored by Matt Milla, after the solicitation text for Marauders # 3. Additionally, there are design sheets for Delphos / Delphos the Red, Cassandra Nova and Davan Shakari / Eric the Red.
RELATED: Jane Foster's Mighty Thor Returns in First Look at New Marvel SeriesMarauders (2022) # 3
Published: June 08, 2022
Writer: Steve Orlando
Penciler: Eleonora Carlini
Cover Artist: Kael Ngu
EXTINCTION AGENDA – PART 3! Panic in Shi'ar space! The Marauders are prisoners of the Kin Crimson, a secret society stretching back billions of years, who outrank even the Shi'ar Majestrix… or so they think. But Captain Pryde and the Marauders aren't giving up, not with the Shi'ar holding the last survivors of mutantkind's first generation hostage. With the weight of history looming like a nuclear threat, can Kate Pryde convince Xandra to side with mutantkind against her kingdom?
RELATED: Iron Man's New Addiction Leads Tony Stark to Make a Major DecisionCreated by Kelly Thompson and Jan Bazaldua, Xandra made her first full appearance in 2018's Mr. and Mrs. X # 3. She's the daughter of Charles Xavier and Lilandra Neramani, the former Majestrix of the Shi'ar Empire. Like her father, Xandra possesses psychic abilities, which make her a formidable foe. Currently, she's the Majestrix of the Shi'ar Empire, having taken up the title in the pages of New Mutants.
The current Marauders series has seen Kate Pryde bringing together a new version of the titular team, whose goal is to help mutants get to Krakoa. Their current mission led them to Shi'ar, which provoked the ire of the Crimson Kin. The mysterious and secretive organization counts the fearsome Eric the Red among its members. The run has also seen the return of Cassandra Nova, Xavier's villainous sister. Preview pages for Marauders show Cassandra getting her own version of Cerebro.
RELATED: Charles Xavier's Twin Sister Gets Her Own Cerebro in Marvel's Marauders (Exclusive Preview)The original Marauders team was created by Chris Claremont, John Romita Jr. and Dan Green. The group made its first full appearance in 1986's Uncanny X-Men # 211 and originally worked for Mr. Sinister. Over the years, the team has undergone a number of major changes.
Marauders # 3 releases June 8 from Marvel Comics. The issue features a cover from Kael Ngu.
EXCLUSIVE: Thor and Hulk Face Off in the Marvel Universe's Deadliest Arena
Read Next
About The Author