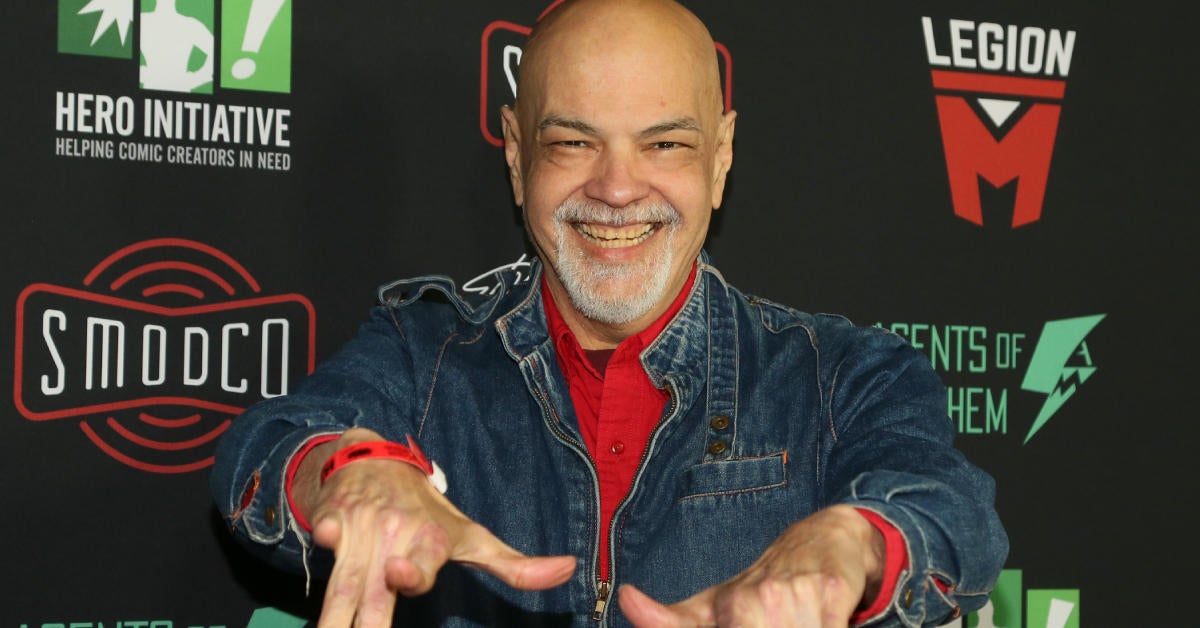 George Perez, comics legend, has passed away at the age of 67. The artist and industry veteran had been dealing with Pancreatic Cancer. Fans are reacting to the sad news today. He stepped away from the industry for his health and many comics creators have paid homage to his work since the diagnosis came through. Recently, DC Comics published an impressive tribute to his work in celebration of his birthday, which would have been on June 9th. Right now, the entire comics community is chiming in with admiration for a man who helped create the superhero stories we all love.
"When I was asked to come up with a design and layout that would honor George Pérez and his many incredible contributions to DC Comics over the years, I was truly honored," said Dan Jurgens. "I have admired George's work since I first saw it and have had the good fortune to work with him in different capacities, on a number of projects. More importantly, I've been able to see the way George treats fans and readers, always smiling, gregarious and approachable. It was a joy to watch this cover come together and I'm sure everyone who contributed feels the same way. "
Thank you. All of you, for the love and support you have shown George through all of this.

It meant the world to him. pic.twitter.com/zputTLO2sF

– Constance 🐿 (@SunshineCVE) May 7, 2022
Our thoughts and prayers are with George Perez's family and friends at this time.
Lost a real super hero
Jack Kirby and John Romita were my childhood, but, more than any other comic book artist, GEORGE PEREZ was my EVERYTHING.
His tremendous talent was exceeded only by his humanity and kindness.
Condolences to his family, friends, and loved ones.
We've lost a real life super hero. pic.twitter.com/lugNNQy1wL

– Fabian Nicieza (@FabianNicieza) May 7, 2022
prevnext
So much style
George Perez was the first comic artist whose style I recognized. Here are some of my favorite images from his epic run on the Titans, which is also the book that ignited my love of comics.

May he Rest In Peace. pic.twitter.com/yjHNsikVee

– Jay Faerber (@JayFaerber) May 7, 2022
prevnext
One of the best
RIP the great George Perez. One of the all time best creators and human beings in comics. Sincerest condolences to his family, loved ones and fans. pic.twitter.com/pNWnlWiYeP

– Christos Gage (@Christosgage) May 7, 2022
prevnext
Eye-opening work
RIP to comic book legend, George Perez. His work on New Teen Titans & Crisis on Infinite Earths was my gateway to reading DC Comics. And gave me the love for tons of characters in comics, double page spreads, & covers.
Thanks for all the adventures, George! pic.twitter.com/mHWztTMnga

Todd Nauck @ToddNauck May 7, 2022
prevnext
Such a full life
I am so numb about hearing the news. I'm shaking, but I feel like something needs to be said. RIP, George Perez. You beautiful soul. Thank you for your kindness and your stories. You were a true hero to so many of us. #forgeorge pic.twitter.com/zVxmptw9Eq

– Near Mint Condition (@NearMintCon) May 7, 2022
prevnext
A titan!
George Perez, one of the GOATs of our craft, rests in peace and power. It's gratifying, at least, that he got to hear how all of us felt about him while he was still here.

He was a Titan.

Condolences to his family, his many friends, and his many, many fans. https://t.co/BWEyyh7Mmv

– Cully Hamner (@CullyHamner) May 7, 2022
prevnext
RIP
Rest in peace George Perez.

He helped make my favorite fictional character ever into what he is today, his work has had a huge effect on my life, and his influence is as great as his talent. I hope his family is doing okay. pic.twitter.com/9JxiyLv2NB

– Hoppy (@ hoppymcfboi21) May 7, 2022
prevnext
Marvel celebrates the legend
George Pérez was an artist, a writer, a role model, and a friend. His work paved seminal stories across comics, and his legacy of kindness and generosity will never be forgotten. Our family at Marvel mourns his loss today, and our hearts are with his family and loved ones. pic.twitter.com/Z61gXE1zk4

– Marvel Entertainment (@Marvel) May 7, 2022
prevnext
DC Comics offers their condolences
George Pérez made everything look effortless. His contributions were pivotal in both driving and reinventing DC's long and rich history. George's stories were a joy to read, and his work resonated with everyone he met. He will be missed by those here at DC and fans worldwide. pic.twitter.com/g8lMC62tK5

– DC (@DCComics) May 7, 2022
prev
.