Doctor Strange in the Multiverse of Madness introduces several new characters into the Marvel Cinematic Universe (MCU). One that casual fans might not be familiar with is Black Bolt.
The character, portrayed by Anson Mount, is a member of the Illuminati, a group of superheroes who work together to protect their multiverse, much like the Avengers have done in Earth-616's universe.
Black Bolt's appearance in Doctor Strange 2 is not the character's debut in the Marvel Cinematic Universe, as he first appeared in ABC's Marvel TV show Inhumans, also played by Mount.
Here is everything you need to know about the character. Fair warning, though, this article contains spoilers for Doctor Strange in the Multiverse of Madness.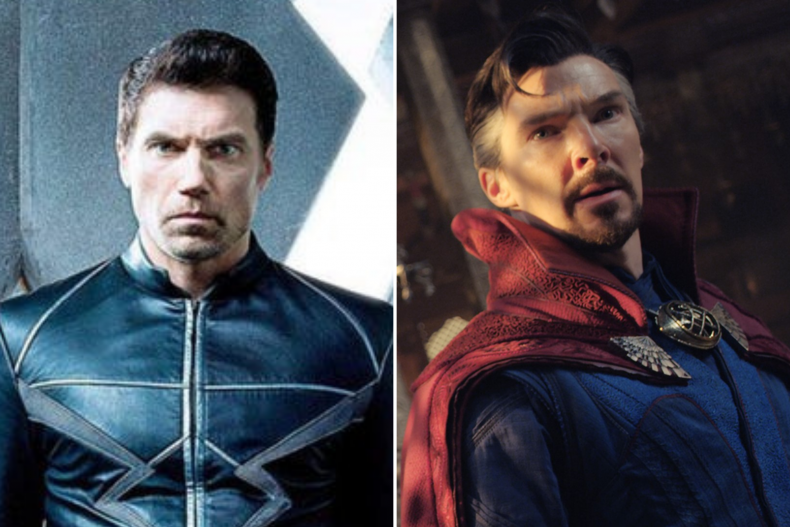 Who is Black Bolt in Doctor Strange in the Multiverse of Madness?
Black Bolt's real name is Blackagar Boltagon, a name Doctor Strange (Benedict Cumberbatch) makes fun of almost immediately after he learns it. He is a member of the Inhuman royal family.
He first appeared in 1965 Marvel comic Fantastic 4 # 45, originating from Attilan, known as the Island of the Gods.
Black Bolt's main power, as demonstrated in Doctor Strange in the Multiverse of Madness, is the ability to use his voice to create quasi-sonic energy that can destroy practically anything in range.
The character used this power to kill his multiverse's Doctor Strange, per the sorcerer's request, after he was corrupted by the Darkhold, which he'd used in the Illuminati's battle against their version of Thanos.
In Inhumans, Black Bolt was the King of Attilan but was forced to flee to Earth after his brother Maximus (Iwan Rheon) led a rebellion against him.
By the end of the show's first season, Black Bolt returned to Attilan to defeat his brother and then led the Inhumans to Earth where they could live peacefully.
In the Marvel comics Black Bolt often encounters the Fantastic Four, and in the film the character works alongside the team leader Reed Richards (John Krasinski) as part of the Illuminati.
Inhumans was canceled after just one season on ABC, and while Mount is reprising his role as Black Bolt it is unclear if it is the same variant of the character that fans have seen in the TV show.
Of course, given Doctor Strange 2's iteration of the character dies at the hands of Wanda Maximoff (Elizabeth Olsen), it may be the last that fans will see of him, or perhaps he could return as a new variant. Anything is possible in the MCU now that the multiverse is well underway.
Doctor Strange in the Multiverse of Madness is out in theaters now.