Marvel Namor concept art has apparently leaked that is legit and related to bit time Black Panther 2 spoilers.
YouTuber Grace Randolph took to Twitter to confirm the concept art and spoilers are legit as she tweeted, "People out there leaking Namor," and included a "pensive face" emoji.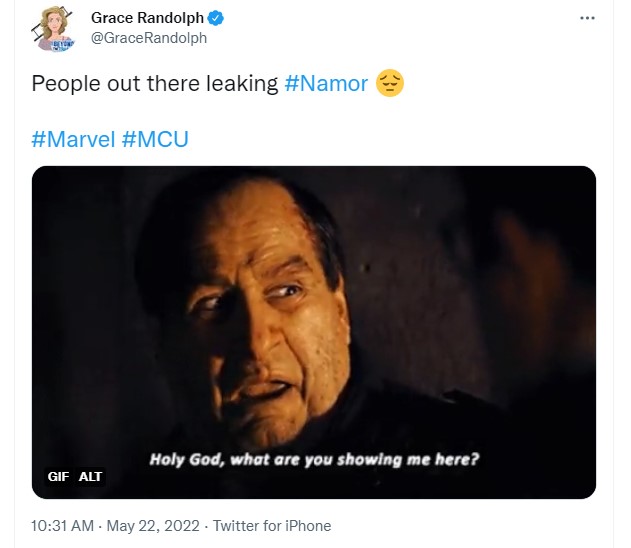 Namor Black Panther 2 spoilers:
Regarding Namor concept art, a blurry image has been posted online, with Twitter user MyTimeToShineHello, who is said to be a scooper, posting the following mock-up art as well, again said to look like Namor in the MCU.
It's been rumored that Namor will be played by a Mexican actor and that Namor will be the first Mutant of the MCU (which could explain why no X-Men and mutants in Doctor Strange 2, and being the first mutant fits with the comics), with Tenoch Huerta (Narcos) previously speculated for the part.
However, another rumor has offered that the Atlanteans in the MCU will be made up of Sub-Saharans who integrated with the original Atlanteans, with the rumor also claiming that Namor will replace Black Panther as Marvel's premiere POC actor and character due to the death of Chadwick Boseman.
In the comics, Namor's mother is Atlantean while his father is the human American sea captain Leonard McKenzie, and while I do not believe Namor has a "race" in the comics, it seems many fans think the character resembles Asians, but if the rumors are true and Kevin Feige is going with a Mayan Mexican or a POC version, it seems as if the Atlanteans in the MCU will be from Mexican or African / Sub-Saharan origin.
Randolph also said a while back that the underwater earthquake tease in The Avengers: Endgame that Okoye from Wakanda goes to investigate is indeed a Namor tease.
Black Panther: Wakanda Forever has a November 11, 2022 release date directed by Ryan Coogler and stars Letitia Wright as Shuri, Winston Duke as M'Baku, Danai Gurira as Okoye, Daniel Kaluuya, as W'Kani, Dominique Thorne as Riri "Ironheart" Williams, with Martin Freeman as Everett K. Ross.
Marvel Namor concept Black Panther 2 art: