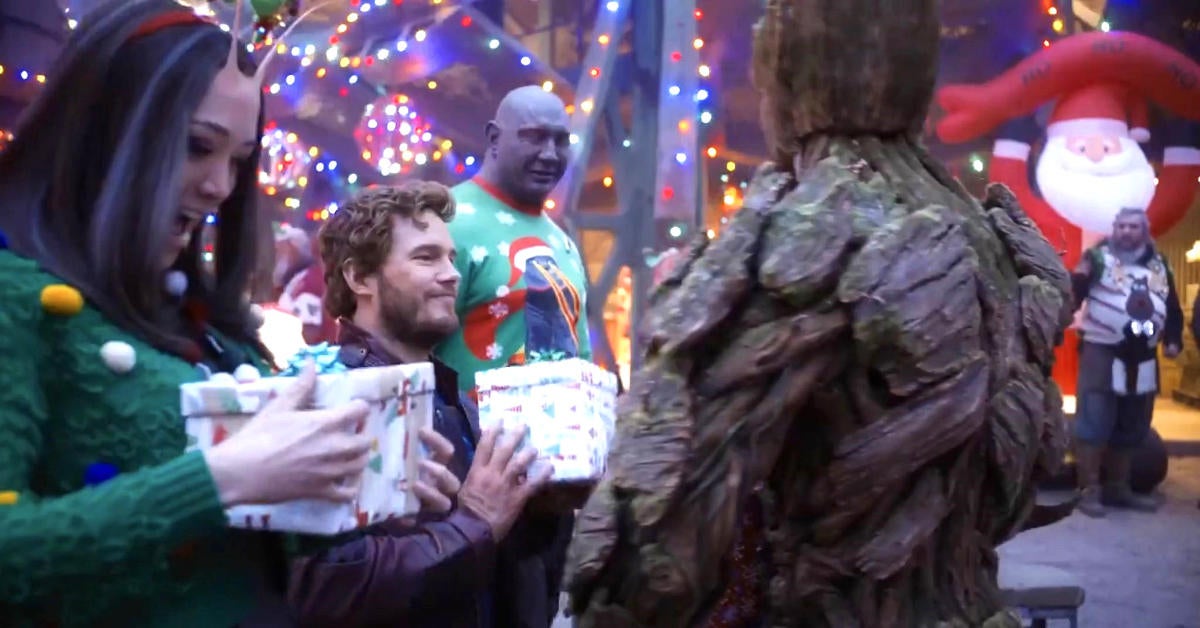 Marvel Studios isn't done giving fans the gift of the Marvel Cinematic Universe in 2022: The Guardians of the Galaxy Holiday Special is still on the way, and the first reactions to the new Marvel Special Presentation are coming in! One of the first ones that gained the attention of James Gunn himself came from Daniel Baptistawho says we have nothing less than a new "Christmas classic" on our hands:
"The #GuardiansOfTheGalaxy Holiday Special is A NEW CHRISTMAS CLASSIC. @JamesGunn delivers another heartfelt and out of this world adventure that focuses on the family we choose and lengths we'll go to make their Christmas magical. I need more Cosmo ASAP! #GOTGHolidaySpecial ".
Scroll below for more of the first reactions to Marvel's Guardians of the Galaxy Holiday Special!
Another Great Marvel Special Presentation
I've watched the Guardians of the Galaxy Holiday Special!

Pom Klementieff and Dave Bautista are joyful together for laugh out loud moments. The nuance James Gunn brings to emotional beats are great and the little MCU ties are exciting for the hardcore followers. Well done. pic.twitter.com/yqBLXsSaDM

— BD (@BrandonDavisBD) November 17, 2022
As far as Special Presentations go, I really enjoy the format for Marvel. You prefer it over the series.

The Guardians of the Galaxy Holiday Special and Werewolf by Night are so, so different which is great. Guardians feels like a silly mini-movie check-in with top tier characters.

— BD (@BrandonDavisBD) November 17, 2022
ComicBook.com's Brandon Davis is loving the Marvel Special Presentation format. Werewolf By Night and Guardians of the Galaxy Holiday Special seem to both be hits.
prevnext
The Weirdos Are BACK
THE GUARDIANS OF THE GALAXY HOLIDAY SPECIAL is so much fun!! Happy to have these fucking weirdos back front-and-center after their barely-there cameo in LOVE AND THUNDER. Mantis is truly one of the best characters in the MCU. 🎄❄️🛸

— CLÁY (@schmvngpctrs) November 17, 2022
This fan is loving getting some real time with the Guardians of the Galaxy in 2022, unlike their brief cameo in Thor: Love & Thunder.
prevnext
Wonderfully Standalone
'The Guardians of the Galaxy Holiday Special' is a lot of fun and made me smile a lot. Unlike everything Marvel it's not pushing the next MCU movie or show. It's exactly what the title is selling a holiday special. If you're a fan of Drax and Mantis you're going to love it. pic.twitter.com/f05ddmE1mP

— Steven Weintraub (@colliderfrosty) November 17, 2022
Collider's Steve Weintraub says the Holiday Special is not serving any larger MCU storytelling agenda – and that's wonderful. Just a fun, heartwarming, Christmas story, as promised.
prevnext
Good Tunes, Good Groot
The guardians of the galaxy holiday special was very charming. It's filled with heart, action, and laughs. The ending hits VERY hard. Groot being practical was dope. The music was amazing too 10/10 pic.twitter.com/HWQ1KOjaXg

— deo.🎬 (@frickyuu) November 17, 2022
The Guardians of the Galaxy Holiday Special saved on budget with a Groot made from practical effects – but this critic is assuring fans it works. As expected, James Gunn also seems to have another great soundtrack in store for fans, as well.
prevnext
Great Debut For Kevin Bacon
The #GotGHolidaySpecial is just so much fun. Not nearly enough Nebula, but that's an evergreen feeling for me. Lots of laughs and joy. And honestly, hard to imagine a better kick-off to a career for @kevinbaconreally excited to see where he goes from here. pic.twitter.com/LAijz56hjs

— Andi Ortiz (@ReallyAndi) November 17, 2022
This is one heck of an introduction to a new actor, and that Kevin Bacon guy looks like he's going to be a star.
previous
.