Thor's next epic confrontation will see him take on Thanos all over again, and this time the Mad Titan has a brand new Infinity Stone backing him up.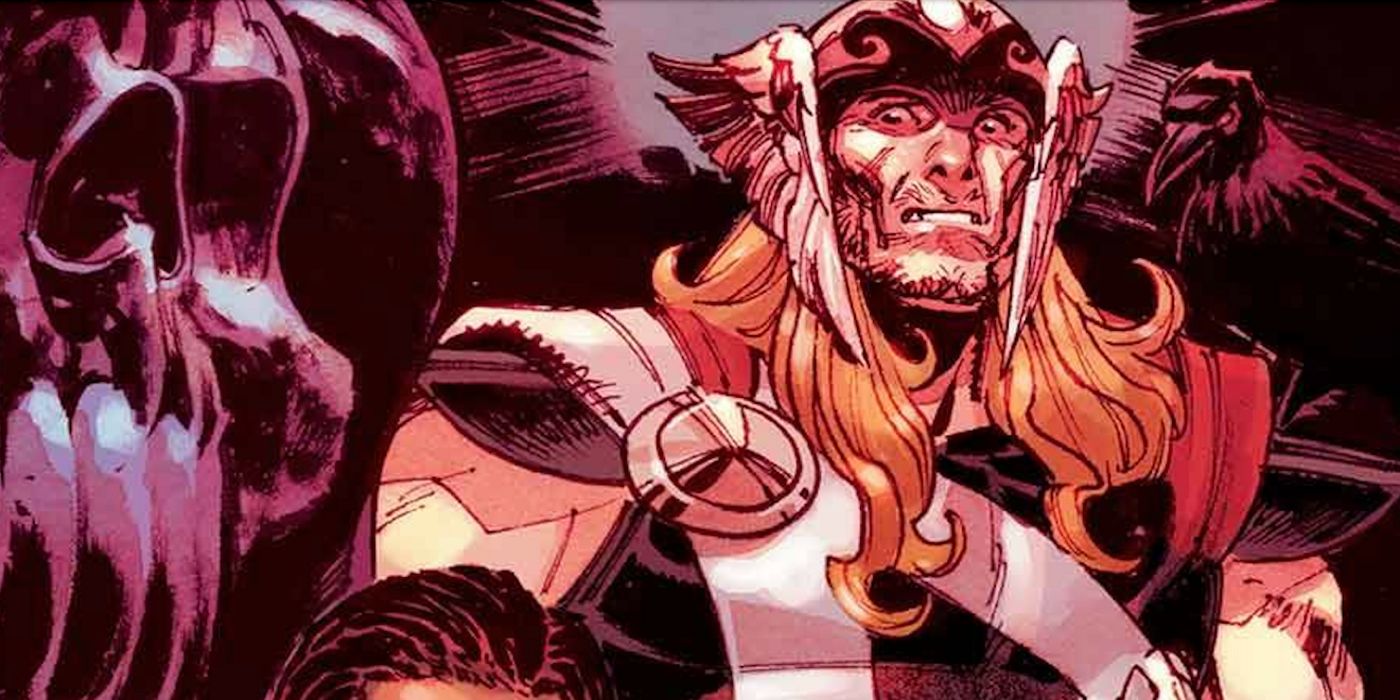 The Mighty Thor is preparing to face off against Thanos wielding the darkest Infinity Stone of all time.
A CBR exclusive preview of Thor #29 by writer Torunn Grønbekk (Punisher War Journal: Base, The Mighty Valkyries) and artist Nic Klein (X-Force, Deadly Neighborhood Spider-Man) finds the titular All-Father plotting his next move against the villainous Corvus Glaive. While the Black Order isn't what it used to be following Thanos' demise, that hasn't deterred Corvus in his endeavours. Not only has the villain managed to get his hands on Thor's infant sister Laussa, but he's also begun searching for the Black Infinity Stone — a mysterious item which the God of Thunder already knows could spell doom for the entire Marvel Universe.
RELATED: How Marvel's Most Underrated Hulk Challenged Thor
Thor #29
TORUNN GRÖNBEKK (W)
NIC KLEIN (A)
MATT WILSON (C)
Variant cover by KAARE ANDREWS
Variant cover by OLIVIER COIPEL and ALEJANDRO SÁNCHEZ
Variant cover by SALVADOR LARROCA and EDGAR DELGADO
"THE LEGACY OF THANOS" – PART ONE!
Nic Klein returns with guest writer Torunn Grønbekk (JANE FOSTER & THE MIGHTY THOR, PUNISHER: WAR JOURNAL) for a Valkyrie-filled adventure! When a universally loathed foe kidnaps Thor's baby sister Laussa and drags her so deep beyond Hel that not even Sif's All-Sight can see her, the God of Thunder must call upon the one ally who has traveled so far into the unknown before: Rúna. But what dark secrets of Asgard's bloody past lay beneath the frozen waters?
32 PGS./Rated T+ …$3.99
In 2020's Thor #6 by Donny Cates and Nic Klein, the God of Thunder first uncovered the future threat that the Black Infinity Stone posed. At the time, Thor was in the middle of his final battle with the universe-devouring entity known as the Black Winter. After felling the Black Winter by sacrificing what was left of Galactus, Thor was given a glimpse of his eventual end. In his vision, Thor witnessed his fellow heroes transformed into grotesque, zombified shells of their former selves, all commanded by Thanos, who was wielding Mjolnir adorned with the Infinity Stones fans know best, while his other hand bore an ominous gauntlet embedded with a single black Infinity Stone.
Thanos has long been synonymous with the Infinity Stones. Even before their true nature was known and these artifacts were collectively known as the Soul Gems, Thanos lusted after their untold power. Over the years, Thanos has used their power to wage war against his superpowered enemies, court Death herself and wipe out half of all life in the universe in a moment that has come to define both the comics and the Marvel Cinematic Universe.
RELATED: Special Thor Cover Art Depicts Every Marvel Version of the God of Thunder
In more recent years, Thanos has suffered numerous defeats at the hands of his fellow Eternals. After murdering the former (and now again) Prime Eternal Zuras, Thanos launched an all-out assault on the Eternals before ascending to the rank of Prime Eternal. This reign was short-lived, as the Mad Titan was left in a state where he was unable to be resurrected or repaired by the Machine that is the world in the same way as others of his kind after his inherent mutations cost him his life.
Thor #29 is written by Torunn Grønbekk, with art by Nic Klein, colors by Matt Wilson and letters by VC's Joe Sabino. Main cover art is by Klein, with variant covers courtesy of Kaare Andrews, Olivier Coipel, Alejandro Sánchez, Salvador Larroca and Edgar Delgado. Thor #29 goes on sale Dec. 7 from Marvel Comics.
Source: Marvel