Marvel Studios is reportedly 're-evaluating' its upcoming Phase 5 and 6 slate after heavy internal criticism about Phase 4's direction.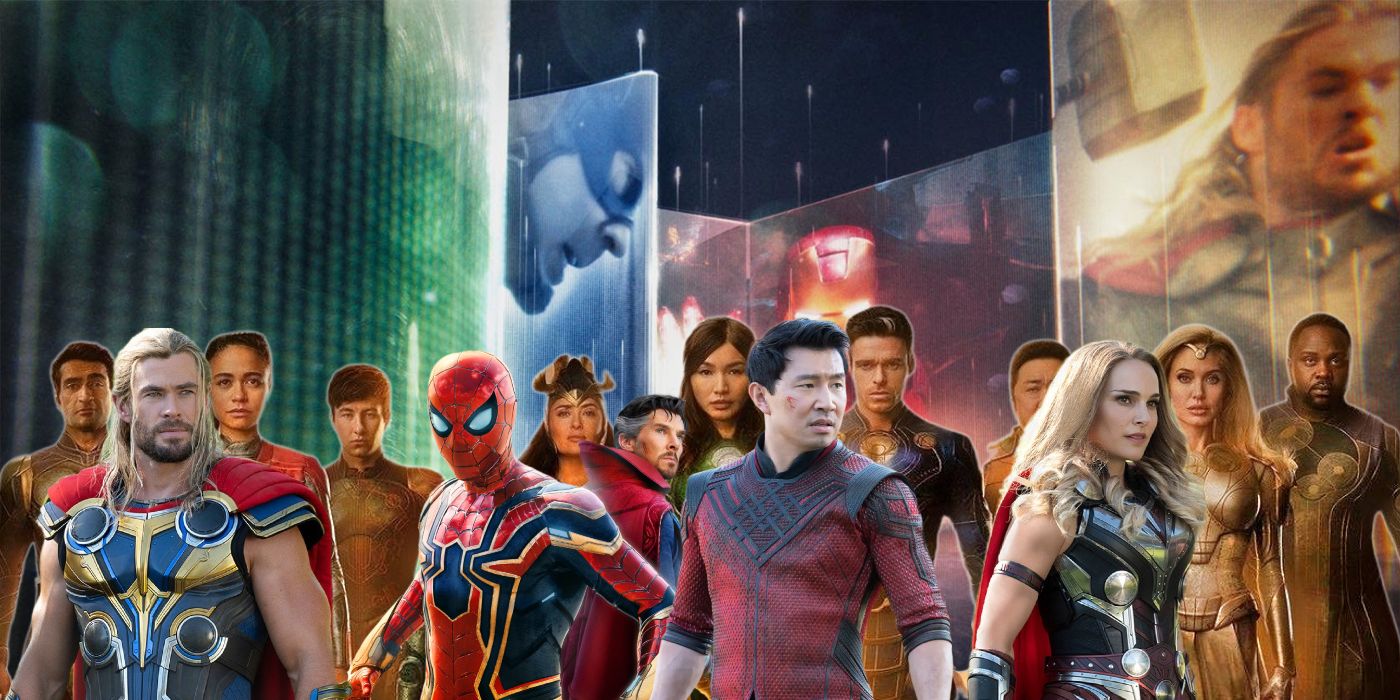 Marvel could be looking to focus on quality over quantity for the Marvel Cinematic Universe in Phases 5 and 6.
According to a Marvel Studios source cited by Cosmic Circus, the studio is re-examining its upcoming slate after "internal negative feedback" over the handling of Phase 4's distribution and quality. The issues addressed behind the scenes include creative difficulties with scripts, post-production problems and lackluster visual effects. To prevent Phases 5 and 6 from continuing down a similar path, Disney could ensure a creative oversight on MCU projects still in the pre-production stage which in effect could see future projects delayed or outright cancelled.
RELATED: What Disney+'s New 'Profitability' Strategy Means for Marvel & Star Wars
Complaints About Marvel Studios' Recent Titles
Marvel Studios has come under fire for quality issues since the beginning of Phase 4. VFX companies have slammed Marvel for overworking its artists and giving them tight deadlines to complete their work. The studio has considered forming its own Marvel in-house VFX department in response to the backlash.
Following the historic success of Avengers: Endgame in 2019, fan anticipation was high for what was in store for Phase 4 of the MCU. But a common complaint following each new release in Phase 4 is that the shared universe now feels too disconnected and there is an inconsistency in tone between projects such as Eternals, Doctor Strange in the Multiverse of Madness or Thor: Love and Thunder. Marvel Studios president and chief creative officer Kevin Feige defended this aspect of it, claiming this is what makes Phase 4 so unique.
"That's always the intention, is that the Marvel Studios logo doesn't promise a particular group of characters and a particular exact tone," Feige said. "It promises a spirit and a style and a vibe and an emotion, I hope. And it's perfect timing to go from Moon Knight thaw Mrs. Marvelspecifically because they're so unique and so different with [Doctor Strange in the] Multiverse of Madness spirit [Thor:] Love and Thunder on either end of that."
RELATED: Marvel Studios Develops Ideas on a 'Not-So-Secret' Retreat
The MCU's Behind-the-Scenes Troubles
Phases 5 and 6 have already seen some setbacks on the theatrical side this year. Spider-Man: No Way Home director Jon Watts dropped out of helming the Fantastic Four reboot and was replaced by WandaVision showrunner Matt Shakman. Additionally, Mahershala Ali's MCU debut in Leaves was put on pause after original director Bassim Tariq left the project and script issues delayed the production. Lovecraft Country director Yann Demange took over from Tariq in November.
In re-evaluating the Disney+ content, the source indicates that Marvel could push for more Special Presentations in the style of Werewolf by Night spirit The Guardians of the Galaxy Holiday Special. This approach would supposedly be more cost-effective for the studio and prevent franchise fatigue for the fans.
Source: Cosmic Circus