Thanos was created by Jim Starlin and Mike Friedrich in The Invincible Iron Man #55, which gets revisited by the upcoming Thanos: Death Notes #1.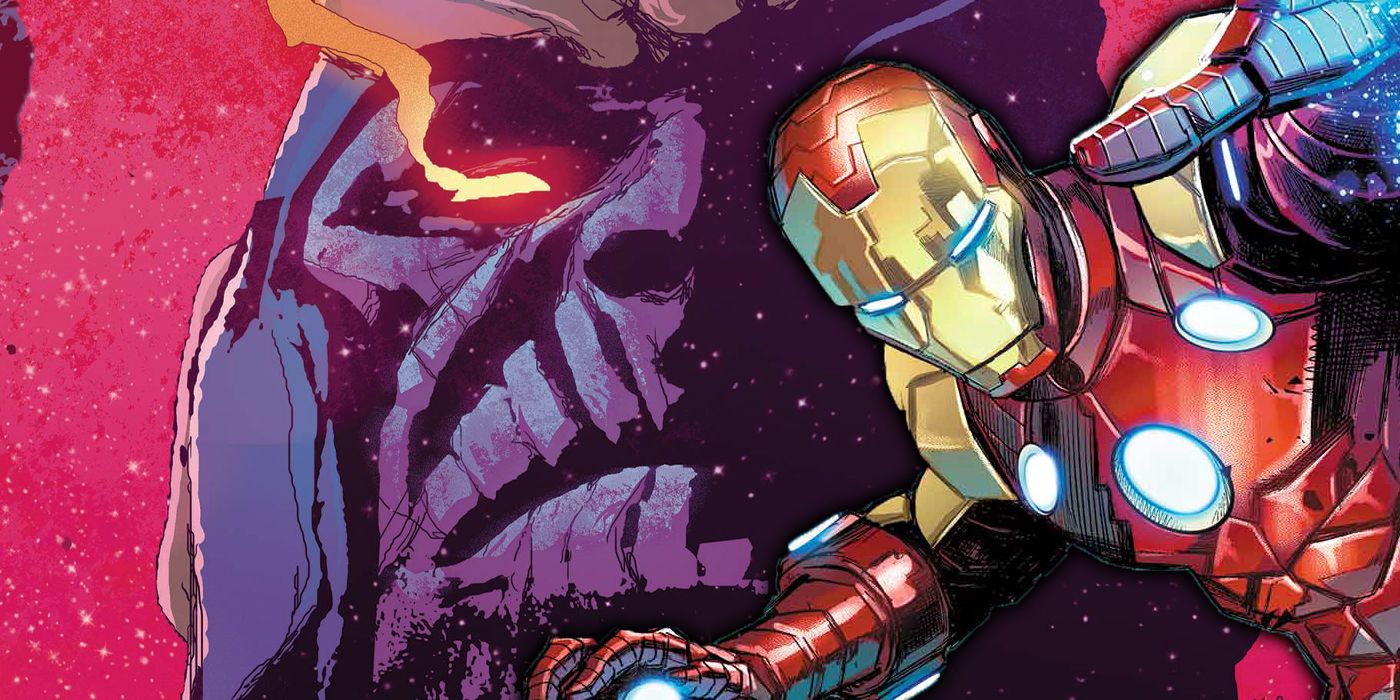 Iron Man is toying with a robot version of Thanos in a follow-up story to the Mad Titan's first appearance from Marvel Comics.
Written by Iron Man scribe Christopher Cantwell and illustrated by Travel Foreman, the short story "All That Is" told within Thanos: Death Notes #1 will take place immediately after the events of The Invincible Iron Man #55 from 1973. Thanos' comic book debut saw Iron Man and Drax the Destroyer team up to fight the villain, but their battle ended with Thanos escaping and leaving a robot duplicate behind to distract them. A preview for the Thanos: Death Notes story shows Tony Stark investigating the duplicate and experimenting on it for hours, afraid of what it may be capable of.
RELATED: How Marvel Turned Thanos into the Ultimate Version of the Punisher
THANOS: DEATH NOTES #1
J. Michael Straczynski, Torunn Grønbekk, Kyle Starks & Christopher Cantwell (W)
ANDREA DI VITO, RON LIM, TRAVEL FOREMAN, & MORE (A) • Cover by Andrea Sorrentino
Variant Cover by Daniel Acuña • VARIANT COVER BY Ed McGuinness
Variant Cover by EM Gist • X-Treme Marvel Variant Cover by LEINIL FRANCIS YU
• Spinning out of Donny Cates & Nic Klein's THOR comes an all-new Thanos one-shot, with Ron Lim's return to the Mad Titan!
• Thanos is missing, presumed dead. But Thor has seen a vision of his return. And it is enough to make even a God fear. To prepare himself, to prepare the universe, Thor desperately searches for answers in Thanos' past…and finds a glimpse of the Marvel Universe's dark future.
40 PGS./ONE-SHOT/Rated T+ …$4.99
Thanos: Death Notes #1 will be an oversized, anthology one-shot revolving around the history and deaths of the Marvel villain. The preview opens with Thor traveling to Thanos' homeworld, Titan, to figure out whether Thanos is really gone following his latest death. In Marvel's ongoing Thor series, Thor was shown a vision of how he dies by the Black Winter, his future killer being none other than Thanos, but one wielding an Infinity Stone-powered Mjolnir and black gauntlet while commanding zombified versions of Marvel's heroes.
The story that appears to be revolving around Thor, "Dead By Rumor," is written by Torunn Grønbekk and drawn by Andrea Di Vito. Grønbekk will be writing Thor for the foreseeable future, taking over for former series scribe Donny Cates. Cates has also departed Marvel's ongoing Hulk series, leaving it in the hands of series artist Ryan Ottley. According to Cates on social media, he is now working on an "insane" project for Marvel in the background.
RELATED: Hellcat: Iron Man's Girlfriend Lands Brand-New Solo Series
While Thanos Gets a Special Issue, Iron Man Gets a New Series
As for Iron Man, Cantwell's ongoing work with the Armored Avengers ended with the release of Iron Man #25 in Nov. 2022, the hero's 650th legacy issue. In December, Marvel is launching a brand-new Invincible Iron Man series written by Gerry Duggan and illustrated by Juan Frigeri. The title will pit Tony against X-Men villain Feilong and other new threats, while having allies like James "Rhodey" Rhodes/War Machine and Riri Williams/Ironheart at his side.
Along with Cantwell, Foreman, Grønbekk and Di Vito, Thanos: Death Notes #1 features the work of writer J. Michael Straczynski, artist Geoff Shaw, colorists David Curiel, Rachelle Rosenberg, Dean White and Ruth Redmond, and letterer Travis Lanham. Main cover art for the issue is done by Andrea Sorrentino and Matthew Wilson, with variant covers contributed to by Daniel Acuña, EM Gist, Ed McGuinness, Cliff Rathburn and Laura Martin. The issue goes on sale Dec. 4 from Marvel Comics.
Source: Marvel