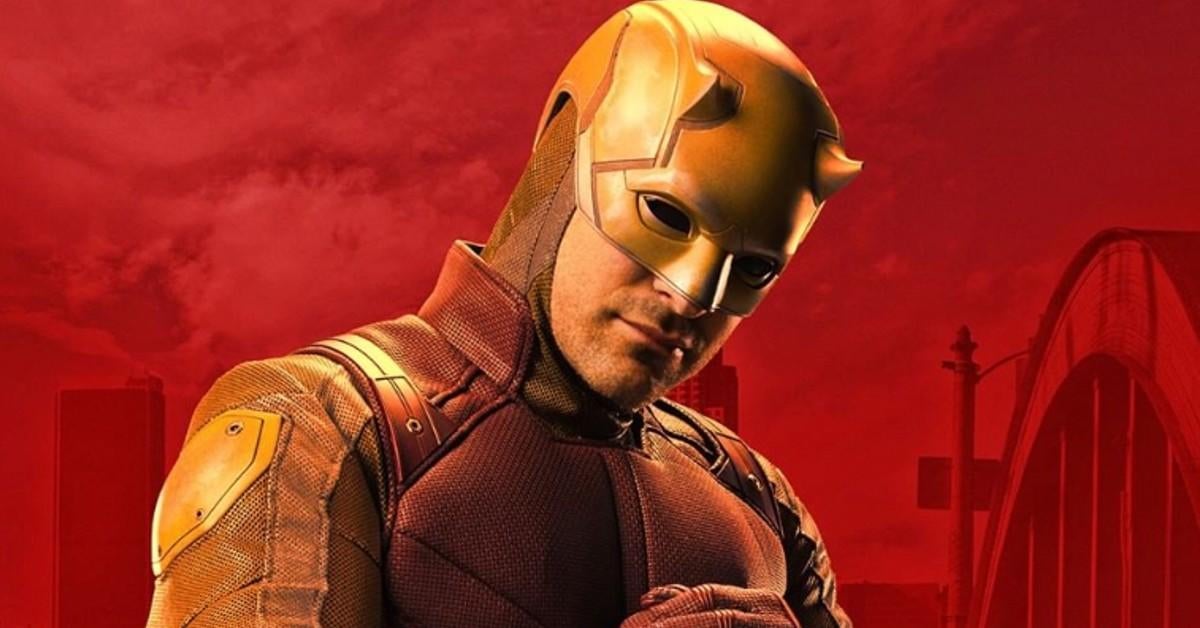 The road to Daredevil: Born Again has been unique. When Netflix canceled Daredevil after three seasons, it was unclear if fans would ever see the titular hero in the Marvel Cinematic Universe, but Charlie Cox (Matt Murdock/Daredevil) and Vincent D'Onofrio (Wilson Fisk/Kingpin) both showed up in projects in 2021 and a new series for Disney+ was confirmed last year. Now, the show is in production, and we've already got some glimpses of Cox on set. Today, a new photo shared by @DDevilUpdates on Twitter shows Cox as Murdock alongside Nikki M. James. In January, the Book of Mormon alum was announced as a supporting member of the cast, but it's currently unclear who she will be playing.
"Charlie Cox and Nikki M. James filming 'DAREDEVIL: BORN AGAIN' from Friday! (📸: People Magazine/The Image Direct)," the post reads. You can check out the photo below:
Charlie Cox and Nikki M. James filming 'DAREDEVIL: BORN AGAIN' from Friday!

(📸: People Magazine/The Image Direct) pic.twitter.com/cq29loam5S

— Daredevil Updates (@DDevilUpdates) March 19, 2023
Who Is Appearing in Daredevil: Born Again?
In addition to Cox and D'Onofrio, it was recently revealed that Jon Bernthal would be returning for the Disney+ series as The Punisher. However, it was reported that Deborah Ann Woll and Elden Henson will not be returning as Karen Page and Foggy Nelson. It was also announced that Sandrine Holt will be playing Vanessa instead of Ayelet Zurer, who played the role in the Netflix series. While Marvel has not officially confirmed if the new show is taking place in the same universe as the Netflix series, these casting announcements are leading fans to believe that the MCU's Daredevil is not the exact same version from the original show.
The Many Saints of Newark star Michael Gandolfini is also joining the new series, but the actor's role in Born Again has yet to be revealed. "I'm very giddy about it and very excited. I'm counting the days until we start and am honored to be a part of it," Gandolfini told ET Canada. "We get to shoot in New York and people are going to be really happy to see these characters that we previously saw in the Netflix series in the MCU."
What Has Charlie Cox Said About His Daredevil Return?
"I've loved every minute of it," Cox told ComicBook.com last year. "And right now I'm just buzzing that it's kind of happening again, it's starting up again. And I don't know where it's going, I don't know how much involvement I'm going to have, I don't know what it's leading to, but it feels like we're born again. And so I feel like I'm getting a second chance at the dream job that has… I refer to it as, "There's the gift that keeps on giving." It's been so good to me, I've had such a good time doing it, I love playing the character, I love the stories. I've been doing other stuff, I've been working on my kids, but about a month ago, I re-upped my Marvel Unlimited account. And I started reading the comics from the beginning again, which I haven't done since we started the show all those years ago."
Stay tuned for more updates about Daredevil: Born Again.
.