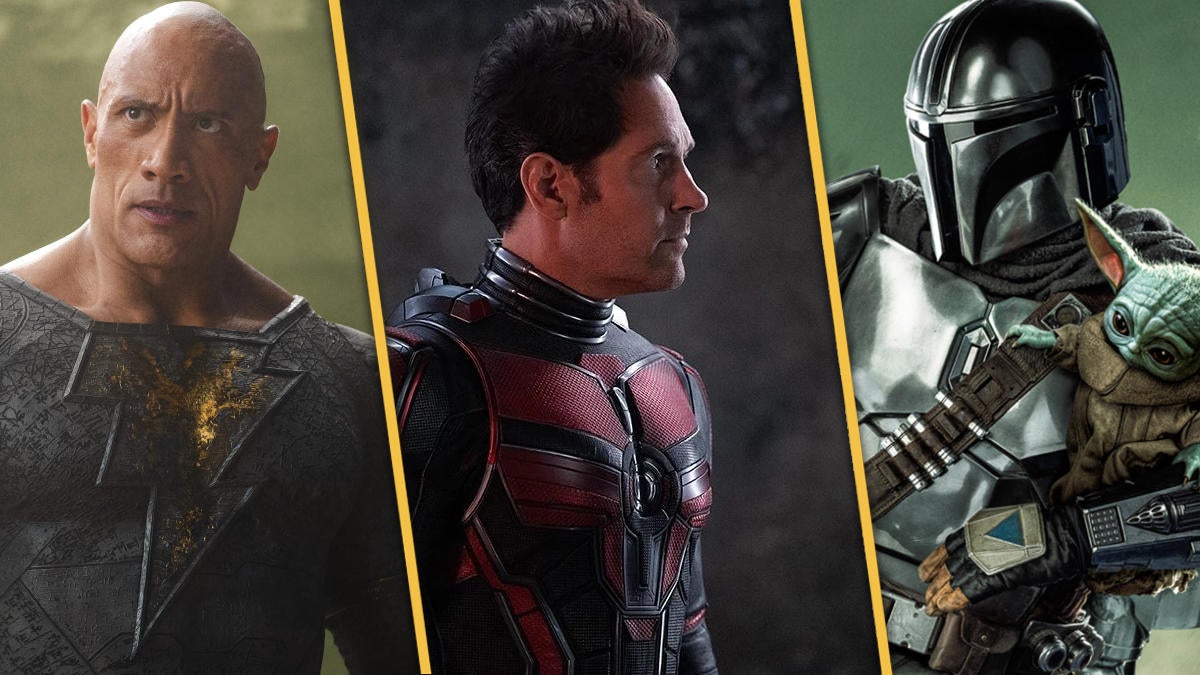 So far, 2023 has been weird for blockbuster storytelling. Ant-Man and the Wasp: Quantumania, the inaugural entry in Phase 5 of the Marvel Cinematic Universe, was met with mixed reviews and a sharply-declining box office. This month's Shazam! Fury of the Gods, the first of four DC films scheduled to be released this year, also opened to critical and financial ambivalence. Over on the small screen, the third season of Disney+'s juggernaut series Star Wars: The Mandalorian has reportedly only captured a fraction of its previous viewership.
In the past few days, all three of these franchises have also been met with new behind-the-scenes revelations — the exit of longtime Marvel exec Victoria Alonso, the exit of writers Damon Lindelof and Justin Britt-Gibson from the long-rumored next Star Wars movie, and reports about drama around Fury of the Gods' mid-credits scene. This has all created a perfect storm of doom and gloom, leading some to declare that long-dreaded "superhero fatigue" has finally arrived, or that genre stories in a shared universe will soon fade into obscurity. While franchise storytelling is obviously not going away anytime soon — at this point, its tropes exist in genres and fictional worlds far beyond Marvel, DC, and Star Wars — it might need to evolve in order to endure. That might not be a bad thing.
COVID and Franchises
Through a string of outside factors, the MCU, the DCEU/DCU, and Star Wars have all ballooned in the 2020s. The COVID-19 pandemic changed the landscape of how film and television are made, the isolation of the pandemic left audiences eager for event programming to watch, and their parent companies needed titles for their shiny new streaming services. As a result, each saga began to have a lot more installments — Disney+, in particular, delivered something from a new Marvel or Star Wars show (sometimes both) essentially on a weekly basis. These streaming experiments had some upsides, too WandaVision dominating the cultural conversation, Star Wars: Andor being the galaxy's most critically-acclaimed project, and countless new characters being introduced in both sagas.
They also changed the way that viewers engaged with those sagas, because following the larger plot required a lot more hours and attention than just going to a movie every so often. If a casual viewer didn't watch a certain show in the last few years (or didn't have access to Disney+), they might not understand why Wanda Maximoff's kids are such a big deal in Doctor Strange in the Multiverse of Madness, or how The Mandalorian and Grogu were immediately reunited after the show's Season 2 finale. These certainly aren't the first genre franchises to take this approach — The CW's Arrowverse of shows became infamous for their extensive runtime and chaotic timeline of events — but it has felt different on this more recent, larger scale.
On the big screen, shifting release dates and VFX delays were taking away a lot of the originally-planned connections around certain Marvel or DC movies. This left audiences with a number of intriguing teases but no promise that they'll be followed up on: the Superman cameo that closed out Black Adamboth credits scenes for Fury of the Godsthe cliffhanger ending of Eternals, and multiple introductions of new MCU characters all come to mind.
Along the way, countless narrative nuggets have been dropped that could eventually lead into the next big, years-away event, whether it be Marvel's future Avengers: Secret Wars movie, DC's now-scrapped Crisis on Infinite Earths movie, or a possible crossover event between Star Wars shows. But even for some of the diehard fans of these franchises, these connections began to feel like homework — homework for a test that may or may not even be worth studying for.
In rare cases, these COVID-related shifts worked in the movies' favor — Spider-Man: No Way Home was able to be an earnest bit of nostalgia without having to clean up the mess of Multiverse of Madness, Black Panther: Wakanda Forever was able to be a moving portrait of grief unencumbered by much of Phase 4, and The Batman's standalone three-hour epic was able to grab viewers who might not have been keeping up with the DCEU. What do all of these projects have in common? They were able to be satisfying movies in their own right, regardless of their possible connections to a bigger story.
Other "Cinematic Universes"
The complexities of building a cinematic universe — and trying to maintain it, in the way Marvel, DC, and Star Wars currently are — are nothing new. For decades, but especially after the 2010 release of Marvel's The Avengers, more studios have tried, and not always succeeded, to capture that high. Even before the controversial comments of its creator, Harry Potter's official "Wizarding World" brand was barely being utilized to expand its fictional universe. HBO created, and then shelved, a whole Game of Thrones spinoff pilot before finding success with last year's House of the Dragon. Entire Star Trek television series will have come and gone in the years it is taking a new Star Trek movie to get off the ground. And Universal's attempt at a "Dark Universe" has basically gone down in meme history for trying to establish an entire crop of dreary star-studded monster movies before 2017's The Mummy could flop at the box office.
This trend of betting on franchises still existing to this day, whether in star-studded action franchises (Netflix's The Gray Manand Prime Video's upcoming Citadel), zombie-related television (The Walking Dead immediately launching multiple spinoffs after its series finale), or in science-fiction (Netflix's Rebel Moonwhich is apparently already getting a video game and other tie-in material before a trailer is actually shown to the public).
If an established movie or television show has become a franchise in recent years, it has been a happy accident. Look at the two highest-grossing movies of 2022 — Avatar: The Way of Water spirit Top Gun: Maverick. Sure, both are sequels to existing movies, but they're following up on live-action narratives that haven't been expanded on in at least a decade. A viewer could go in with encyclopedic knowledge of the previous films, or they could just sit back and enjoy the movie at a satisfying face-value. Even with multiple Avatar sequels still in the works, and the possibility of a third Top Gun not entirely being ruled out, it doesn't feel, at the moment, like either franchise will water itself down. If we are able to experience a movie in either saga again, it will probably feel like more of an "event", after the franchises spend some stretch of time outside of the public consciousness. Meanwhile, television's ever-growing number of Yellowstone offshoots aren't popular because they're dropping breadcrumbs leading to a time-traveling crossover event between generations of Duttons — they're popular because they're delivering different flavors of the same entertainment fans have come to expect from the main series. While Marvel, DC, and Star Wars can't (and shouldn't) take the exact same approach, these recent examples do prove that audiences can still enjoy a story at face value.
The Future of Franchise Storytelling
Movies and television shows are entertainment, first and foremost. A large number of people helped Avengers: Endgame gross trillions of dollars or bought oodles of Grogu merchandise in the early days of The Mandalorian. A lot of those people probably still want to be entertained by what these franchises have to offer, but not all of them have the time, energy, and desire to do the current homework. Admittedly, "cinematic universe" storytelling is not going away, and its various problems are not the kind that can be solved overnight. But if the past few years and the successes and missteps of franchise-forward storytelling are any indication, the formula is in need of a shift towards quality instead of quantity.
That shift will look completely different for each franchise — Marvel's Kevin Feige has already indicated that future Disney+ shows will come out at a different pace, which was met with a surprisingly positive response from fans. Gunn and Safran's DC, meanwhile, will reset its continuity into a connected, but flexible universe of iconic and obscure characters. (If comic-buying habits are any indication, there already is genuine excitement for it.) Being part of a larger franchise needs to be a feature, instead of a bug — or a crutch that gets in the way of the exciting and entertaining stories that can be told.
.