Fans will soon get the opportunity to learn the origin of a new Spider-Hero in the latest edition of Edge of Spider-Verse. The popular anthology series is back, introducing fans to a new generation of Spider-Heroes along with all-star creators for the first time. Last year's Edge of Spider-Verse delivered heroes such as Spider-Rex, Spinstress, and Web-Weaver, and provided setup for writer Dan Slott and artist Mark Bagley's Spider-Man ongoing series. Slott's big return to Spider-Man includes the debut of a top-secret hero, and his origin will be revealed in June's Edge of Spider-Verse #3.
Marvel released the cover and solicitation details for Edge of Spider-Verse #3. Writer Dan Slott and artist Humberto Ramos will team up to tell this hero's origin story after their debut in April's Spider-Man #7. Other stories fans can look forward to include the return of Spider Smasher, the future alter ego of Miles Morales' younger sister Billie Morales, who debuted in Saladin Ahmed and Christopher Allen's Miles Morales: Spider-Man. That story comes from writer David Betancourt and artist Julian Shaw.
Dan Slott Teases New Spider-Hero
After Marvel released a Spoiler Variant Cover by Humberto Ramos for Spider-Man #7, Dan Slott provided a few more details on how much this character means to him.
"The spider is slightly out of the bag. Tonight's the Final Order Cutoff for SPIDER-MAN #7… …so Marvel has leaked out a *tiny* bit of information about it to retailers and news outlets," Dan Slott wrote on Twitter. "*SPOILER WARNING* I'm linking to an article about it in *this* thread in the next post."
The prolific writer added how fans will see more of the all-new hero in the Spider-Man corner of the Marvel Universe, so this isn't a one-and-done appearance. "When I started reading comics, I remember the thrill of meeting a new hero and starting with them as *they* were introduced into the MU," he added. "For me, that was Nova. For other generations it's been Darkhawk, Miles Morales, or Kamala Khan. I hope this new character might become yours!"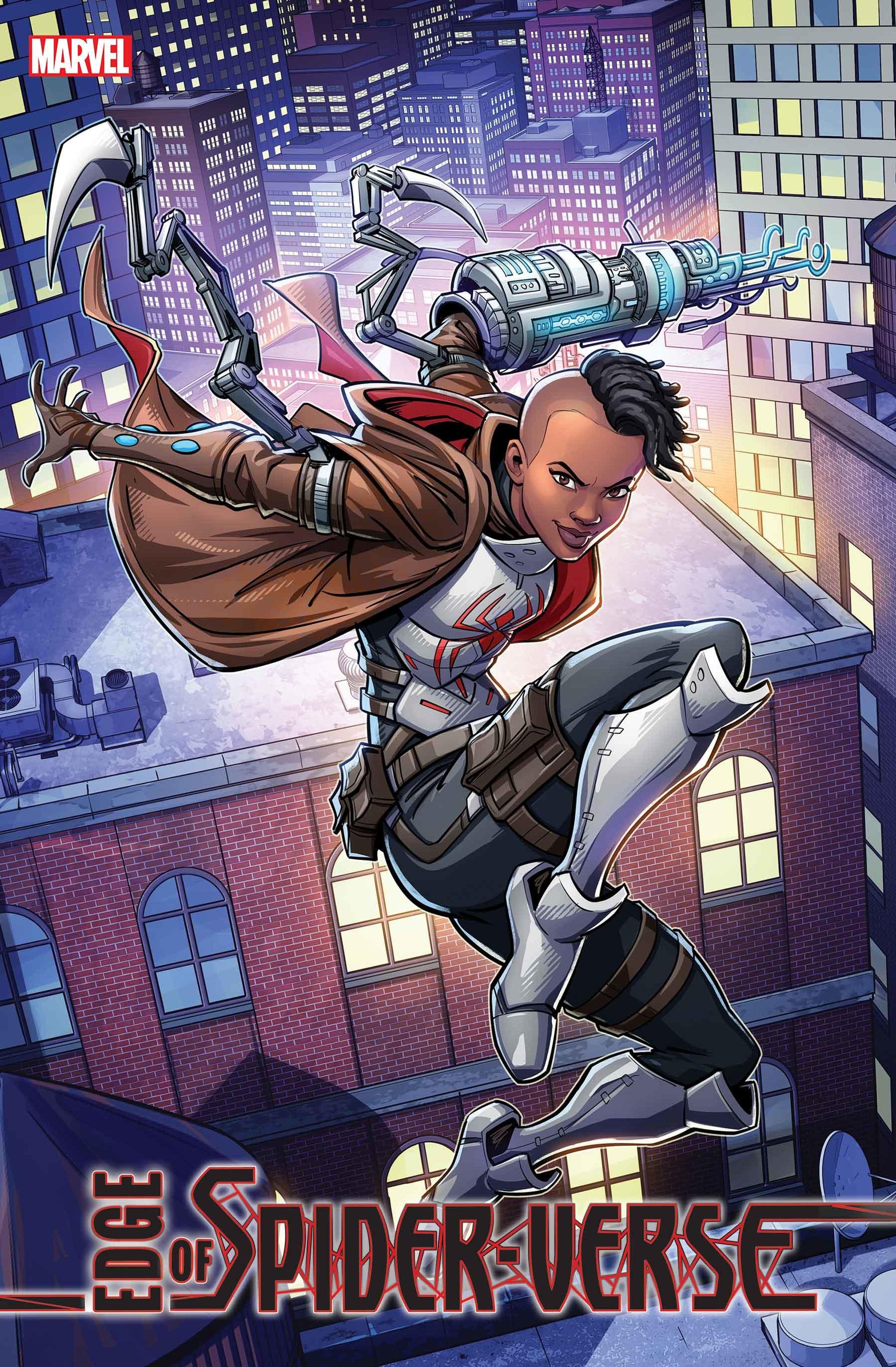 EDGE OF SPIDER-VERSE #3 (OF 4)
Written by DAN SLOTT & DAVID BETANCOURT
Art by HUMBERTO RAMOS & JULIAN SHAW
Cover by PATRICK BROWN
On Sale 6/21
After her hit debut last year in Saladin Ahmed and artist Christopher Allen's MILES MORALES: SPIDER-MAN, Miles' sister Billie Morales's alter ego is still needed in the revolutionary future timeline known as the Empire of the Spider! See the return of SPIDER SMASHER in an all-new story by writer David Betancourt and artist Julian Shaw!
Fans are on the edge of their seats awaiting the introduction of Dan Slott and Mark Bagley's top secret new Spider-hero in next month's SPIDER-MAN #7! After that, don't miss this issue where Slott teams up with artist Humberto Ramos to reveal his stunning backstory!
.