Some of Marvel's most classic storylines will be revisited, albeit with a darker twist, in a new volume of What If…?. What If is an out-of-continuity series of stories that typically offer new perspectives and takes on events that readers are familiar with. Marvel Studios even produced a What If…? animated series for Disney+, with Season 2 highly anticipated. Marvel Comics is going back to the What If well once again, and is kicking things off with the classic story of Gwen Stacy's death in the pages of Amazing Spider-Man.
ComicBook.com can exclusively reveal What If…? Dark, a new series of one-shots that takes a dark twist on classic stories of the past. July will see the release of What If… ? Dark: Spider-Gwen #1 by writer Gerry Duggan and Jody Houser, with art by Ramon Bachs and a cover by Greg Land. This sees Gerry Conway return to his most famous Spider-Man story, "The Night Gwen Stacy Died," from 1973's The Amazing Spider-Man #121-122. It featured Spider-Man's confrontation with the Green Goblin with Gwen Stacy's life hanging in the balance on the Brooklyn Bridge. Gwen Stacy ended up dying after being dropped from the bridge, with Spider-Man attempting to rescue her.
What If… ? Dark: Spider-Gwen #1 changes the roles around, with Spider-Man dying instead and Gwen Stacy left to grieve for her boyfriend.
Miles Morales and Gwen Stacy's Love Story in Spider-Man: Across the Spider-Verse
The relationship between Miles Morales and Gwen Stacy is at the heart of Spider-Man: Across the Spider-Verse. While there's plenty to get excited about regarding the Spider-Man: Into the Spider-Verse sequel – new heroes and universes to explore – the filmmakers behind the scenes haven't forgotten about the all-important "character development" when it comes to continuing the adventures of Miles Morales and Spider-Gwen. According to Sony Pictures boss Amy Pascal, young love will be in the air between the Spider-Verse heroes, with a little mix of a love triangle for some added drama.
"The danger with a sequel is to go bigger just for bigger's sake," Amy Pascal told Empire Magazine. "But all the bells and whistles are no good unless you care." She then added, "This movie is a love story between Miles and Gwen."
Another hero, Daniel Kaluuya's Hobie Brown/Spider-Punk, appears to be the third wheel in whatever love story Sony is cooking up. We learn Gwen has been spending a lot of time with Spider-Punk in New London, which stirs up some jealousy in Miles. "There's jealousy there," co-director Kemp Powers said. "When Miles meets Gwen again, she's not wearing her ballet shoes; she's wearing Converse Chuck Taylors, which Spider-Punk gave her. Miles starts wondering, 'How close are these two?'"
What If…? Dark: Spider-Gwen #1 goes on sale in July from Marvel Comics. Stay tuned for announcements on more What If…? Dark one shots.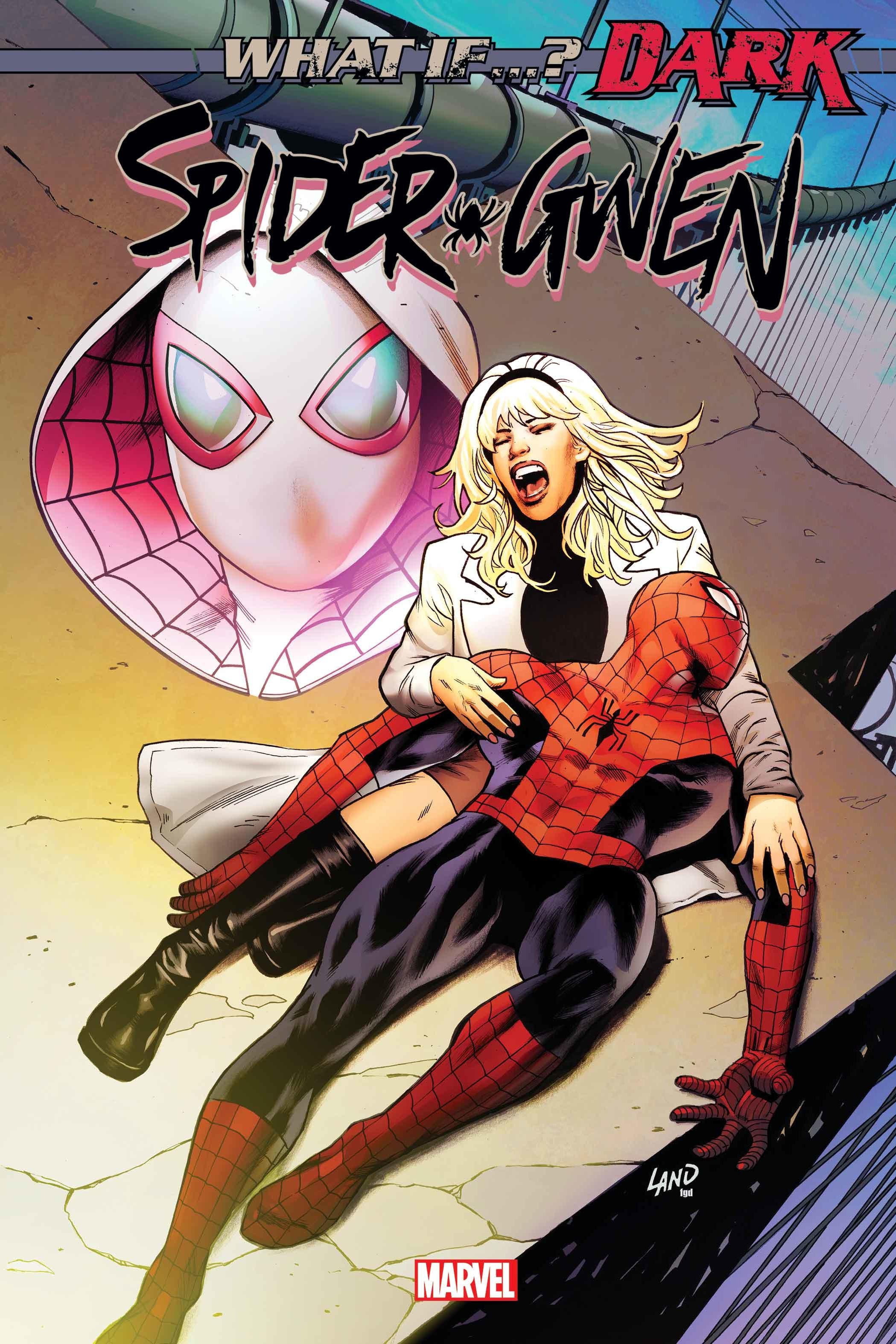 WHAT IF…? DARK: THE SPIDER-GWEN #1
Written by GERRY CONWAY & JODY HOUSER
Art by RAMON BACHS
Cover by GREG LAND
Spider-Legend Gerry Conway returns to his most famous Spider-Story for this WHAT IF along with co-writer Jody Houser!
WHAT IF Gwen Stacy didn't die on the bridge that day, but Spider-Man DID?!
'Nuff said, I presume!
.