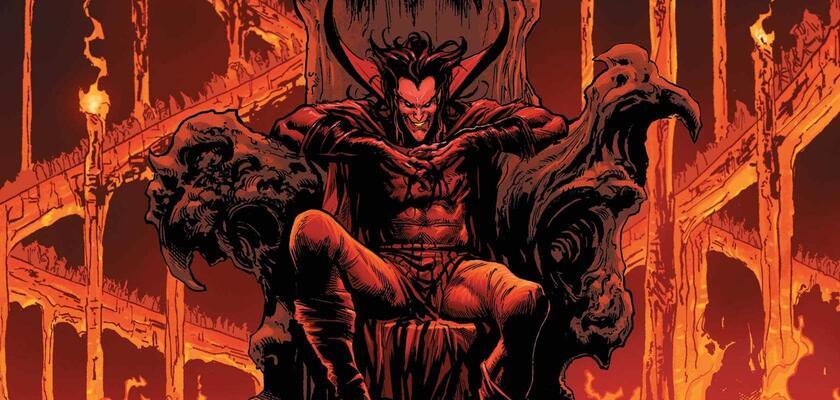 At one point during Thor: Love and Thunder, the Devil was going to make an appearance. Mephisto, one of the most popular Marvel characters from the Underworld, wasn't going to be the one in the movie; no, ol' Satan himself was seen to appear. After the film was released, concept art for the character was shared online teasing the character's involvement. Now, it looks like the development went further than expected as prosthetics and all were made to provide a practical look for the character.
Makeup work done by Australia's Odd Studio has appeared on an Instagram for the business, showing an actor—Septimus Caton—in the makeup. Odd Studio was also behind the practical makeup for Christian Bale's Gorr the God Butcher.
Who was going to play the Devil?
Before he was cast as the Greek god Zeus, Russell Crowe was actually in the running to play the Devil.
"Hey folks! Here's a concept I did for the latest Thor film. @russellcrowe was initially considered to appear as Satan in a cameo scene," wrote on Instagram. "Eventually he played Zeus. The task was to design a Satan close to Tim Curry's Devil from "Legend" (1985); big horns, sleazy and evil. Because it was going to be a prosthetic make-up, I was asked to give him hairy human legs and feet. This is what I came up with. Concept I did for Thor: Love and Thunder at @odd_studio. Thanks to Creature/Prosthetic Designer & Supervisor @adman855 for bringing me on board. I'll post more work in the coming days!"
Was Mephisto in WandaVision?
Now, reports suggest Sacha Baron Cohen will be playing Mephisto in Agatha: Coven of Chaos and subsequent Marvel properties. Although the character was a favorite of many to appear in WandaVisionseries showrunner Jac Schaeffer previously admitted she had never heard of the character until all of the chatter online.
"There was never any conscious intention on my part to create any Mephisto red herrings because I didn't know who Mephisto was until I started doing press," Schaeffer said.
"Why did we talk about the devil so much? That's a real coincidence," she added. "He wasn't ever part of our storytelling conversations. We were very clear that the big bad is grief. And then the external bad is Agatha. So as a viewer and as a lover of the show and the characters, I didn't want anything more than that."
Thor: Love and Thunder is now available wherever movies are sold. It's also streaming on Disney+.
What'd you think Thor: Love and Thunder? Let us know your thoughts either in the comments section or by hitting our writer @AdamBarnhardt up on Twitter to chat all things MCU!
.