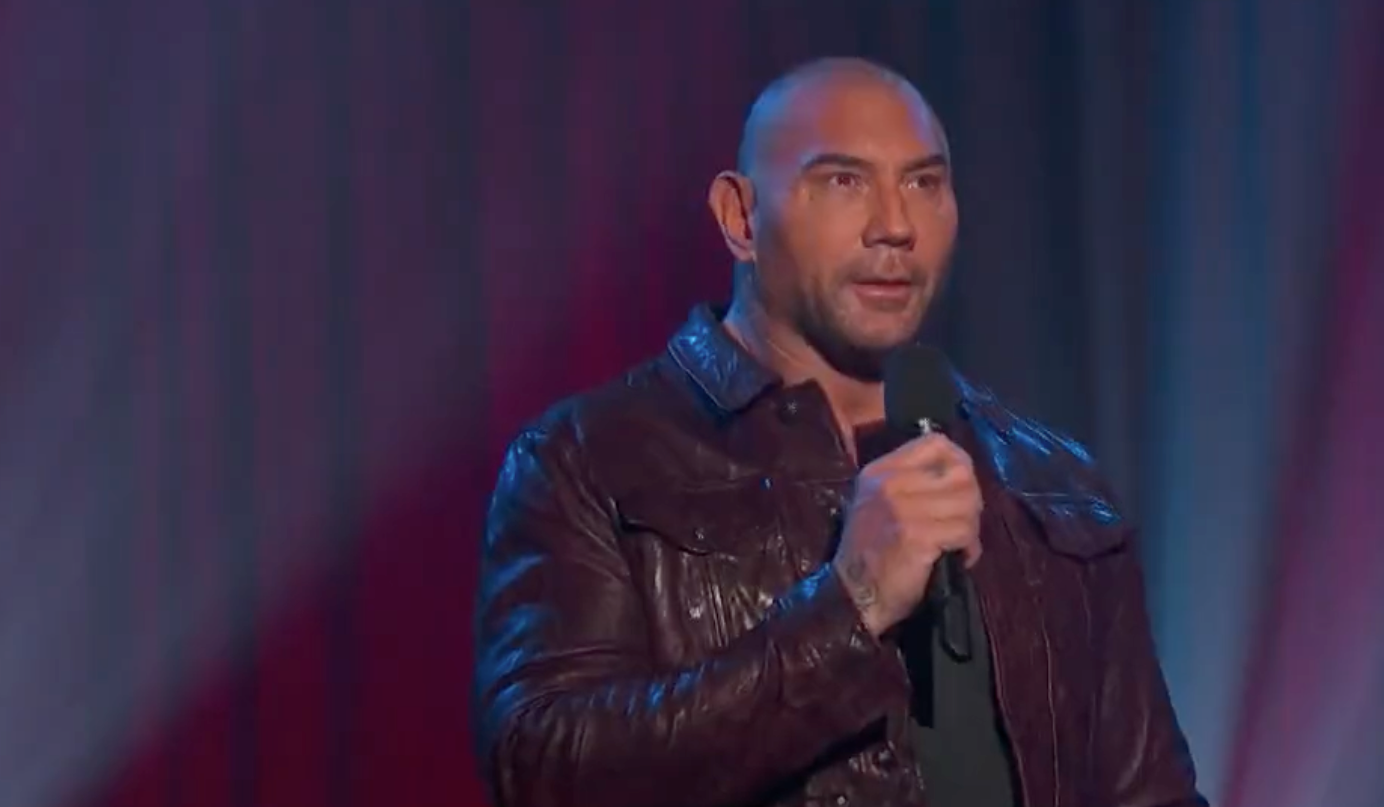 Now that Dave Bautista is just weeks away from saying goodbye to his role as Drax the Destroyer in Guardians of the Galaxy Vol. 3, the actor has revealed he's pivoting his career to stand-up. Saturday, Bautista shared the teaser for his first stand-up special—a totally real thing that's happening and has nothing to do with the fact Saturday also happens to be April Fools' Day.
In the "teaser," a fake video created by his team for a special that doesn't exist, Bautista can be seen bombing on several fronts as he nervously tells a few "jokes" and goes through an impression or two. Whatever the case, you can see the hilarious faux teaser for yourself below.
My stand-up comedy special: "I've Never Done This Before" #comedy #standupcomedy pic.twitter.com/0GsGfhl1Ua

— Dave Bautista (@DaveBautista) April 1, 2023
Is Dave Bautista really done playing Drax?
Although Marvel Studios will likely never get rid of the Guardians of the Galaxy franchise as a whole, Guardians helmer James Gunn has said multiple times the threequel will be the last time fans see this iteration of the Guardians on-screen. Furthermore, Bautista has also confirmed on more than one occasion that he's done playing Drax after the film hits theaters.
"I'm so grateful for Drax. I love him," Bautista told GQ in a profile last year. "But there's a relief [that it's over]. It wasn't all pleasant. It was hard playing that role. The makeup process was beating me down. And I just don't know if I want Drax to be my legacy—it's a silly performance, and I want to do more dramatic stuff."
What is Guardians of the Galaxy 3 going to be about?
Marvel's synopsis for the sequel can be found below.
"In Marvel Studios' Guardians of the Galaxy Vol. 3 our beloved band of misfits are settling into life on Knowhere. But it isn't long before their lives are upended by the echoes of Rocket's turbulent past," the synopsis reads. "Peter Quill, still reeling from the loss of Gamora, must rally his team around him on a dangerous mission to save Rocket's life -a mission that, if not completed successfully, could quite possibly lead to the end of the Guardians as we know them."
The Guardians of the Galaxy Holiday Specialand the rest of the Guardians franchise, is now available exclusively on Disney+ while Guardians of the Galaxy Vol. 3 hits theaters on May 5th.
If you haven't signed up for Disney+ yet, you can try it out here. Note: If you purchase one of the awesome, independently chosen products featured here, we may earn a small commission from the retailer. Thank you for your support.
.