Marvel has revealed the top-secret Spider-Hero that will be introduced in next week's issue of Spider-Man. Celebrated Amazing Spider-Man writer Dan Slott is back in the franchise he loves so much, penning a new volume of Spider-Man with artist Mark Bagley, who is no stranger to the web-slinger. "The End of the Spider-Verse" is the story arc that promises to bring doom and gloom to the Spider-Verse and all the Spidey variants in the multiverse. Marvel began teasing Spider-Man #7 with a special spoiler variant cover to hype the new hero's debut, but with less than a week until the issue is released, now is the time for fans to get their first look at Spider-Boy.
Spider-Man #7 is the conclusion of "The End of the Spider-Verse," where Spidey's long-lost sidekick, Spider-Boy, will be formally introduced. The Top Secret variant cover by Humberto Ramos shows Spider-Boy leaping through the cityscape in his red-and-blue costume with matching sneakers. His costume is definitely unique, but it's the fact that he has presumably existed all this time that is the most intriguing. To find out Spider-Boy's origin story, you'll want to check out June's Edge of Spider-Verse #3 in a story by Dan Slott and Humberto Ramos.
Dan Slott Speaks on Spider-Man's New Sidekick Spider-Boy
"I can't wait for people to meet Spider-Boy, and the unique role he's going to play in both Spider-Man's world and the Marvel Universe," Slott said. "I grew up reading Spider-Man comics. He's my favorite character in all of fiction. All I ever wanted to do was tell stories with THIS cast, and it's been the coolest thing ever to co-create some of the characters who populate it .And this kid, this Spider-Boy, is THE one I'm most psyched about!
"On the art side, two absolute SPIDER-LEGENDS are bringing Spider-Boy to life. My longtime collaborator, Humberto Ramos and the amazing Mark Bagley.
"The all-new, all-different Spider-Boy of the 616: He's got strange new spider-powers, secret ties to dark corners of Spider-Man lore, and a story that's all his own… that is right about to begin!"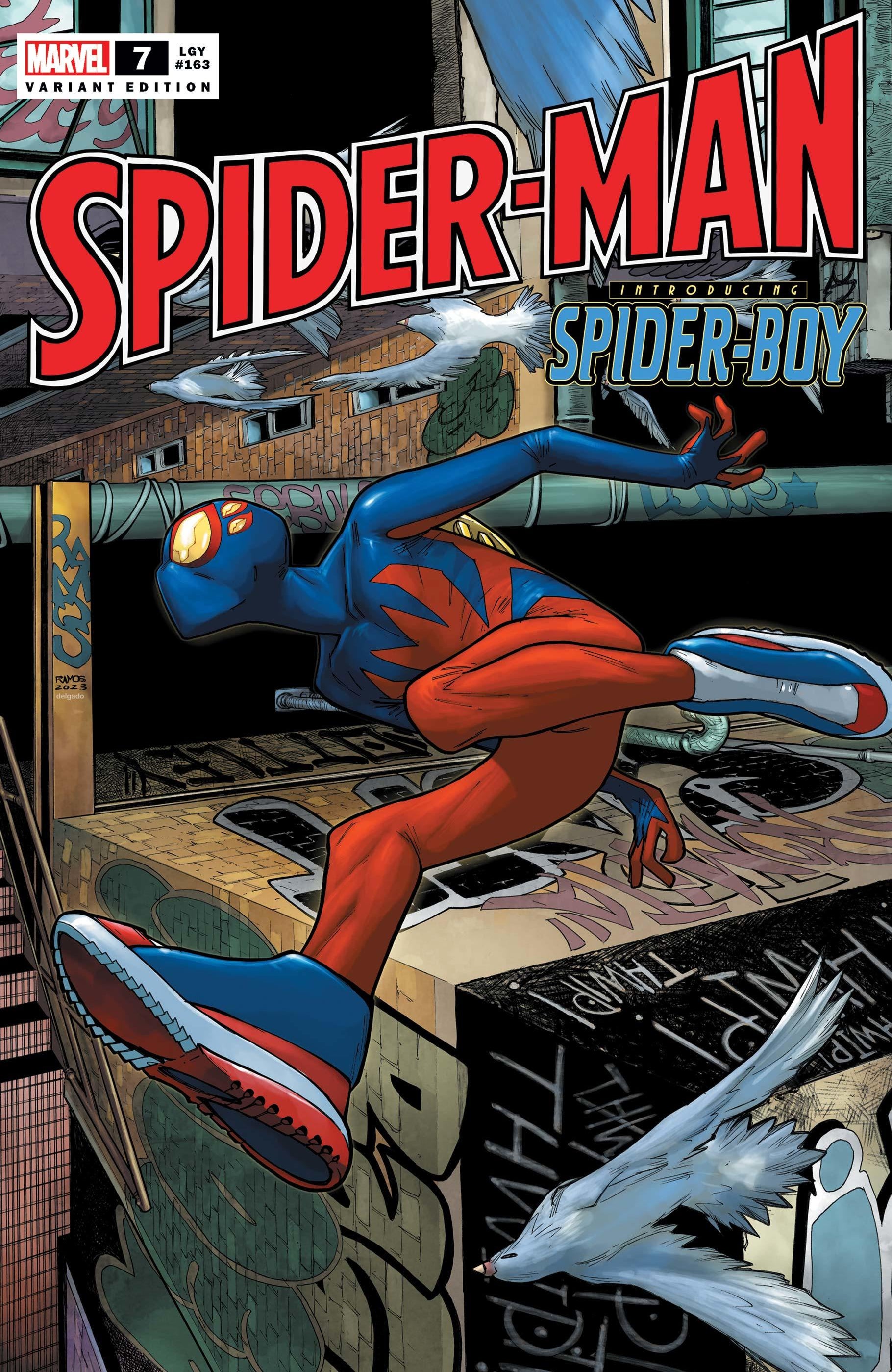 SPIDER-MAN #7
Written by DAN SLOTT
Art by MARK BAGLEY
Top Secret Spoiler Variant Cover by HUMBERTO RAMOS
On Sale 4/5
Over time, Marvel fans have met a host of new heroes from throughout the Spider-Verse! Miles Morales, Ghost-Spider, Spider-Man Noir, Spider-Punk, and so many more have woven their way into the Marvel Universe and into fan's hearts. But none of have been anything like SPIDER-BOY. Not originating from the multiverse at all, Spider-Boy's been here all along and starred in some of the greatest stories in Spider-Man history! Hasn't he?
.