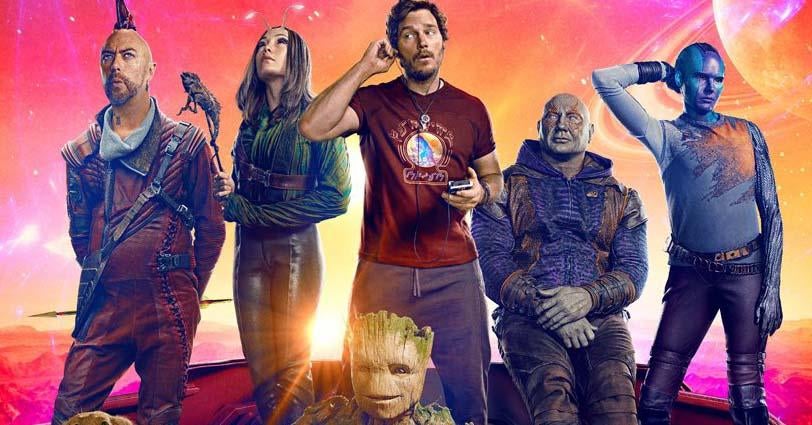 Fans of the Marvel Cinematic Universe will soon be able to purchase tickets for the franchise's next outing. Saturday, Guardians of the Galaxy Vol. 3 helmer James Gunn shared a new teaser for the threequel, revealing some new footage of the upcoming film. Not only that, but the filmmaker also revealed tickets for the picture will go on sale starting Monday, April 3rd.
Although nothing too major is revealed in this round of footage, it shows the members of the eponymous group in various new positions while donning their fresh new, comic-accurate costumes. See the clip for yourself below.
Tickets on Sale Monday!#GotGVol3 pic.twitter.com/sFlZLDkSiC

— James Gunn (@JamesGunn) April 1, 2023
Prominently featured throughout the teaser is Chris Pratt's Star-Lord as he tries to drive a retro Cadillac on what appears to be the High Evolutionary's Counter-Earth. When ComicBook.com's Brandon Davis spoke with the superstar earlier this month, he compared the process of filming Vol. 3 two graduating high school.
"It was really emotional," Pratt revealed in our interview, which you can see above. "It was really emotional for so many reasons that it would take too long in this interview to even get into. But it just was emotional. It was a lot of gratitude around the fact that James Gunn actually directed it and was able to do that . Just grateful that he even gave me the job to begin with. It felt gratifying, knowing that critics had said that it would likely be the first Marvel movie to bomb. And what was that gonna be like, to be the first Marvel movie to not be successful? To take these characters that no one knew, and now have them be household names, and to be part of that, and to have rides around the world."
"It's been an incredible ten years," Pratt continued. "So to wrap it up in this way, it's, it's a little bit like your last day of school when you're a senior. You're so excited that it's over, but at the same time, you don't know if you're going to see any of your friends ever again. Some of them are going off to college, and some of them are leaving, and some are going in the Army. It's like entering a new phase, and a new chapter of your life. It's the turning of a page. So it's exciting, but it's emotional."
What is Guardians of the Galaxy 3 going to be about?
Marvel's synopsis for the sequel can be found below.
"In Marvel Studios' Guardians of the Galaxy Vol. 3 our beloved band of misfits are settling into life on Knowhere. But it isn't long before their lives are upended by the echoes of Rocket's turbulent past," the synopsis reads. "Peter Quill, still reeling from the loss of Gamora, must rally his team around him on a dangerous mission to save Rocket's life -a mission that, if not completed successfully, could quite possibly lead to the end of the Guardians as we know them."
The Guardians of the Galaxy Holiday Specialand the rest of the Guardians franchise, is now available exclusively on Disney+ while Guardians of the Galaxy Vol. 3 hits theaters on May 5th.
If you haven't signed up for Disney+ yet, you can try it out here. Note: If you purchase one of the awesome, independently chosen products featured here, we may earn a small commission from the retailer. Thank you for your support.
.