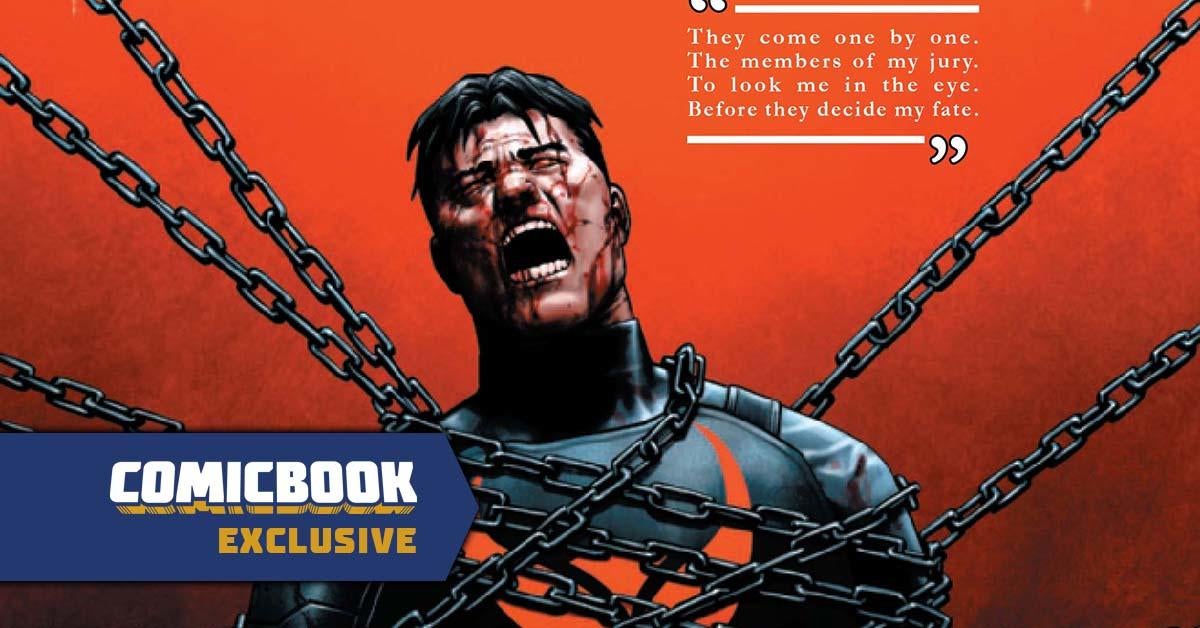 The Punisher finds himself on Death's Door in an exclusive preview of his final issue. Marvel's new Punisher series has drastically changed Frank Castle's status quo, reviving his deceased wife Maria and turning Punisher into The Hand's Fist of the Beast. This led to a confrontation with Ares and his evil forces, with Punisher killing Ares and drawing the attention of Doctor Strange, Captain America, Wolverine, Moon Knight, and Black Widow. Punisher was able to overpower his former allies, but wound up being betrayed by Maria after she unraveled the secrets behind her resurrection. With his life sucking out of his body, Punisher now has to contend with The Hand's Archpriestess.
ComicBook.com has the exclusive preview of Punisher #12 by Jason Aaron, Jesús Saiz, Paul Azaceta, Matt Hollingsworth, and VC's Cory Petit. It finds Punisher bleeding out on the floor of The Hand's compound, where he is confronted by the Archpriestess herself. She pretty much gloats over Punisher's bloody body until Hand foot soldiers come to help their Fist of the Beast. The Archpriestess commands them to leave Frank Castle where he lies, stating that he is no longer fit to wield the "Fist of the Beast" title. With the heroes working their way closer to their citadel, she orders them to leave and defend their home.
She goes on to state how she always hoped Punisher would prove himself to be The Beast's true messiah, even though she had her doubts. But after refusing to kill a child and showing his weakness when he allowed Maria to shoot him down with an enchanted gun, she was wrong. The Archpriestess sacrificed everything to mold Frank Castle into the killing machine he is today, but she'll have to start back over at the drawing board after she murders him.
Jason Aaron Leaves Marvel For Creator-Owned Work
Jason Aaron's time at Marvel has come to an end… at least for now. The prolific writer recently wrapped up his time penning The Avengersand now has reached the final issue of Punisher. His exclusive contract with Marvel has expired, meaning he has more time in his schedule to dedicate to creator-owned work, along with some new work-for-hire possibilities.
"For the first time since 2008 or so, I'm not bound by any sort of exclusive agreement with Marvel Comics. My deal was up late last year, and while I remain very happy with my relationship with Marvel and have been talking with them about another project, I chose not to renew my exclusive," Aaron wrote in his newsletter back in March.
"I find myself enjoying a sort of freedom I haven't had in a very long time, able to pursue whatever creative opportunities I so choose. And I've already been busy pursuing a few. Some creator-owned, some work-for -hire," the writer added. "The division of my workload and my time has already shifted, as I'm placing more of an emphasis on new creator-owned work, while also looking to tackle some brand new work-for-hire challenges. In short, as I said , it's an exciting time, a fun-as-fuck time, you might say, and I can't wait to tell you more about what all I've been up to, as soon as I can."
You can find the exclusive preview of Punisher #12 below. The issue goes on sale Wednesday, May 31st.
.