COVID

The Omicron coronavirus variant is moving much faster than scientists can, exacerbating a long-standing problem: the agency has to make difficult decisions with sparse data.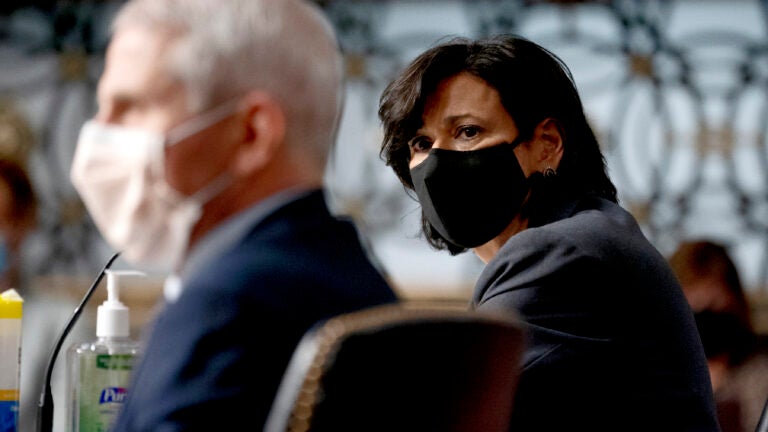 The Centers for Disease Control and Prevention has long been honored for its methodical and careful scientific approach. Agencies in other nations modeled on the world's most highly regarded public health authority and even adopted the name.
At the beginning of the pandemic, the CDC was moving at its usual pace. But this time, with a new virus moving so fast, the country paid a price: Testing and monitoring faltered as the agency tried to implement dated approaches with squeaky infrastructure. Officials were late in recommending masking, in part because federal scientists took too long to acknowledge that the virus was airborne.
Now the infectious omicron variant is pushing the CDC into unknown territory. Because decisions have to be made at a breakneck pace, the agency has issued recommendations based on what would once have been considered insufficient evidence, amid growing public concern about how these guidelines affect the economy and education.
The Director of the Agency, Dr. Rochelle Walensky, has sometimes skipped much of the traditional scientific revision process, most recently by shortening the isolation period for infected Americans.
Following the Trump administration's pattern of interference, President Joe Biden came to office and promised to restore the CDC's reputation for independence and rigorous science. The challenge for Walensky now is to figure out how to convey this message to the public: Science is incomplete, and this is our best advice right now.
For a bureaucracy primarily staffed by physicians, change has not been easy.
In recent interviews, some CDC officials privately described the decisions as demoralizing and concerned about Walensky's growing dependence on a small group of advisers and what they saw as the White House's major political influence on her actions.
Still others outside the agency praised Walensky for short-circuiting a cumbersome process and having a pragmatic approach to dealing with a national emergency, saying she had the right to move forward even when the data was unclear and the agency's researchers remained uncertain.
There are political considerations in a pandemic that "is not the CDC's sole responsibility," said Dr. Richard Besser, who served as interim head of the agency during the H1N1 flu virus outbreak in 2009. But, he added, "I think we need some more clarity" when politics and economics govern the agency's recommendations.
As of Sunday, more than 800,000 Americans are infected on average daily, according to data collected by The New York Times. Many schools and businesses are struggling to stay open; Hospitals in nearly two dozen states are approaching capacity.
In late December, Walensky announced that infected Americans should only isolate themselves for five days, not 10, if they no longer experienced symptoms, and that a negative test result would not be necessary to end the isolation period.
Critics complained that the virus could spread when infectious people were allowed to return to offices and schools. Many pointed out that the research that supported a shortened isolation period for omicron infections was poor.
But the recommendation had an important advantage: It could help keep hospitals, businesses and schools afloat through the worst omicron rise.
The recommendations for isolation are "basically correct," said Dr. Thomas Frieden, who headed the agency under President Barack Obama. "The problem is that they were not explained."
Walensky and the CDC rejected requests for comment on new tensions in the agency's decision-making. But the instructor has often cited rapidly evolving science as justification for recommendations that proved to be confusing or unpopular.
Walensky testified before the Senate on Tuesday, saying the agency's new recommendations on shortened isolation periods represent "rapid science-based action to address the very real possibility of staff shortages."
It has been something of a mantra for Walensky.
In March, the CDC said school children could safely sit 3 feet apart in classrooms instead of 6 feet, even though there was virtually no research to support the recommendation. But the move made it easier for administrators to consider opening schools.
In May, Walensky cited scientific data when she told vaccinated people that they could take off their masks and mix freely, much to the dismay of experts who said the move ignored the possibility of breakthrough infections. (They arrived with the delta variant.)
In August, Walensky teamed up with Biden to support booster shots for all Americans, long before researchers at the Food and Drug Administration or at her own agency had a chance to review the data on whether it was necessary.
The most recent example – the isolation councils – left unrest in the agency over the way it was set up and advertised.
On Sunday evening after Christmas, Walensky convened an emergency meeting for the agency's COVID response leaders. She told them the agency would shrink the recommended isolation period and would drop a negative test result as a requirement to leave the isolation, according to an official familiar with the video call, who spoke on condition of anonymity because the person was not authorized to speak on fabric.
The new guide would be published the next day, Walensky said, and officials were not to discuss it until then.
Astonished, the researchers disappeared to collect the limited data to support the recommendations and to rewrite the hundreds of pages on the agency's website that touch on quarantine and isolation.
Before issuing a new recommendation, federal researchers usually examine data, write a draft, and fine-tune it based on comments from others. There was so little evidence of abbreviated isolation – and even that was mostly based on the delta variant – that the "scientific brief" that typically accompanies guidance was downgraded to a "rational" document.
Some researchers struggled to be left out of the decision-making process and became furious at the agency's public statement the next day that the change was "science-motivated."
Although some thought the new five-day cut-off was arbitrary, they also knew of data suggesting that rapid testing could miss some omicron infections, and therefore largely agreed with Walensky's decision not to to require a negative test result before the end of isolation.
But when Walensky briefed staff on the new recommendations at the December 26 emergency meeting, they were far from ready. Over the next week, CDC researchers struggled to adjust hundreds of guidance documents on the agency's website.
About 2,000 health officials, directors of public health laboratories and public health researchers at the state and city levels participate in a weekly call with CDC officials.
On the December 27 call, just hours before the CDC issued its statement, state and local officials peppered the agency's scientists with questions about the plans for isolation guidance for the general public.
Under strict orders not to talk about the new recommendations, CDC employees were silent.
"We would have appreciated more input and heads-up options," said Scott Becker, executive director of the Association of Public Health Laboratories.
Walensky's supporters said the CDC's focal point was inevitable and that she had made the right calls. The agency is a giant, filled with scientists accustomed to taking time, and the pandemic needed more urgent solutions.
"There are people on the CDC who really do not understand it," Frieden said.
During his tenure, he said, he was often confronted with "in some ways charming, but in some ways problematic, ignorance on the part of CDC staff that their recommendations, their guidance, their opinions could have major implications."
Several external experts said Walensky had become a scapegoat for people who were tired and frustrated by a virus that repeatedly appeared to have retreated, to return in a horrible new form in no time.
Leading the CDC is challenging even at the best of times, they said. But Walensky took the reins in the midst of a pandemic, in a politically charged climate and at a low point in the agency's credibility and staff morale.
And agency researchers are still working at a distance – "almost an unthinkable obstacle to overcome," Besser said.
"I'm concerned about the CDC. I'm concerned about the nation's confidence in public health," Besser said. "But I think it's really unfair to put it on Dr. Walensky's shoulders. "
Walensky has explained the reasons for her decisions at news briefings held by the White House. But last week, in response to widespread criticism of confused messages, she and other agency researchers held their own briefing and answered questions from journalists about the isolation guide, the rising frequency of hospitalizations among young children and the agency's plans for a fourth shot of the coronavirus vaccine.
The briefing was a welcome step toward rebuilding confidence in the CDC and clarifying its decisions, some experts said.
"It is very important to separate public health considerations from political considerations," Besser said. "And by doing briefings from the CDC, she will be able to lift CDC scientists and experts."
Some of the current conflict at the CDC precedes the pandemic and Walensky's leadership. Tensions between the agency and the National Institutes of Health, represented by Dr. Anthony Fauci, stiffened even during previous public health crises, noted some health officials.
In the latest case, Fauci and general surgeon Dr. Vivek Murthy assures on television that the CDC would revise its recommendations for isolation – when the agency had no plans to do so – and annoyed senior CDC researchers.
Ideally, health and human secretary Xavier Becerra should smooth things over, said Dr. Peter Hotez, dean of the National School of Tropical Medicine at Baylor College of Medicine.
In a rare appearance last week, Becerra defended Walensky in a CNN interview, saying she had "a medical license and a degree in public health. She does not have a marketing degree."
Boston.com today
Get news delivered to your inbox every morning.
Disclaimers for mcutimes.com
All the information on this website – https://mcutimes.com – is published in good faith and for general information purposes only. mcutimes.com does not make any warranties about the completeness, reliability, and accuracy of this information. Any action you take upon the information you find on this website (mcutimes.com), is strictly at your own risk. mcutimes.com will not be liable for any losses and/or damages in connection with the use of our website.