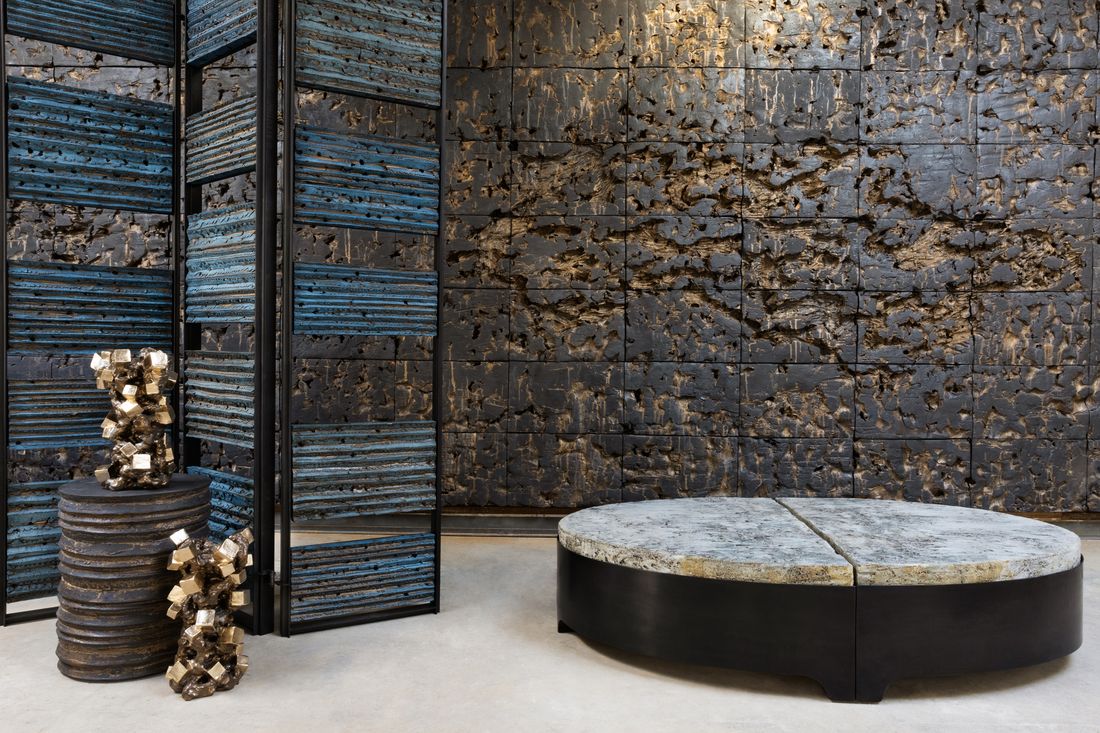 The finished wall sculpture is surrounded by handmade ceramic furniture and objects, including a cobalt partition, oval stoneware table and bronze glazed and Lane's gilded Scholars Rock lamps.
Photo: Jeff Klapperich
"I painted. I was not very good, so to speak," says Peter Lane about his artistic life before ceramics. "Then I went with some friends to take a ceramics class, a little on a lark with a sense of irony: Oh, who takes pottery courses? Corny. And that was love at first sight. I went to a ceramics class and never left. " That was back in 1994, and since then, Lane has built its reputation by making monumental ceramic installations. Interior designer William Georgis commissioned the first large piece in 2006, and Lane went on to create works for six of the Chanel stores designed by Peter Marino. In 2012, Chahan Minassian commissioned him to make the walls for the renovation of the pool room at the Hôtel de Crillon in Paris.
Over the past few weeks, Lane and his team have created a new work for the immersive installation – 32 feet wide and 10 feet high – he will exhibit at the Salon of Art and Design at the Park Avenue Armory from November 11-15. Looking at the process images reminded me of a quote from Gabriele D'Annunzio: "All enchantment is madness evoked with art."
I was talking to Lane while he and his team worked on it in his 10,000-square-foot studio in Bushwick.
So what should the finished installation entail?
There will be ceramic screens that are semi-transparent, and a daybed and a low table so that it becomes a fully furnished room.
How did you come up with the idea?
Well, I've been making these walls for a long time, so when the Salon approached me to do this, it was an opportunity for me to reveal what I'm doing. Of course, it's easier if I showed some samples, but the only way to communicate the scope and size of what we're doing is by showing the whole piece in its full scale, because we do installations of this kind. Our typical work is of this quality and size. It's by far the greatest thing we've ever done.
Is it the biggest wall you've made?
No. Hôtel de Crillon is about twice as big. We have done a lot of different projects around the world in housing, and some of them are quite ambitious. But when I was contacted by the Salon, I really thought I would show the size and quality of what I do, and also the scope of my practice, which is not just the ceramic walls. I also make decorative objects, tables and lamps – although the main focus of my work is these walls, there is a demand for these other decorative objects and I enjoy making them a lot. So I also show tables and lamps and light sculptures from my product line.
Most people think of ceramics as being smaller. What made you bigger?
As soon as I had the opportunity to work on a larger scale, it just made so much sense. I made a small one in my studio, 30 x 40 inches, which I thought was huge at the time. And so when I figured out how to do that, I realized I could cover the whole house. I could make a facade, I could make a retaining wall by a swimming pool – it just naturally expanded the possibility of what I could do. The first architecturally scaled piece was an order I made for Bill Georgis, and then I started working with Chahan in Paris, and he came to my studio and had an immediate vision: "Can you make this so big?"
What is the process of creating the walls with your team?
It's the same team that's been doing this together for years so everyone knows what they're doing and it's really performative – almost like an event because it's clay and it's a timing thing and we have a process , we prepare. So we have the size of the piece and we anchor a steel frame to the floor and we have prepared the clay and once you start you can not stop. We want to be eight working on it together and it's this wonderful collaborative exercise and we have to start at one end and work our way down to the other end. There are different styles for these walls so they all have their own process. It really is this fun, fun thing to do.
It's made in pieces, I take it.
First we lay the clay down, and then we determine the dimensions of the individual modules, or tiles, if you will – they weigh 150 pounds each. We have a special laser tool to cut them. Then we insert holes in it while it is still wet, so that it becomes the screw holes, so that it is all mounted on the wall with screws directly in the front. But all this texture simply obscures the fact that there are screw holes.
It takes a big oven to fire them.
I have the largest gas stoves in New York City, so they stack a bit like books. Our delivery time is about 16 weeks.
Tell me about the color of the glaze.
It's a little black and bronze, that's how it looks finished. And I do work in a lot of different colors; I have a jade color that I love to make and I have a creamy white. I have a range of six or seven colors that I love, but this is one of my favorites. Another project we did for a client looked like a lava field; it resembled a natural geological process. Some of the things I make are more floral or decorative. But I thought this was going to be completely black – I have a black rug, a black ceiling. It gets super dramatic and has all the richness of these different textures.
Do you have good partners for this particular project?
Both Chapter & Verse, a great carpentry workshop, and Face Design & Fabrication, a metal shop that I have worked with, are really essential. I bring them in on this to make it more of an interior.
Like a real room, not a store?
Yes, a completely assembled interior. The way for me to do that was not just to have my work, but to have worked from these other colleagues. Chapter and Verse made these really spectacular ripped-cardboard low cabinets and uplights by my colleague Shizue Imai. Neal Thomas, who is an interior designer I have worked a lot with, has come through with this wall cushioning and custom designed daybed. It was Neal's idea to hang some things on the wall itself. Stephen Antonson has a series he has been working on of these cardboard boxes he finds on the street, and then he unfolds them and polishes them. I thought, Why do we not silver leaf them and collage them and make them as works of art? I think of them as tapestries where you can use it decoratively as an art object, but you can also hang another painting on top. Hae Won Sohn is an artist that I really like, and she makes these pleated aluminum object panel artworks that need to be on the wall to give the impression that they are decorative objects and sculptures.
Disclaimers for mcutimes.com
All the information on this website – https://mcutimes.com – is published in good faith and for general information purposes only. mcutimes.com does not make any warranties about the completeness, reliability, and accuracy of this information. Any action you take upon the information you find on this website (mcutimes.com), is strictly at your own risk. mcutimes.com will not be liable for any losses and/or damages in connection with the use of our website.