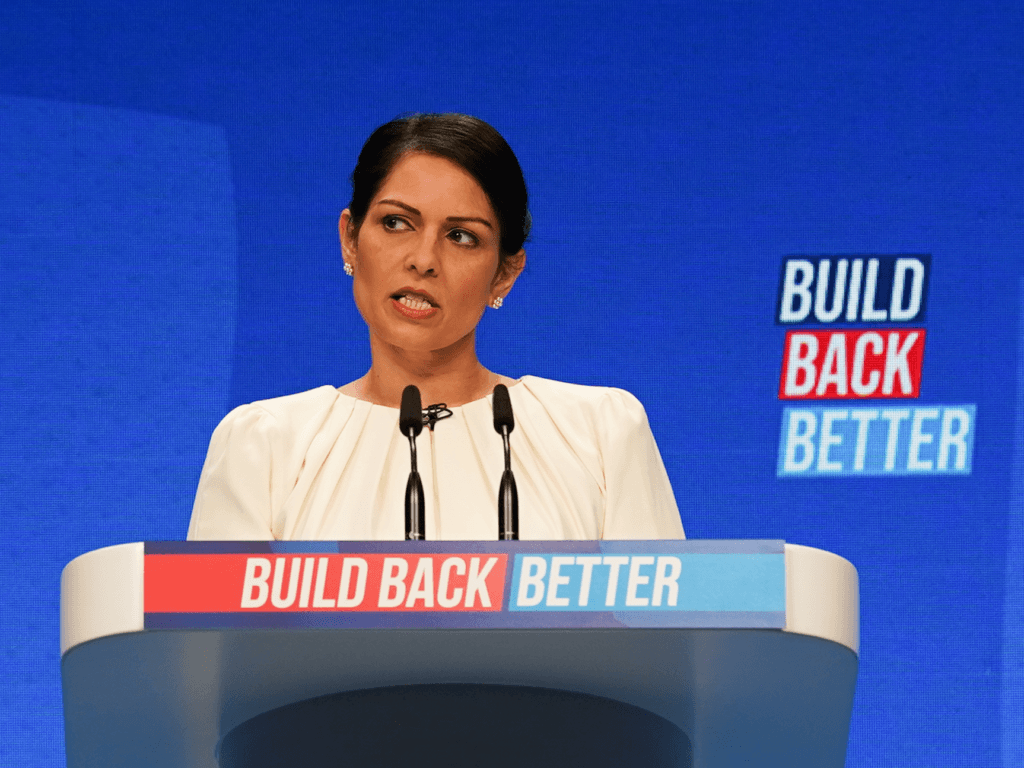 Three days after the alleged Islamist-inspired assassination of British MP Sir David Amess, Home Secretary Priti Patel has proposed that the incident could impose restrictions on anonymity on social media to combat "cruel comments and attacks" on politicians by anonymous users.
Appeared on Sky News' Trevor Phillips On Sunday's program, Priti Patel said she will "investigate everything", including the end of anonymity online after murder of Sir David.
"Work is already underway. We have a bill on online damage coming to the parliament that is working on it right now, "she said.
"I've done a lot of work on social media platforms, mainly around encryption and areas of that kind."
The interior minister added that the country can not "continue like this" and continues: "I spend too much time with communities that have been under attack, basically which has had all sorts of postings online and it is a struggle to get these posts taken down .
"We want to make some big changes to that."
Patel claimed that social media was at the heart of the increasingly controversial political landscape in Britain, saying MPs were the subject of relentless "cruel comments" and "attacks" online.
The long-proposed Online Harms Bill, which is still being debated in parliament, has also sought to impose controls on social media, including on presumed "disinformation" and "trolling".
The government is also seeking to impose sanctions on technology companies that do not politicize the voice tags that are already in place in the UK, where freedom of speech only now exists on paper, for the most part.
The attacker was a jihadi. This has nothing to do with Twitter anonymity; Everyone on this site knows that verification is no guarantee of courtesy. This government always treats the symptom, never the cause. https://t.co/LelKmw60mc

– Benjamin Ramm (@BenjaminRamm) October 17, 2021
Should the UK government put an end to online anonymity, it would follow in the footsteps of communist China, where social media accounts are typically linked to a person's phone number and government ID.
In 2017, the Cyberspace Administration in China adopted a policy that requires identity cards to be scanned as a prerequisite for posting online.
Commenting on the law before its adoption, an anonymous poster from the southwestern city of Chongqing said: "This will lead to many people not daring to speak the truth because they risk being invited to tea if they tell the truth! … Shall we not talk about the affairs of the state? "
The term "invited to tea"Is internet slang in China for a visit by the state security police.
Talking about the dangers of such a move, Labor MP Lisa Nandy told The BBC's Andrew Marr program on Sunday: "I work with a lot of people, whether it's the women in Belarus or the pro-democracy campaigners in Hong Kong, also whistleblower people for whom anonymity on social media can be life-saving. "
In fact, during the protests in Hong Kong, activists flocked to encrypted messaging services – which the British government also has the attack – including WhatsApp and Telegram to organize anonymously without facing retaliation from the dictatorship in Beijing.
The termination of anonymity is also likely to lead to a cooling effect on freedom of expression, as many citizens use anonymous accounts to express opinions that may be outside the mainstream of political discourse, which if published could jeopardize their jobs or status in society. .
Asked whether she will consider legislation to remove anonymity on social media, Priti Patel says the government will "look at everything"

Follow #Phillips Direct: https://t.co/rZ8ldEq6Fn pic.twitter.com/dNNv6tnn2w

– Trevor Phillips on Sunday (@RidgeOnSunday) October 17, 2021
Follow Kurt Zindulka on Twitter here @KurtZindulka
Disclaimers for mcutimes.com
All the information on this website – https://mcutimes.com – is published in good faith and for general information purposes only. mcutimes.com does not make any warranties about the completeness, reliability, and accuracy of this information. Any action you take upon the information you find on this website (mcutimes.com), is strictly at your own risk. mcutimes.com will not be liable for any losses and/or damages in connection with the use of our website.