Ufollowing the announcement of the death of Hollywood legend Sidney Poitier, I sent a tweet which contained my favorite picture of him. That image shows a shirtless Poitier, wearing dark sunglasses like Miles Davis on the cover of 'Round About Midnight, playing the saxophone with jazzman Sonny Stitt as he stands on the street, surrounded by a community of acclaimed spectators, also known as as "the people." The reason I dig this picture so much is that it gives a more complex picture of Poitier than what had come to define him at the height of his fame in Hollywood. I have never been able to confirm the context of this picture, but I have always assumed that it was taken while he was preparing for his role as the broadcast horn player in the film Paris Blues. Whatever the circumstances, the image itself suggests an authenticity, a certain street credibility, that is far more complex than the convenient integrationist symbolism to which his persona has so often been reduced.
Sidney Poitier was in the late 1960s the largest ticket sales in America. With films like In the Heat of the Night, To Sir With Love and Guess Who's Coming to Dinner, his films had become their own genre. Achieving this was not a poor achievement. When Poitier began his career, most films with predominantly black cast were musicals. Black men who appeared in otherwise entirely white films tended to be represented as unarticulated, child-like thugs; race clowns who itched when they were not itching and laughed when nothing was funny. Poitier's climb to the top of Mount Hollywood changed this. He was often the lone black person moving through hostile white areas. His refined, learned and dignified image was the opposite of the scams and narcissism that figures such as Stepin 'Fetchit, Mantan Moreland, Eddie "Rochester" Anderson and Willie Best had previously represented. Like so many mid-century elite jazz musicians, Poitier wanted people to see him as an artist, not as a stereotypical entertainer. And here he succeeded.
When his perhaps most famous character, Virgil Tibbs from In the Heat of the Night, demanded that the racist southern white officers respect his name, "They call me Mister Tibbs!" Poitier was like Muhammad Ali, who had demanded the same thing in the ring and in real life. In the film, the character of Endicott was offended by the fact that the "upity" Tibbs had actually spoken to him as an equal, rather than as the fawningly obsessive fool that he expected him to be. So Endicott slaps Tibbs in the face to get out of what he perceived as his place. But faster than a blink of an eye, Tibbs responded in a way, knocking the taste out of Endicott's mouth as it was. "The Bang Heard Around the World" – this legendary cinematic moment in which Poitier's star status allowed his character to retaliate against a white man without fear of retaliation – showed that just because he was known for playing these proper gentlemen on screen, he still handle his business if necessary.
Poitier's image in films has often been associated with Dr. Martin Luther King Jr .; Poitier won the Oscar for Best Actor the same year that King won the Nobel Prize. But in this case, when Tibbs beat Endicott back, the character he would be most associated with showed that there were multiple layers in his complex persona. He may have reminded some of MLK, but in the late '60s, when the civil rights movement was challenged by claims by Black Power, Virgil Tibbs did not turn the other cheek. Here he had more in common with Malcolm X than he had with Dr. King, despite what his measured personality may have led some people to believe.
Watching In the Heat of the Night as a child left an indelible mark on my adult mind. Being a prominent gentleman did not mean accepting humiliation, literally or figuratively. Demanding that these celluloid racists respect him and showed them that he could maneuver in a variety of ways told me that being well-rounded and multidimensional, defying categorization, mixing the highest intellect with authenticity was really the way to go . This is what Tibbs, Poitier's greater cinematic persona, and especially the image of him playing the sax in its nuances, surrounded by Blackness, came to stand for.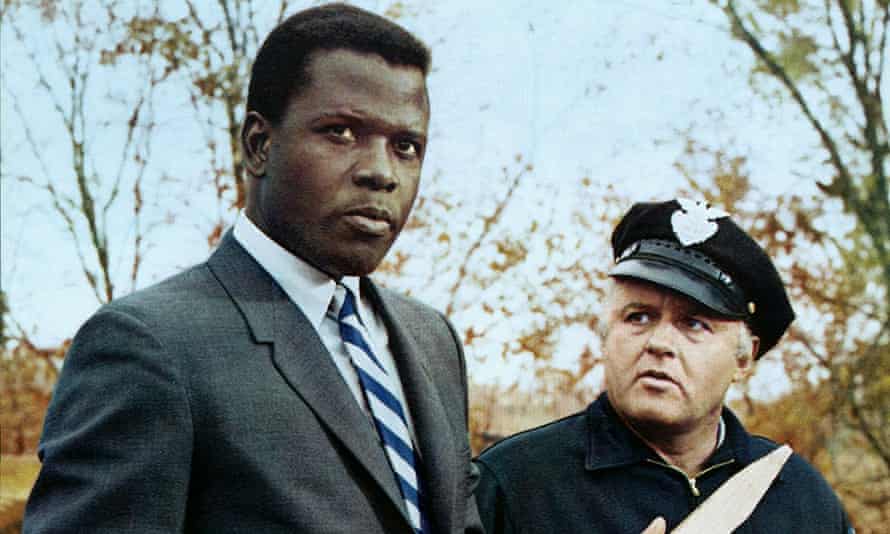 Many years after I first saw Poitier in this groundbreaking film, I had the definite pleasure of meeting him. In the late 1990s, Poitier was the first speaker at the USC School of Cinematic Arts, where I have spent the last 30 years of my professional life. Seeing him as a child, the lone black man navigating labyrinthine white areas, was comparable to the working life I lived in academia. Showing a gentlemanly manner coexisted with an understanding that not everyone agreed that I actually belonged in such an elite room. Like Virgil Tibbs, I could be diplomatic, but as the hilarious 1980s malt spirit ad said, "Don't let the smooth taste fool you."
Standing on the graduation stage in full academic regalia as I placed a PhD cap on a newly graduated doctoral candidate and thought about how the people who created all the pomp and circumstance of this higher education certainly never imagined that a cat like me would represent in this way I turned around and saw Poitier approaching me, with his hand outstretched and smiling broadly. His words, "Nice to meet you, Dr" echoed as I shook his hand. While we were standing there, I absorbed the magnitude of the moment. He offered numerous compliments and pleasures, as gracious in life as his personality. We shared a knowing laugh. But this was Sidney Poitier, not Virgil Tibbs. He understood what it all meant, and so did I. Things that are understood often do not need to be formulated.
Sidney Poitier was a giant of American culture. He stands without a doubt as one of the most important figures in Hollywood history. The monumental legacy of Poitier's style is evident in those he influenced. Be it the career of the modern Hollywood royalty Denzel Washington, or that of the country's first black president, Barack Obama. Sidney Poitier, the film's prominent gentleman, was also groundbreaking, inspiring, cool, complex and authentic. The era he represented is long gone, but the foundation he laid is one we are still building on. Rest in power!
Disclaimers for mcutimes.com
All the information on this website – https://mcutimes.com – is published in good faith and for general information purposes only. mcutimes.com does not make any warranties about the completeness, reliability, and accuracy of this information. Any action you take upon the information you find on this website (mcutimes.com), is strictly at your own risk. mcutimes.com will not be liable for any losses and/or damages in connection with the use of our website.