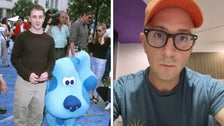 Were you born in the 1990s or early 2000s and feel particularly nostalgic today? Store! Because Steve Burns, aka Steve from "Blue's Clues", has a mystery to solve and the elusive riddle is TikTok.
But hey, bless his Gen X heart – he's trying.
The 48-year-old actor and musician posted his first ever TikTok on Monday, admitting pretty much that when it comes to this kind of social media, the former "Blues Clues" host is completely ignorant.
"I do not know at all how to use TikTok … at all," says Burns after a very cheerful, child-friendly introduction.
"I kind of do not even know what it is if you could tell me in just like, the comments or something I thank you," he whispers shyly embarrassed.
And why should you waste your time helping Steve? Because he helped you a lot in your childhood – he expanded your vocabulary, taught you shapes, he even made salt and pepper shakers seem a lot more fun (as well as French).
In addition, he has recently apologized about leaving you to go to college.
So think of his need for once, because aside from his request for help, his second TikTok proves that the guy is still clearly a giver.
.
Disclaimers for mcutimes.com
All the information on this website – https://mcutimes.com – is published in good faith and for general information purposes only. mcutimes.com does not make any warranties about the completeness, reliability, and accuracy of this information. Any action you take upon the information you find on this website (mcutimes.com), is strictly at your own risk. mcutimes.com will not be liable for any losses and/or damages in connection with the use of our website.