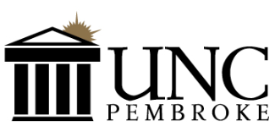 Established in 1887 as a school for the education of American Indians, The University of North Carolina at Pembroke serves a distinctly diverse student body and encourages inclusion and appreciation of the values of all people. Located in the heart of Pembroke, N.C., UNCP boasts an enrollment of 8,200 in 41 undergraduate and 18 graduate programs and offers a personalized learning environment where faculty and staff are dedicated to engaged scholarship, high academic standards, creative activity and public service. Spread over 281 acres, the campus offers a sense of community and belonging-–a place where faculty and staff feel supported, take pride in the university's mission, and are devoted to excellence in teaching, learning and research, and to developing leaders who make a difference in their communities.
Counsel prospective and enrolled students, parents and community members on all aspects of financial aid. Determine eligibility for and award financial aid to students in accordance with federal, state and institutional guidelines, policies, rules and regulations. Establish and maintain validation tables, rules, forms and processes for Banner Financial Aid module. Develop, document and maintain functional processes for Financial Aid using Banner processes. Train core and end users on Banner Financial Aid functional processes. Coordinate and test Ellucian's Banner and US DoE upgrades, patches and changes as required and in conjunction with the Department of Information Technology (DoIT) staff.
Develop and maintain strong communication with other Banner module managers and coordinators. Actively participate in cross functional working groups and committees for operational issues from the functional perspective. Develop and maintain the Financial Aid technical manual. Analyze and review new and changing federal and state regulations and statutes and make recommendations to the director on appropriate changes in programming, policies and procedures. Review all Financial Aid policies, rules and procedures and recommend changes for process improvement, as needed.
Demonstrated capability to effectively communicate with external parties to resolve design and operational issues as may arise with complex software systems. Assist the director with responding to audit inquiries. Coordinate with Institutional Effectiveness and DoIT for all required federal and state reporting. Prepare statistics reports to assess effectiveness of current practices and procedures and ensure continued efficiencies in the processing of financial aid. Process monthly reconciliations, New Year set up, FISAP and other annual and monthly reporting. Prepare departmental reports. Other duties as assigned by the director.
This position is Mandatory Personnel: Employees whose presence has been determined to be mandatory to University operations during certain types of adverse weather or emergency events. 
Minimum Training and Experience Requirements: Associate's Degree in Computer Information Technology, computer Technology Integration, Networking Technology, or related area and one year of experience in the information technology field related to the position's role; or Bachelor's Degree from an appropriately accredited institution and one year experience in the information technology field related to the position's role; or Bachelor's Degree in Computer Science, Computer Engineering, Math or Engineering or related technical degree from an appropriately accredited institution; or an equivalent combination of education and experience. Journey level required an additional one year of experience.
Management Preferences:
-Experience working with Banner System-Experience in writing queries, validation tables, rules.-Working knowledge of Financial Aid-Knowledge of automated, integrated Financial Aid Systems-Understanding of Microsoft Office, Argos software including queries and report writing (Preferred), and federal systems (COD, CPS FAA Access, NSLDS) are essential. Experience utilizing video conferencing applications such as Zoom, Webex, Microsoft Teams, for organizational and/or counseling purpose.
Special Instructions to Applicants: This position is subject to the successful completion of an employment background check. An employment background check includes a criminal background check, employment verification, reference checks, license verification (if applicable) and credit history check (if applicable). In compliance with federal law, all persons hired will be required to verify identity and eligibility to work in the United States and to complete the required employment eligibility verification form upon hire. New employees are paid only by direct deposit to the financial institution of their choice. Candidates claiming Veterans Preference must attach a copy of their DD-214 as a part of the online application process. 
UNC Pembroke is an Equal Opportunity Employer. The University prohibits discrimination against qualified individuals based on their status as protected veterans or individuals with disabilities, and prohibits discrimination against all individuals based on their age, race, color, genetic information, religion, sex, sexual orientation, gender identity or expression and national origin. UNC Pembroke is a VEVRAA Federal Contractor and seeks priority referrals of protected veterans for our openings.
The University of North Carolina at Pembroke is committed to equality of educational opportunity and does not discriminate against applicants, students or employees based on race, color, national origin, religion, sex, age or handicap. Moreover, UNC Pembroke is open to people of all races and actively seeks to promote racial integration by recruiting and enrolling a larger number of American Indian, Asian, Black and Hispanic students.
The University is dedicated to the equality of opportunity within its community. Accordingly, UNC Pembroke does not practice or condone discrimination, in any form, against students, employees, or applicants on the grounds of race, color, national origin, religion, sex, age, or handicap. UNC Pembroke commits itself to a positive action to secure equal opportunity regardless of those characteristics.
The University of North Carolina at Pembroke supports the protections available to members of its community under all applicable Federal laws, including Title VI and VII of the Civil Rights Acts of 1964, Title IX of the Education Amendments of 1972, Sections 799A and 845 of the Public Health Service Act, the Equal Pay and Age Discrimination Acts, the Rehabilitation Act of 1973, and Executive Order 11246.
Disclaimers for mcutimes.com
All the information on this website – https://mcutimes.com – is published in good faith and for general information purposes only. mcutimes.com does not make any warranties about the completeness, reliability, and accuracy of this information. Any action you take upon the information you find on this website (mcutimes.com), is strictly at your own risk. mcutimes.com will not be liable for any losses and/or damages in connection with the use of our website.