The Pacific island of Tonga on Saturday witnessed a major volcanic eruption followed by a tsunami that flooded parts of the capital Nuku'alofa.
The surge reached a height of 2.7 feet (83 centimeters) in Nuku'alofa, according to the US-based Pacific Tsunami Warning Center. There is as yet no information on property damage or casualties.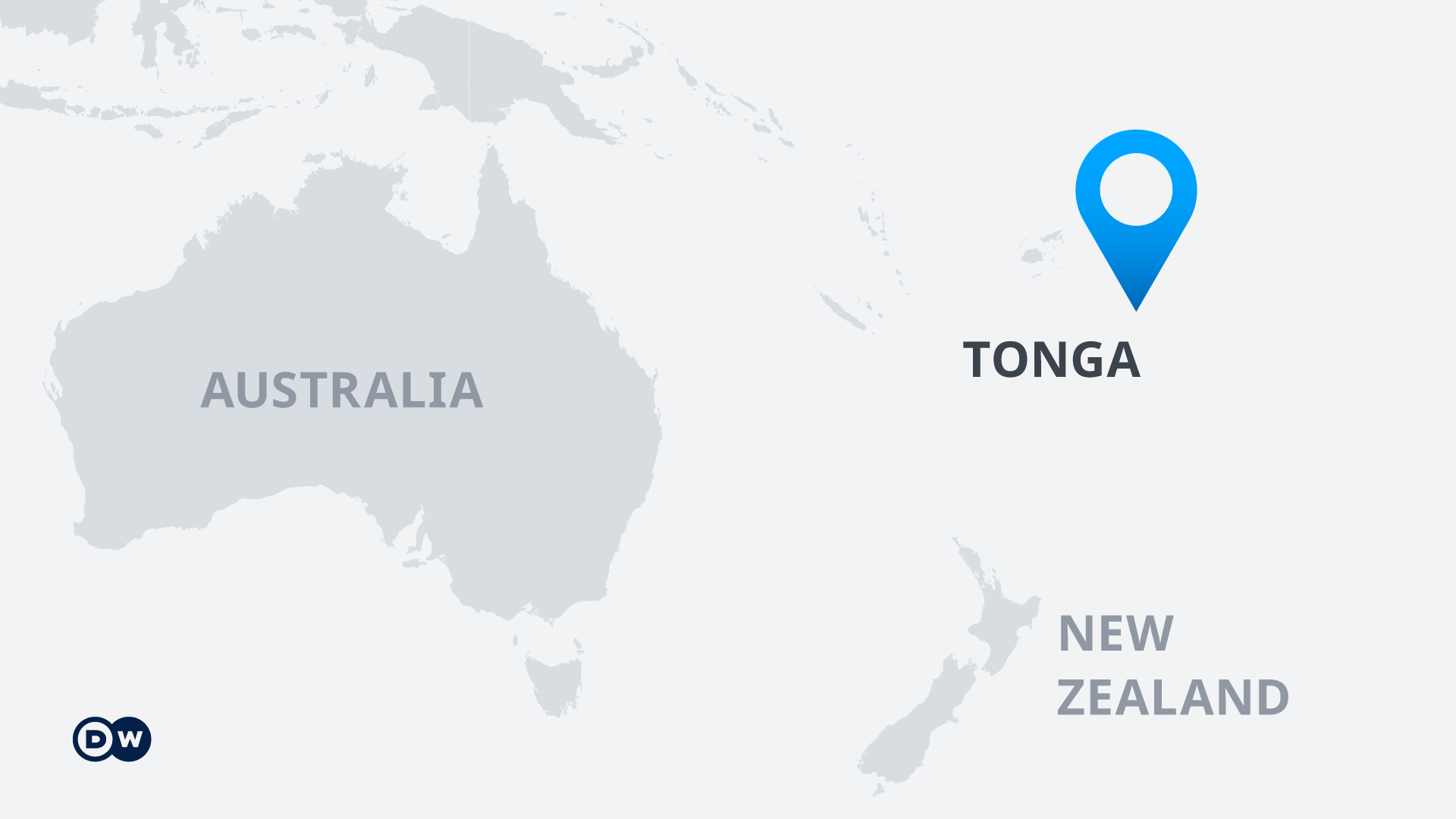 Satellite images showed massive ash clouds and shock waves spreading from the Hunga Tonga-Hunga Haʻapai volcano.
People all over the South Pacific, including as far away as New Zealand, heard the eruption.
Videos posted on social media from Tonga showed the tsunami breaking over the shoreline and moving into the city.
Tonga's King Tupou VI had been evacuated from the Royal Palace as many Tongans tried to reach higher ground.
Several countries are issuing tsunami warnings
The Pacific Tsunami Warning Center said tsunami waves measuring 2 feet in height were observed by sea level gauges in Pago Pago, the capital of the U.S. territory of American Samoa, about 940 kilometers (580 miles) from Tonga.
Officials initially issued a tsunami alert asking residents to "immediately" evacuate to higher ground. The warning was lifted shortly after.
A tsunami alert was issued for Hawaii, Alaska, the U.S. Pacific coast and neighboring British Columbia in Canada.
Fiji also issued a tsunami alert telling residents to avoid shorelines "due to strong currents and dangerous waves."
New Zealand, more than 2,000 kilometers away from the site of the eruption, has also issued a tsunami alert.
New Zealand's National Emergency Management Agency said parts of the country could expect "strong and unusual currents and unpredictable waves off the coast."
New Zealand is working to establish communication
Prime Minister Jacinda Ardern said on Sunday that images of the volcanic eruption near Tonga were "hugely worrying" and that communication with the island was difficult.
"Communication as a result of the outbreak has been difficult," Ardern said in a Facebook post.
She added that New Zealand's defense force and foreign ministry were working to determine what was needed and how the country could help.
The Prime Minister will provide an update on the situation at a press conference later in the day.
UN Secretary-General Antonio Guterres also expressed deep concern in a statement.
"The UN agencies in the Pacific are closely monitoring the situation and are on standby to provide support if requested," he said.
Underwater volcano erupts
The eruption on Saturday was the latest in a series of submarine Hunga Tonga, the Hunga Ha'apai volcano. Saturday's outbreak is the second in just two days.
An earlier eruption on Friday sent ash and smoke into the air, with clouds of smoke extending up to 20 kilometers (12 miles) into the atmosphere.
The volcano had some intermittent activity through December last year. On Friday, people were advised by officials to stay home and protect drinking water and resources.
rm, as / wmr, wd (AP, Reuters)
.
Disclaimers for mcutimes.com
All the information on this website – https://mcutimes.com – is published in good faith and for general information purposes only. mcutimes.com does not make any warranties about the completeness, reliability, and accuracy of this information. Any action you take upon the information you find on this website (mcutimes.com), is strictly at your own risk. mcutimes.com will not be liable for any losses and/or damages in connection with the use of our website.