Venom is introducing fans to a new breed of a familiar, fan-favorite symbiote unlike anything that has ever been seen before.
The new cover to Venom #11 by Bryan Hitch (The Ultimates, Fantastic Four) gives readers their first glimpse at the Sleeper symbiote and its brand-new host. Sporting high-tech chemical weaponry, adorned with vials of unknown substances and decked out in a gleaming gas mask, this version of Sleeper – named "Sleeper Agent" – marks new territory for the character. Written by Ram V (Justice League Dark, Carnage) with illustrations by Bryan Hitch, the upcoming issue promises to kick off a three-part storyline, titled "Venomworld," following the conclusion of the series' current arc written by writer Al Ewing (Defenders, Immortal Hulk) at its outset.
RELATED: Marvel's Spider-Man / Venom FCBD Cliffhanger Ending Leaks Online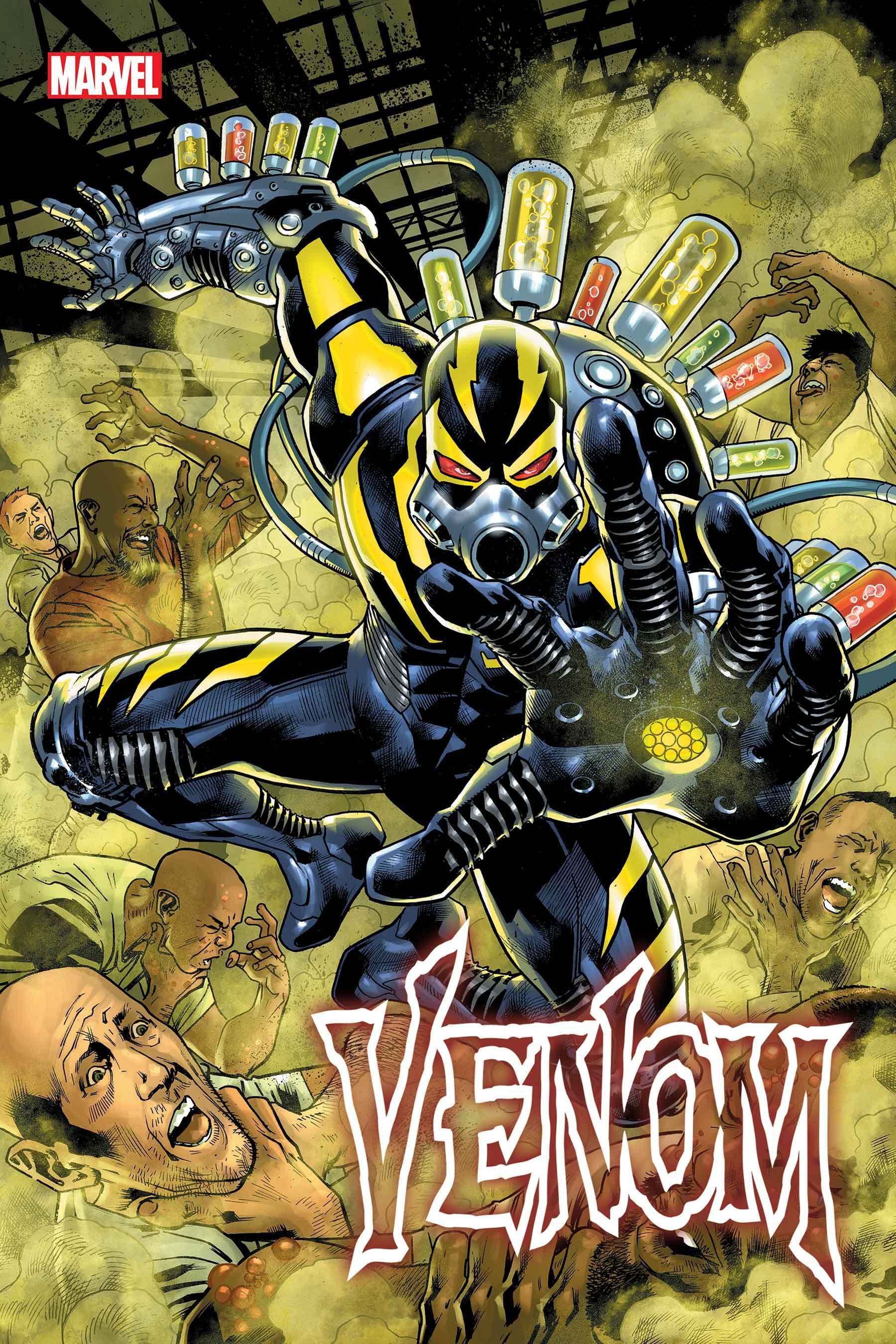 VENOM # 11
Written by RAM V
Art and cover by BRYAN HITCH
ON SALE 8/3/2022
Writers Al Ewing and Ram V and artist Bryan Hitch's acclaimed run on Venom continues to reshape the symbiote mythos in each explosive issue! And luckily for Venom fans, the trio of superstar creators have no plans to slow down as the ongoing series enters its' third terrifying arc this August in Venom # 11. Kicking off a three-part story called "VENOMWORLD", readers will see Eddie and Dylan Brock's journey take a sharp turn as they deal with the shocking revelations of Venom # 10. Dylan is still at the mercy of Bedlam while Eddie battles his way across the cosmos, discovering more about the symbiotes than ever before. And the hits keep coming as the SLEEPER symbiote joins the fray with a deadly new look…
First introduced as an unnamed symbiote in the pages of 2018's Venom # 165 by Mike Costa and Mark Bagley, Sleeper was the seventh spawn of the titular Venom symbiote, delivered under extraordinarily unusual circumstances by Alchemax's very own Doctor Steven. In the hopes of preventing Sleeper from being corrupted by any potential hosts at such an early stage in its life, Eddie Brock and Venom chose to leave the infantile symbiote in the care of Alchemax.
Frequently taking the form of either a hulking brute or sleek house cat, Sleeper has played an important role in several stories, including infiltrating the efforts of Marvel's symbiote serial killer Carnage during the events of 2021's Extreme Carnage event. Most recently, Sleeper has joined the young Dylan Brock and Venom in their search for answers about Eddie Brock's disappearance, as well as the malevolent forces that have been hunting them throughout time.
RELATED: Spider-Man's Red Goblin Gets a New, Very Different Symbiote Suit
Speaking on where the series is heading and Sleeper Agent, Hitch said, "Al and Ram's story (and it is a massive long-form epic) has given me so many different threads to play with from personal drama and urban action to all of space and time. I had to learn to draw cats for this book, not just symbiotes and Sleeper has become a favorite one to play with. "
Hitch expounded on both Sleeper's upcoming transformation and renewed importance, saying, "We haven't seen him too much but that's about to change as he's getting serious and upping his game. He's bringing a new element and a new player into the symbiote world with Sleeper Agent. Chemical and biological warfare. This cover reveal is really only the first phase of Sleeper Agent's look. They are symbiotes, after all… "
Readers can witness Sleeper's shocking transformation for themselves when Venom # 11 by Ram V and Bryan Hitch goes on sale on Aug. 3 from Marvel Comics.
Source: Marvel
Venom Is MJ's Date for the X-Men's Hellfire Gala in Mark Brooks' Stunning Fan Art
Read Next
About The Author
Disclaimers for mcutimes.com
All the information on this website – https://mcutimes.com – is published in good faith and for general information purposes only. mcutimes.com does not make any warranties about the completeness, reliability, and accuracy of this information. Any action you take upon the information you find on this website (mcutimes.com), is strictly at your own risk. mcutimes.com will not be liable for any losses and/or damages in connection with the use of our website.