Four members of Every Time I Die, the metalcore band from Buffalo, New York, formed in 1998, have announced that they are leaving the group.
Jordan Buckley, Andy Williams, Steve Micciche and Clayton "Goose" Holyoak revealed their "last show with Every Time I Die was on December 11, 2021," in a joint statement tweeted by Buckley on January 17.
According to the statement, which was also shared by Micchie, Williams and Holyoak on social media, there has been "no direct communication" with the fifth member Keith Buckley, as "it is either impossible to communicate exclusively with him, or we have become cut off. for any communication from himself. "
The four stated: "Although we were hoping to reach an agreed legal statement outlining the truth, today we were informed of something that was planned to be released, which was not mutually agreed, and which consists of inaccuracies and controls a narrative for the benefit of one.
"Although we are extremely disappointed with how this was played out online in front of you, your support and the memories we have because of all of you will always be appreciated," the statement continued.
Following the latest announcement, the band's vocalist, Keith Buckley, tweeted a letter dated December 20, 2021, sent to him by the law firm Savur Law. The letter said the firm had been detained by the rest of the band "for legal representation in connection with a separation agreement" between Buckley and the other four.
The letter asks him to contact Savur Law before December 27 to discuss "the terms and conditions of an amicable separation between the parties."
The letter also asks Buckley to "immediately cease and refrain from making any statements … that defame, demean or in any way criticize the professional name, prestige, image, reputation, practice or conduct of the band or represented members" as well as to "immediately cease and discontinue any use of the band's name, logo or other intellectual property until there is a formal signed separation agreement between the parties."
Keith Buckley
The latest statement from the four follows a statement in early December 2021 from Buckley, who said he is "taking a break" from the band to prepare for the annual 'Time The Season Christmas Festival'.
"Caring for my own mental health has taken precedence over EVERYTHING else in my life," Buckley tweeted.
According to NME and Revolver, the band at the time shared a statement saying: "Mental health is a real problem and when left untreated it has an impact on so many people. Keith has to take this time to rest and prepare for holiday shows, and we wish him a speedy recovery, "adding that they would play the last three shows on that tour without a vocalist.
Following this group statement, Buckley responded in several tweets from his personal Twitter account, including one that read: "Now that I've seen the 'official statement' indicating that ETID is ending the tour without their singer, I think I'm ready to tell you all a little bit about exactly WHY my mental health has had to become a priority over ETID. and trust that I have receipts. "
In another tweet in the same thread, Buckley claimed: "I overheard my own brother [Jordan Buckley] Tell an outsider that ETID had been in negotiations to replace me all along. I thought they were my biggest supporters. but Jordan had lied. his concern was a cruel trick. their opinion is evidence. "
The latest statement on January 17 from Jordan and the other three said: "Simply, there is no truth that the band continues with a new singer.
"Every time I die, these were 5 members, and we never moved or accepted any changes," the statement said.
Jordan Buckley
According to former Every Time I Die guitarist, the four plan to continue writing music together. Spin Magazine reported that when a fan suggested the four continue, Buckley said, "That's the plan. I hope I never stop entering a room with these 3 to write rippers."
Andy Williams
Andy Williams, the band's second former guitarist, who is also a professional wrestler, simply wrote: "RIP ETID '98 -'21," in a tweet sharing the latest joint statement.
Steve Micciche
By sharing a screenshot of the letter from the law firm that Keith Buckley posted, the band's former bassist tweeted, "Where does it say 'you're fired?' Man, that's sad."
Clayton 'Goose' Holyoak
The group's former drummer shared a photo of the band's logo, along with the joint statement, on his Instagram account with the caption: "RIP ETID 98′-21 '."
Merchandise every time I die
While the band's Twitter and Instagram accounts are no longer available, fans who want to continue celebrating the band can still access their website for any Every Time I Die merchandise, from T-shirts to hoodies and other items.
The website also continues to promote the group's latest album, Radical, which was released on October 22, 2021.
Newsweek has contacted Keith Buckley and Savur Law for comments.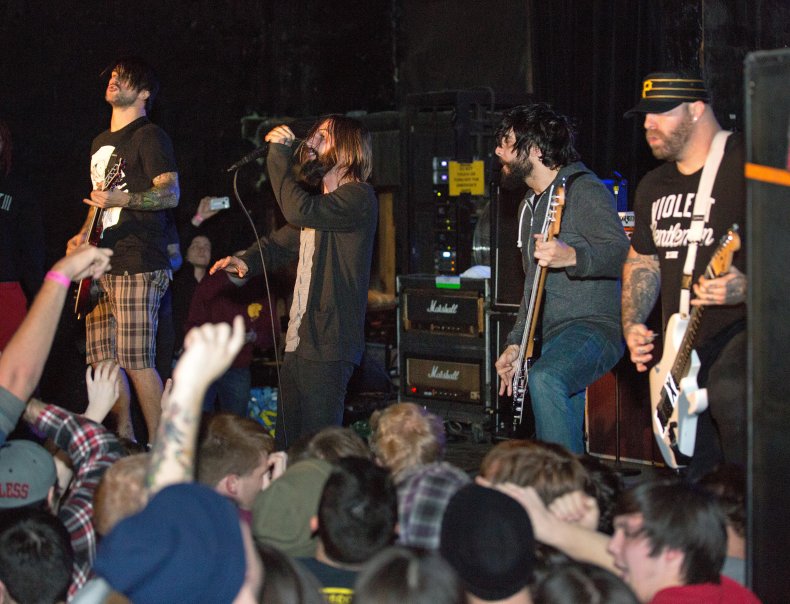 Disclaimers for mcutimes.com
All the information on this website – https://mcutimes.com – is published in good faith and for general information purposes only. mcutimes.com does not make any warranties about the completeness, reliability, and accuracy of this information. Any action you take upon the information you find on this website (mcutimes.com), is strictly at your own risk. mcutimes.com will not be liable for any losses and/or damages in connection with the use of our website.